|
Weekly Newspaper and Travel Guide
for Pecos Country of West Texas
Opinion
Tuesday, February 28, 2006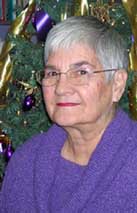 Squarely Pegged
By Peggy McCracken
<!=====paste copy here==========================>
Minnie Pearl skit
tops comedy show
Saints alive! What a rocking comedy style show the God'Army/He-Brews youth hosted Sunday night at West Park Baptist Church. Nancy McAnally's takeoff on Minnie Pearl stole the show when she demonstrated how to don panty hose.
In case you don't know Nancy, she managed the state employment office for years, after raising four outstanding children and helping her husband, Jimmy, with farm chores. She is the only surviving charter member of West Park, where she leads the singing. Her group belted out "I'm Gonna Get Carried Away" as a fillup for her skit. (That's my funeral song, and I sang right along with them.)
Nancy's grandson, Kevin Weatherby, and two of her great-grandchildren helped with my Genesis band performance of "When the Saints Go Marching In." I led the marching/rhythm group, while six of our students played organ, piano, keyboard, guitar and bass guitar. Kevin teaches the guitarists and drummer, when we have one.
West Park pastor Rey Carreon, master of ceremonies, introduced Chris Sonnen and pastor DeLuca of Primera Iglesia Bautista to start off the program. Chris read the Lord's Prayer, interrupted frequently by DeLuca, who from an offstage microphone responded to her prayer as the voice of God. DeLuca then charmed the multi-church audience with "When He Was on the Cross."
Alpha and Omega band did a comedy skit on the "Thou Shalt not Steal" commandment. The youth also performed a little dance routine as Shadrach, Meshach and Abednego. Chance Contreras drew in two pals to help him sing an original composition about serving God, and he and Cody Vernon did a little skit that featured a plumber's helper as a "hat."
Judy Greenwood and Helen Vernon showed their garage sale shopping skills, and Joyce Morton closed out the show on a serious note by singing "Thank You for Giving to the Lord," while children and youth went throughout the audience thanking those who have taught them. Three babies paraded across the stage in a red wagon to make a plea for donations to send the youth to Paisano encampment this summer.
As soon as this in print I will remember someone I left out, so you will just have to forgive an old woman and her forgetfulness. I left my program at home.
I do know that Velma Bradley's "Bessie Haynes Brigade" came prepared to sing "Jesus Loves Me," but failed to get their act listed on the program. We'll hear them at another time.
Kim Ewing and her girls decorated the auditorium with 12 pair of jeans painted with hearts and flowers, representing the 12 disciples, the loving heart of Jesus and His sweet fragrance. I know she is pleased with the turnout and with the donations. I'm sure the full offering plates were in part a "thank you" to Debra Kinnison, who cooked the marvelous barbecued chicken and scalloped potatoes.
I left Kim and her youth picking up trash and washing dishes. My skills are somewhat limited in those areas. Thank you, Kim and crew, for a wonderful evening.
"Shouts of joy and victory resound in the tents of the righteous: The Lord's right hand has done mighty things!" Psalm 118:15, NIV
EDITOR'S NOTE: Peggy McCracken is Enterprise business manager. Contact her at peg2@pecos.net <!==========end copy==================>
---



Pecos Enterprise
York M. "Smokey" Briggs, Publisher
324 S. Cedar St., Pecos, TX 79772
Phone 432-445-5475, FAX 432-445-4321
e-mail news@pecos.net

Associated Press text, photo, graphic, audio and/or video material shall not be published, broadcast, rewritten for broadcast or publication or redistributed directly or indirectly in any medium.
Copyright 2003-04 by Pecos Enterprise
---