|
Weekly Newspaper and Travel Guide
for Pecos Country of West Texas
Opinion
Friday, February 24, 2006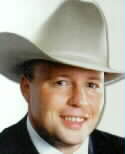 Sage Views
By Smokey Briggs
<!=====paste copy here==========================>
Looking for a
fountain of youth
Now that I have passed the big Four-Oh I occasionally recognize that I am, after all, mortal.
It was kind of stunning to reach my 40th birthday. No, I did not spiral off into Lala land and buy a new sports car and start trying to relive my 20s. The day after, as a matter of fact, I did not even remember that I had reached this milestone.
I never intended on doing so in the first place. Forty always seemed like a long way off - even at thirty-nine.
And, who thought I would survive 40 years. I cannot say that I did.
But, here I am - forty years old, married for nearly a third of it, with three beautiful daughters - all of which translates to loads of responsibility and stress.
Yeah, I know, can I have some cheese with my whine?
Actually I'm not writing this to whine. My life has been incredibly blessed. I have a home life to die for, and I like what I do for a paycheck. I also have a few folks I can truly call friends and a little time to pursue hobbies that I am passionate about.
Life is good.
But, when I swing my feet out of bed in the morning, there is some snap, crackle, popping going on that did not exist when I was 30.
The first few minutes it sounds like somebody is popping corn as I rotate life back into my shoulders and coax my knee into operation.
Hey, a lot of the fun stuff in life leads to crackly joints. I do not mind, but it does tick off She-who-must-be-obeyed.
"Do that outside. I'm trying to sleep," she calls to me in her most loving voice.
Little does she know that I am trying to get outside - the noise goes with the movement.
Another thing I have noticed about this new age in life is that ruts are easy to fall into, and hard to get out of.
The daily routine is set in many ways, and I find myself a passenger more than a driver.
Stuff needs doing and you do it. Often it is the same stuff everyday.
The longer you are in the rut, the harder it is to see over the top.
So, when one of my long-time buddies asked me if I wanted to compete in a mountain bike race in Terlingua my first thoughts were negative - I have never ridden such a contraption, I do not train for such events, I'll probably die, etc…
He and his family were going - they do a lot of this kind of thing - and he had a bike he could loan me.
"Do you care if the bike survives the race," I asked.
"I'm not worried about the bike surviving, but the rider, " Gary laughed. So, pride threw me out of my rut and tossed me onto a mountain-bike and committed me to ride it 30 kilometers through the desert.
Last weekend we traveled with our friends to the Mas O Menos 100K bike race in Terlingua.
Luckily they had 30K and 50K courses as well as the 100K-masochist-special.
Getting smarter as you get older is supposed to be a plus. Gary was riding the 50K and his 12-year-old daughter the 30K. Ten years back pride would have forced me to take on the 50K.
I signed up for the 30K and promised to look after his daughter like any good honorary uncle would.
Let me tell you this - mountain-bikes are fun.
They have two wheels and pedals like my old Schwin, but that is where all similarities end.
Twenty four gears, tires that will hang onto the side of a mountain and brakes that work, add up to one fun - if slightly excruciating - trip across the desert.
After learning that my new steed was not going to lie down on me in the gravel I started pedaling for all I was worth.
I got a few weird looks as racers that started after me came up and passed the guy who was whooping and hollering "wheeeee" in the downhills.
I had a blast, except for the severe cramps in my quadriceps and that one battle with a cactus that I lost.
As a fellow that knows what spin is, I would write the lead to the story like this: Local publisher races in first mountain bike contest, places 10th, and wins $50 gift card to bike shop.
To be more honest, I would have to say that I placed 10th in my group of 10, and I won a raffle.
But, I finished, and had a great time.
When I was done, I was bone tired and exhilarated in the way that only a new experience can bring.
Mentally, it was as though I had visited the fountain of youth.
I felt great.
I paid for that rush the next morning. When I got up it sounded like a firefight was taking place in our bedroom.
The feeling I felt at the end of the race was worth the machinegun fire in my joints.
At least my brain is still young.
Your View
Grandmother concerned about school incident
Dear Editor:
I am deeply concerned over recent incidents at the Pecos High School involving my grandson, Kyle Winkles. He made a mistake and has been punished by being expelled from school four (4) days; however, it seems the school now wants to add to this punishment by taking them out of school and sending them to DAEP.
This students' civil rights were violated when their names were released to the media by someone connected with the High School. The student made a mistake. He has taken his punishment. The situation should be over and done with. However, it seems that the Principal and the School Board have other ideas. A faculty meeting was called where this incident was thoroughly discussed. If the students' name was not mentioned, little doubt was left as to the subjects of the meeting.
The Vice Principal made a mistake. His mistake was compounded by the actions of the School Principal. Following his instructions, Mr. Workman filled out proper papers authorizing a four (4) day expulsion which stated the date and term of the expulsion. Mr. Workman stated to the student and his parents that after the four days "this will be over and done with."
THIS SHOULD HAVE BEEN THE END OF THE WHOLE MATTER.
However, the faculty meeting was called to discuss the incident. The Interim Superintendent claims he was unaware of this matter. I know for a fact that the swim coaches were not "invited" to the meeting. I also know that persons asking for a transcript of the meeting were told that none was taken.
Mr. Lucas could have been pressured to do so, but for whatever reason, he changed his mind about the 4-day expulsion when it was almost over, and decided the student should be expelled.
This may not be double jeopardy, but is awfully close!
The Pecos High School Website Policy on Line Section reads: "Removal to a DAEP for school-related misconduct is not required if the student is expelled for the same conduct." (Education Code 37.006/m/). A direct quote from the School's Handbook is: "A student who is expelled for an offense that otherwise would have resulted in a DAEP placement does not have to be placed in DAEP in addition to the expulsion.
Perhaps this would be a good time for the school personnel to brush up on the facts contained in the school's handbook and on statements made on its Website before another incident occurs and they stutter at the proper punishment.
Whoever is behind the continued harassment should take time for self-examination to see if they should be "throwing stones." Also, someone should advise the school's attorney of the facts - not biased opinions he has been fed by those trying to save face because they can't make a judgment and stick with it.
I was in Big Spring at the District Swim Meet and saw Kyle win DISTRICT MALE SWIMMER OF THE YEAR. I was in Lubbock and saw him win three Gold Medals, including one for REGIONAL MALE SWIMMER OF THE YEAR. If the School Board is not aware of this matter, and I believe it is, it should be so apprised. It should also be apprised of the conduct of its faculty and the school's attorney in connection with this fiasco.
Kyle is a good boy. He made a mistake. Who hasn't? He has been punished. Now he needs to be back in school so he can continue his education without harassment, threats, and dark clouds hanging over his head.
From: a Concerned Grandmother.
MARY SAWYERS
Lawn, Texas
Student's brother angry at action by school
Dear Editor:
I write this letter with much disgust. I chuckled out loud Friday when I read in the Pecos Enterprise that the names of the finalist for Supt could not be released - in order to protect their privacy! This comes from a School District where the Supt. had NO problem releasing the names of 2 students involved in the Jan 31st incident to the media. Is this idiot interim Supt. also the one that AUTHORIZED a faculty meeting in order to discuss the discipline handed out to these 2 students? No - I am sorry - that would be Mr. Lucas! My research in the last week on the School Website verifies that this meeting DIRECTLY violated these 2 students' rights and privacy. Horse Hocky - if anyone says "well no names were ever mentioned" - Hello?? did anyone have to?? The answer is NO. Your Handbook states - "Virtually all information pertaining to student performance, including grades, test results AND DISCPLIANRY RECORDS is considered confidential educational records". Someone please show me where having this Faculty meeting has "legitimate educational interest" as the policy states. The Handbook also goes on to note that the Principal is the custodians of these records. OOPS! Sorry - wrong man is this case!! He is the one that called the Faculty meeting. Hello School Board, Mr. Supt - Mr. Lucas - does anyone BOTHER to read these policies. Or are they just for Show and Tell time! I really hate to point a finger at the School Board, because I know for a fact that there are some wonderful citizens of Pecos serving. But HELLO?? Anyone there? How can anyone currently serving on the School Board continue to ignore the fact that the PHS principal SCREWED UP!! I know every detail of this horrific nightmare because it involves my little brother and another former teammate of mine. I know the mistakes that these 2 guys made. I know the mistake that the Vice Principal made, that in reality, that mistake, has become a direct benefit to the 2 students, the parents and their attorneys. But how can any School Board member or anyone else for that matter, EXCUSE what Mr. Lucas did. I have to ask this question - did the School Board knowingly hire a man that intentionally goes back on his written and verbal word? Some places in Texas might refer to Mr. Lucas as a LIAR? That word seems awful harsh - but in this case - if the shoe fits - well you know the rest. This man, made a decision based on 3 direct failures of the Vice Principal. He makes a wise decision in handing out, in his own words "the harshest punishment allowed". Instructs the Vice Principal to complete the LEGAL BINDING SIGNED DOCUMENTS - Expulsion - stating the date and term of expulsion. The Vice Principal states to both students and parents - that "after 4 days this will be over and done with". Bless his heart. I think he really thought what he was saying was the truth. Then due to political pressure coming from some faculty members Mr. Lucas calls a Faculty meeting to discuss this incident. The interim Supt. even claims he was unaware of this meeting. Yep - you read that sentence right. Well, no wonder he is an interim. Listen folks, even to a young adult like me this seems to be basic CONTRACT LAW. You not only have a verbal agreement as to the punishment - you have a SIGNED LEGAL BINDING DOCUMENT. In addition, you have a 2nd note - typed out and signed by the Vice Principal stating the EXACT same that the students took to each of their teachers.
So what person in their right mind - came up with - Oh, I'm sorry - Kings X - lets start all over!! What we (the school district) agreed to and signed for - does not count anymore and is invalid. Was this Mr. McCall's decision or did he instruct Mr. Lucas. Mr. Lucas tries to cover his fanny by issuing another letter that is received on the last day of the punishment, with approximately 4 hours to go in the school day - informing the parents - that he has changed the expulsion to a suspension. What a joke. Mr. Lucas - can you actually sleep at night? How can the School Board allow decisions to be changed in mid stream just in order for Mr. Lucas to save face with some teachers? If the school had stuck with their ORIGINAL SIGNED DOCUMENT - the parents where satisfied, the students where satisfied. Who else - may I ask had ANY SAY in this matter? If Mr. Lucas wants to add DAEP punishment on to the already AGREED upon Expulsion punishment and term, maybe he should read the PHS Website. The Policy On Line section of your website simply states "Removal to a DAEP for school-related misconduct is not required if the student is expelled for the same conduct. Education Code 37.006(m)". But better yet - is the current Handbook that states "A student who is expelled for an offense that otherwise would have resulted in a DAEP placement does not have to be placed in DAEP in addition to the expulsion.
As a final note - Mr. Workman, I believe that you made a pardonable mistake, I truly do. However, Mr. Lucas you LIED - not only to the students and their parents, but also to the members of the School Board that hired you. You sir, should be ashamed of yourself and your actions. And so should the School Board. For the School Board to remain silent on this will be a travesty. Regardless of what they may think, the School Board must DO WHAT IS RIGHT and force the School District to honor the legal binding school form that was signed by both parties IN GOOD FAITH. Regardless if this saves face for Mr. Lucas or not. I pray that the School Board will get involved and ask the high priced School attorneys to please back off. If the School Board ever had a function, it is to let these students get on with their education. My goal in life is to study and teach music, but I pray that I never work for a School District that is to afraid to admit to their OWN mistakes and try and save face by going back on their written agreements. My last thought, Mr. Lucas, how would you like the School Board to go back on their WRITTEN SIGNED AGREEMENT with you. Remember - the one you signed when you were hired? Well, maybe at the end of your contract, they won't have to! K.W. Winkles <!==========end copy==================>
---
Pecos Enterprise
York M. "Smokey" Briggs, Publisher
324 S. Cedar St., Pecos, TX 79772
Phone 432-445-5475, FAX 432-445-4321
e-mail news@pecos.net
Associated Press text, photo, graphic, audio and/or video material shall not be published, broadcast, rewritten for broadcast or publication or redistributed directly or indirectly in any medium.
Copyright 2003-04 by Pecos Enterprise
---