|
Weekly Newspaper and Travel Guide
for Pecos Country of West Texas
Opinion
Tuesday, February 21, 2006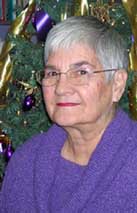 Squarely Pegged
By Peggy McCracken
<!=====paste copy here==========================>
Technology has made
life easier
I heard a rooster crow this morning, and it took me back to childhood when a rooster was our daily alarm clock.
Technology had not reached Flomot when I was born 71 years ago, during the Great Depression. If we even had a wind-up clock in those early years, I don't remember it. The rooster, and the sun peeping over the mesquite bushes, told us it was time to get up.
Now I have a PDA to tell me when to get up, what to eat for breakfast, how to brush my teeth, which pills to take, what I will do at work. The only thing it can't provide is the why of it all.
Why do we need electronic gadgets at all? Life was so simple back on the farm. Chickens laid eggs for breakfast. Cows stood still while we squeezed their teats to get milk. Corn and black-eyed peas grew in the field, utilizing rainwater and sun provided for free.
If we needed to go to town, we hitched two horses to a wagon, climbed in and stood limber-legged to keep from being jiggled to death.
Recreation was kick-the-can, softball with a homemade ball of old socks and a stick, horseback riding, or skinny dipping in the stock tank.
Mama built a fire outside under a big black wash pot, put the clothes in with lye soap she had made from hog fat, and boiled and poked them with an old broomstick until they were clean. Certain clothes were set aside for starch to prepare them for ironing. We spread them on mesquite bushes and barbed-wire fencing to let the sun and wind dry them. Oh, the sweet, fresh smell of a sun-dried sheet!
As I write this on my Dell laptop with cable connection to the Worldwide Web, nearby a machine swishes my clothes in scientifically-correct suds to get out the dirt. Another machine will tumble them dry, and I won't even have to iron them. The fresh smell on the sheets will be from Bounce, not from sun and wind.
When I finish this column, I will send it over the airwaves to the Enterprise email box, where Laura Rodriguez will find it Monday morning and transfer it to another electronic file in Monahans for printing.
Ah, the good old days. Sometimes it is hard for me to remember why I married at 16 to get away from that good life on the farm. Then the specter of a field of dead cotton stalks covered with white bolls reminds me. I don't miss grabbing those sharp-pointed bolls, sticking them in a sack and dragging it hundreds of yards to the scales, hefting it into a trailer, shaking out the cotton and tromping it down.
Maybe waking to an electronic alarm instead of a rooster crowing is not so bad after all.
"..forgetting those things which are behind, and reaching forth unto those things which are before, I press toward the mark for the prize of the high calling of God in Christ Jesus." Phil. 3:13b,14, KJV
Your View
Exercise your right to vote
To The Editor:
I was very impressed when I decided to attend the "Meet the Candidates" meeting held at the Pecos High School on Friday. I think that it turned out rather well, thanks to the student's who did a great job in helping set it up.
I listened very closely to what all the candidates had to say. I have decided the race for Reeves County Judge will be a good one. Since I am a registered voter and will have several candidates to choose from. As far as I am concerned I will vote for one of two candidates "Bernardo Chaquen Martinez or Al Gomez." Because in my opinion Mr. Martinez has the hands on experience of personally dealing with the B.O.P. at the L.E.C. in bringing together a well planned contract to house prisoners. This without the help of the lobbiest. And Mr. Gomez has business experience and the willingness to make changes at the L.E.C. which would be positive and not counterproductive.
I was not impressed with any of the other candidates for county judge in what they had to say. I was also disappointed with them, because they all failed to walk up to me and introduce themselves or ask for my vote. Perhaps because they all know I am not going to listen to any B.S. only facts:
Some of the B.S. I am referring to is "new" housing in Pecos. Personally, I feel we already have adequate housing. There are houses which can be rented or bought cheap, or expensive, including motel and hotels.
Everyone, could see what I see if more people would clean up what they own. One of the projects I would like to see done by the "county judge" is to repair the bleachers at the baseball park next to Maxey and the Rocket Park so that the children and parents wouldn't hurt themselves anymore on the rotten and broken boards!
As for the Senate race, I was impressed with Mr. Uresti because he wants to lessen the money taxpayers spend on education and require the state to pay more. I was not impressed by Mr. Madla because of the way he came across. He was a little angry and seemed enraged when Mr. Uresti was stating some of the facts of Mr. Madla's voting record.
We are not unique, most of the other counties in Texas are having the same problems but we need both city and county employees and all organizations to work together. We have enough talent here in Reeves County that we really don't need any outside help in what to do.
But, we need all these people to show up and give their input and support at these meetings.
In conclusion, I say to all registered voters in Reeves County get out to the polls and cast your vote for the one candidate that you feel will represent all.
Oh yes, Kudo's to Mr. Bobby Dean, for a job well done in bringing this all together. STEVEN C. PINEDA <!==========end copy==================>
---
Pecos Enterprise
York M. "Smokey" Briggs, Publisher
324 S. Cedar St., Pecos, TX 79772
Phone 432-445-5475, FAX 432-445-4321
e-mail news@pecos.net
Associated Press text, photo, graphic, audio and/or video material shall not be published, broadcast, rewritten for broadcast or publication or redistributed directly or indirectly in any medium.
Copyright 2003-04 by Pecos Enterprise
---