|
Weekly Newspaper and Travel Guide
for Pecos Country of West Texas
Opinion
Tuesday, February 7, 2006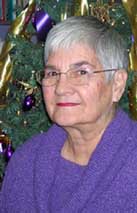 Squarely Pegged
By Peggy McCracken
<!=====paste copy here==========================>
Looking for roses
among the thorns
My velvet red roses are the most beautiful I have ever seen. They draw my eyes out the patio doors whenever I am in the dining room. When I pass by them on my way to the dumpster or to gather nearby herbs, their beauty compels me to lean over and take a sniff, even though I know their fragrance does not match their beauty.
Itís when I pinch off the faded blooms that I notice the thorns. They grab my fingers, scratch my wrists, snag my sleeves.
Life is like the rose bushes, full of beauty surrounded by thorns. Sometimes we get so wary of thorns that we fail to see the beauty.
Pecos has more than its share of thorns. When I drive down Third Street, I see vacant buildings and weedy lots where commerce once thrived. I see beer bottles strewn from one end of town to the other. I see abandoned cars parked along the street and in driveways. I see alleys choked with debris on both sides and garbage spilling out of over-filled dumpsters.
So it was a challenge when Cyndee Harmer asked me to speak to her junior high English classes on the positives of Pecos. I had made such a speech to the First Christian Church menís group several years ago, and still have a hard copy of it. Things have changed so much that it was of little use.
Two people who are themselves bright spots in Pecos reminded me of some of the positives. Birdie Slack was born in Pecos 87 years ago and is one of the most positive people I know. She can reel off a long list of positives.
Mike Burkholder is paid to be positive, as president of the Pecos Economic Development Corporation. He is really from Barstow, but has called Pecos home for so long he is considered a pioneer.
When I arrived at his office, he was talking with a friend about petroleum development in the area. That is a hot topic at the moment, and is bringing revenue to landowners and service companies like Oilfield Phone. Although most service companies folded in the 1980s bust, new ones are coming in, he said.
School enrollment has stabilized after several years of decline, Burkholder said. I pointed out to the junior high students that the gym we were meeting in, and their school, were just vacant land when I moved to Pecos in 1953 (53 years ago this month). Census figures show the population has increased since that time, as well. Yes, it got up pretty high during the 1960s, before the farming bust started, and decline has been rapid. But remember, we are looking for positives here.
Between Birdie, Mike and myself, we ticked off a bunch of positives. The hospital addition of a dialysis center, new emergency room and specialty clinics; expanded prison capacity/jobs; museum that ranks seventh in the state in number of visitors; city park and zoo;
Mike said the test track is open for business and will be paying employees with a high school diploma $15 to $25 per hour. Taxes on local sales increased 18 percent over the past two years, he said. That means business has picked up.
An international airport is only 1.5 hours away via Interstate highway. We have a railroad, bus line, and our own airport that is known nationally as THE place to refuel on cross-country flights. Not one, but two radio stations, and a (fairly) good newspaper.
I like living in a small town. In fact, that is one of the positives for me. I visit my daughter and grandchildren in St. Louis once or twice a year. I even own a house up there, where I thought I might live when I retire.
Itís in a nice, quiet neighborhood, near a small shopping center and two major highways that can take you to bigger ones in a hurry. But every time I go to St. Louis, I canít wait to get back to Pecos, where I can drive all the way across town in five minutes.
I challenged the kids to look for more positives, and figure out what they can do to eliminate some of the negatives. Here are some of them we could all do:
Do you get a Coke at Sonic, then throw out the plastic cup as you make the Eddy Street drag? Why not walk down Eddy Street or the streets in your neighborhood and pick up trash? Is your alley lined with trash? Pick up enough each week to fill the dumpster. Soon it will all be gone.
Could you pull weeds or mow the yard for a neighbor who canít do it? Are gang members or druggies using a vacant house in your neighborhood or selling dope at the skate park? Report it to the police. Visit someone who canít get out of the house, just to cheer them up or offer to run an errand.
Be honest, and encourage your friends to do the same. Report shoplifters. Thank law enforcement officers for keeping you safe.
Jesus said: ďWhatever your did for the least of these brothers of mine, you did for me.Ē Matt. 25:40, NIV
EDITORíS NOTE: Peggy McCracken is Enterprise business manager. Contact her at HYPERLINK "mailto:peg2@pecos.net" peg2@pecos.net <!==========end copy==================>
---



Pecos Enterprise
York M. "Smokey" Briggs, Publisher
324 S. Cedar St., Pecos, TX 79772
Phone 432-445-5475, FAX 432-445-4321
e-mail news@pecos.net

Associated Press text, photo, graphic, audio and/or video material shall not be published, broadcast, rewritten for broadcast or publication or redistributed directly or indirectly in any medium.
Copyright 2003-04 by Pecos Enterprise
---