|
Weekly Newspaper and Travel Guide
for Pecos Country of West Texas
Opinion
Tuesday, May 31, 2005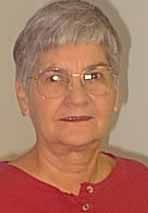 Squarely Pegged
By Peggy McCracken
<!=====paste copy here==========================>
Former publisher
revisits old haunts
Mac McKinnon peeked in the window of the West Park Baptist Church fellowship hall Sunday as Rey Carreon delivered his evening sermon. I had heard my former boss was in town, so was not surprised to see his beaming countenance.
Mac always beams. He is one of the most optimistic people I have ever known. Even when heís yelling (which he does a lot), he is expecting the best out of his employees.
We sat on the porch and talked about our work. He reminisced about the late Ruth Wells, who kept the books for the Enterprise when Mac was publisher. Lea was with him, and she said she proof reads their paper, which I think is the Dublin News. Anyway, it is in Dublin.
Kelsey, their beautiful daughter, is a junior in high school. She must make a stir among the young men of that town. And I met Bridgette, Macís granddaughter, also a beauty in the making.
I joshed Mac a little about his thickened waist. He said it is normal for him to gain weight, then lose it. He is on the upside right now. Actually, it looks good on him. He always did take good care of his health, and looks younger than most men his age. Except, of course, for the bald spot he tries to keep covered.
Mac came to the Enterprise at a troubled time. I had made a bad judgment in a story, and the paper was fighting a lawsuit for libel (which we won). He stood solidly behind the managing editor and myself, refusing to settle out of court, even though it cost a bundle in attorney fees.
I found Mac to be supportive in everything I did, even when we disagreed. He only pulled the rug out from under me one time, and he said later he didnít realize he had done that. Itís not hard to be loyal to a boss who keeps saying, ďGo girl!Ē and stands at the finish line cheering you on.
One thing I remember about Macís tenure at the Enterprise is his enthusiasm for Christmas celebrations. He hosted a dinner party every year. The last two or three were in his garage, and they were the best. We ate Leaís cooking and danced to canned music played by DJ Eddie Vasquez.
My only regret was that Mac wouldnít join my church. His deep bass voice would have added a new dimension to our choir.
ďHe will give strength to his king and exalt the horn of the anointed.Ē I Samuel 2:10, NIV
EDITORíS NOTE: Peggy McCracken is Enterprise business manager. Contact her at peg2@pecos.net <!==========end copy==================>
---



Pecos Enterprise
York M. "Smokey" Briggs, Publisher
324 S. Cedar St., Pecos, TX 79772
Phone 432-445-5475, FAX 432-445-4321
e-mail news@pecos.net

Associated Press text, photo, graphic, audio and/or video material shall not be published, broadcast, rewritten for broadcast or publication or redistributed directly or indirectly in any medium.
Copyright 2003-04 by Pecos Enterprise
---