NEWS PAGES

Obituaries
Archive
Photos

ADVERTISING
Commerce
Classified
Economic Development
TRAVEL
Area Papers
West Texas
STAFF
Smokey Briggs
Jon Fulbright
Peggy McCracken
Rosie Flores

LINKS
Other Sites
|
Weekly Newspaper and Travel Guide
for Pecos Country of West Texas
Opinion
Tuesday, May 24, 2005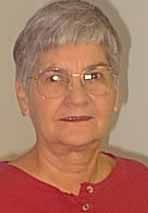 Squarely Pegged
By Peggy McCracken
<!=====paste copy here==========================>
Lively woman
is a Pearl
Pearline Lively is one of those women who brightens up a room when she walks into it. Her dynamic personality adds a spark to every activity she's involved in.
Since she and Louis moved to Monahans from Pecos several years ago, she has been active in the hospital auxiliary. As business manager for The Monahans News, I have dealt with her on advertising for blood drives, and found her just as cheerful and cooperative as I remember her from our association as members of West Park Baptist Church.
Last week when I called her, Pearline was her usual chatty self, and we burned the telephone lines for about an hour. She has had some health problems, but hasn't let them slow her down much.
She teaches a women's Sunday school class at Southside Baptist Church, and I have heard rave reviews of her work. That is not surprising, as she is an excellent Bible teacher. We part company on some of her "women must submit to their husbands, no matter how they act" rhetoric. But there is no one I would rather have in my corner. Louis was working in the oilfields around Orla, and she was a pillar in the Orla Baptist Church before they moved to Pecos. They were unable to have children, so they adopted Stewart and Denise. You never saw two more proud parents.
Denise lives in Monahans, and I have seen a poster of one of her daughters in a cheerleader uniform or sports regalia on the wall of the First National Bank. She worked in the school administration office for awhile, but I believe she retired to be a full-time Mom.
I see a lot of ex-Pecosites in Monahans. Donna Johnson (Billy the deputy marshal's wife) stopped to chat as I started for the bank last week. There's another bright personality. Pecos shoulda hung onto that young couple and their precious little girl.
Despite the exodus from what used to be a bustling desert town, I have seen some signs of spring. New people with vision are moving in and setting up businesses, restoring old houses, and generally bringing a fresh outlook. Go girl! is what I say to them all. "For this God is our God for ever and ever; he will be our guide even to the end." Psalm 48:14, NIV
EDITORS' NOTE: Peggy McCracken is Enterprise business manager. Contact her at peg2@pecos.net <!==========end copy==================>
---



Pecos Enterprise
York M. "Smokey" Briggs, Publisher
324 S. Cedar St., Pecos, TX 79772
Phone 432-445-5475, FAX 432-445-4321
e-mail news@pecos.net

Associated Press text, photo, graphic, audio and/or video material shall not be published, broadcast, rewritten for broadcast or publication or redistributed directly or indirectly in any medium.
Copyright 2003-04 by Pecos Enterprise
---