NEWS PAGES

Obituaries
Archive
Photos

ADVERTISING
Commerce
Classified
Economic Development
TRAVEL
Area Papers
West Texas
STAFF
Smokey Briggs
Jon Fulbright
Peggy McCracken
Rosie Flores

LINKS
Other Sites
|
Weekly Newspaper and Travel Guide
for Pecos Country of West Texas
Opinion
Tuesday, May 17, 2005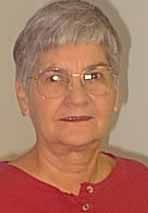 Squarely Pegged
By Peggy McCracken
<!=====paste copy here==========================>
Retired teacher
touches many lives
Parking in the visitor's space at Manor Park in Midland, I spotted two elderly ladies getting out of a red car in the sheltered drive near the front door. The driver brought around a wheeled walker for her passenger, whose red hair has turned almost white.
It wasn't hard to recognize Elizabeth Schmidt, the very lady I had come to visit. She introduced me to her sister Frances, one of the three Titus girls whose father was an engineer with the Texas Highway Department when I came to Pecos.
I may be wrong, but I think they all grew up here, along with twin brothers Charles and James Titus. James died several years ago, but Charles still lives here. I see him occasionally.
Elizabeth and Frances had been to a Sunday school luncheon at the home of one of the members. "She had tables all over the house," said Elizabeth (Libby to her intimates).
I know Elizabeth enjoys outings with her sister, and that's one of the reasons she chose Midland when she decided to sell her house and move into a retirement home. Manor Park used to be called Trinity Towers. It is moving into new quarters "down the road apiece" in the near future.
Elizabeth has a nice bedroom and bath on the fifth floor, where she has a big window for reading light and watching Mother Nature outside. She takes her meals in the second-floor dining room, which she says is easier to get to than the first floor.
On my first visit several months ago, Elizabeth was just coming out of that first-floor dining room, and I spotted her as I was signing the guest register. She lived on the third floor then, with a small kitchen and sitting area. She moved upstairs to have access to more personal care when she became ill.
"I just sent you a Bible Pathways," Elizabeth said. And sure enough, when I got home, there it was. She is faithful to send copies of that monthly Bible reading guide to several people. She also sends books, pamphlets and anything else she can get her hands on to friends and family to encourage them. Not to mention donations. She still sends her tithe and mission offerings to First Baptist Church in Pecos, where her membership remains. And she is one of our faithful God's Army supporters.
Giving and loving are probably responsible in large part for Elizabeth's longevity and her ability to continue living a full life way beyond her promised "threescore and ten years." Thurman Williams is a little put out with me because I had him marrying his aunt in last week's column. His fiancé is Sofia, not Dorothy. Sorry about that, Sofia. And Dorothy.
"I will praise you, O Lord, with my whole heart; I will tell of all your marvelous works." Psalm 9:1, NKJV
EDITOR'S NOTE: Peggy McCracken is Enterprise business manager. Contact her at peg2@pecos.net
Your View
Local clarifies her own excellent points
Dear Editor:

Mr. Castillo made some excellent points in his letter, and I realize that I need to clarify some of my own.

The majority of those students of whom I spoke who attended prestigious universities did so by earning scholarships based on their academic and community service records; many of our students have also been awarded scholarships to outstanding vocational schools.

Their motivation and the Pecos school system equipped them to pursue those paths. True, few of these graduates returned to their home town, but many make far-reaching contributions through medical research, technological developments, engineering skills, and business and economic advancements. This fact does not diminish the significance of the contribution of others. Anyone who does his best benefits us all. The point is that we need to prepare all our students with as strong an academic background as possible for whatever future they choose.

The turf issue is relevant because no one would ever suggest that a football program be discontinued. Extracurricular activities help develop well rounded and disciplined personalities. My objection is to one sport enjoying a disproportionate amount of the athletic budget. How many Pecos High School students go to college on swimming scholarships, tennis scholarships, golf scholarships, softball scholarships, track scholarships, rodeo scholarships, or volleyball scholarships, and how many go to college on football scholarships? Am I the only reader of the Enterprise who does not know a single person in his/her 40s, 50s, 60s or 70s who continues to play football rather than to go golf or tennis or to swim?

So often when I was teaching I had students who were dejected and disappointed because they had never missed football or basketball practice, yet they never got to play. The starters, many who did miss practice, always played. But now, as I see it, the school board and the administration are morally bound to apply the same rubric to athletics that they do to academics - that means that everyone who goes out for the same sport will get to play an equal amount of time during each game. Motivations, expertise, and conscientiousness cannot be capitalized on. There is, after all, merit in this madness! PRISS McNUTT
Reader suggests class sizes be reduced
To the Editor:

Because I care about Pecos and what direction it goes, I feel compelled to write again. I would hope we look to improve and reach for the ideal! It seems we claim our nation was founded on the ideals that we want to strive for such things as teaching not only academics to our children, but basic nation and community values, as looking out for those who have not had the advantages some have had and that all men are created equal.

We have been told by our Creator to train up a child in the way he should go and when he is old he will not depart from it. My statement often quoted to my children is we are blessed to bless others not ourselves. We are to train attitudes to our children as well as academics. Yes, all deserve to be treated well but those given much will do well any way for the most part. One can always read the wealth of information that is available today, and learn as any self-taught people have done. Degrees do not impart true wisdom that comes from our Maker. I pray a child learns from his training early and is old in his wisdom in his 20's but for some it comes in their 30's, 40's, 50's, 60's, and if they live long for some not until their 70's and 80's.

The truly gifted like Mozart and Enstein, I do not see much of in this school district. We have many good solid high achievers and focused children that come from families that value education. Any good teacher can challenge them and they themselves and their parents can challenge them. As I said before let's reduce class size! My hat has always gone off to my elementary educators for the tough job they have. Let's help them do a topnotch job for all our kids. Let's volunteer if we can or whatever it takes to see every child has every opportunity that they can possibly have. But if we are realistic we all know money does not grow on trees. Public education has to do the best it can with what it is given both in resources and material.

So, let's all get together and do for ALL the kids of this school district so tomorrow will be good for ALL the kids. Yes, I want to strive for the IDEAL and not settle for the mediocre for ANYONE!

Respectfully submitted,
SYLVIA DANNELLEY-MCCREE
Teacher supports the school board decision
Dear Editor:

I am a teacher for the Pecos Barstow Toyah school District. I support the decision of the school board to do away with the enchanced program. It has been proven by research that homogenius grouping is not good for the students. They benefit more from hetrogenious grouping. It is my experience that the teachers in this school district cater to the needs of all their students regardless of their ability level. I support the idea of a GT pullout program because that would service the students that are truely enhanced or GT rather then just the students who requested the enhanced teacher. Also, as Steve Valenzula stated the enhanced program is a local program and not mandated by the state but the GT program which is going to be left in place is a federally mandated program. It has also upset me as of late to hear our editor refer to our school board as idiots because in my opinion that is like calling all the teachers and employees of the district idiots. Thank-you
REBECCA JEFFRIES <!==========end copy==================>
---



Pecos Enterprise
York M. "Smokey" Briggs, Publisher
324 S. Cedar St., Pecos, TX 79772
Phone 432-445-5475, FAX 432-445-4321
e-mail news@pecos.net

Associated Press text, photo, graphic, audio and/or video material shall not be published, broadcast, rewritten for broadcast or publication or redistributed directly or indirectly in any medium.
Copyright 2003-04 by Pecos Enterprise
---