NEWS PAGES

Obituaries
Archive
Photos

ADVERTISING
Commerce
Classified
Economic Development
TRAVEL
Area Papers
West Texas
STAFF
Smokey Briggs
Jon Fulbright
Peggy McCracken
Rosie Flores

LINKS
Other Sites
|
Weekly Newspaper and Travel Guide
for Pecos Country of West Texas
Opinion
Tuesday, May 3, 2005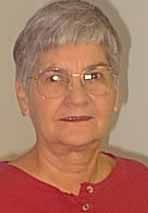 Squarely Pegged
By Peggy McCracken
<!=====paste copy here==========================>
April vacation
takes a detour
Mississippi and Missouri were my planned vacation sites in April, visiting with family. As it turned out, I did visit with family, but a different set.
Son David and his wife, Helen, roared up on their Harley Davidsons to celebrate this 51st birthday April 14. I was leaving the office for the day when these two tall biker types wearing black leathers and doo-rags walked in the door.
"May I help you?" was on my lips before I realized it was my own children. They took a little spin around town as I made a few business stops, then met me at the house I had locked them out of, while sticking a note on the door: "I am at work. Come on in."
For his birthday present, I let them shore up my sagging back fence, then took them to dinner at the Flying J buffet spread. We shared a movie that night, and they cleaned house the next morning while I worked. David found a few more manly chores that needed doing, and Friday was another good day.
They went to Midland on Saturday to visit Amanda and Cieara. Just as they drove off, Kim Ewing called me to take pictures at the God's Army house where 17 youth and 11 adults were cleaning the yard and holding a prayer and fasting day. What an upper to see so many of my Christian family at work.
Sisters Mary Walling and Gail Trent arrived shortly thereafter. Mary, the family boss and hostess, brought food, so we pigged out and had a good visit. Teacher Mary, who attributes all the talent to Gail and me, beat us at Scrabble without breaking a sweat. We attended church at West Park Sunday.
David and Helen returned Monday morning for my surgery. David mothered me during the foggy recovery period that night. Noting that I was well on the road to recovery the next morning, and well tended by two sisters, they returned home to Del Rio and their jobs at Laughlin AFB.
Mary left for San Angelo Wednesday, and Gail pampered me to the spoiling point (but beat me at Scrabble). Knowing she couldn't be still, I assigned her a sewing job and showed her how to irrigate my garden. She mowed not only the front and back yards (cutting my wildflowers), but took on the whole South 40, a three-day job. She picked up my brush pile and put it in the dumpster, mended the fence, cooked, cleaned, did laundry and made up both beds before leaving Friday morning.
Through it all, I felt so calm and at peace that I knew God was answering all the prayer that had gone up in my behalf. I had no pain, slept like a baby, and healed quickly. Scads of visitors kept me from boredom the four days I was in the hospital, and cards and emails buoyed my spirit.
It was a blessing to be back in church Sunday. On Monday, I dropped in at the office to see if anything needed to be notarized and wound up working awhile. I have worked a few hours every day since, gaining strength and waking up the brain cells.
I wouldn't choose to have a physical ailment. But since it was here, I am so thankful for those who walked through it with me. God bless you one and all.
"For you, O Lord, have delivered my soul from death, my eyes from tears, my feet from stumbling, that I may walk before the Lord in the land of the living." Psalm 116:8-9, NIV
EDITOR'S NOTE: Peggy McCracken is Enterprise business manager. Contact her at peg2@pecos.net <!==========end copy==================>
---



Pecos Enterprise
York M. "Smokey" Briggs, Publisher
324 S. Cedar St., Pecos, TX 79772
Phone 432-445-5475, FAX 432-445-4321
e-mail news@pecos.net

Associated Press text, photo, graphic, audio and/or video material shall not be published, broadcast, rewritten for broadcast or publication or redistributed directly or indirectly in any medium.
Copyright 2003-04 by Pecos Enterprise
---