|
Daily Newspaper and Travel Guide
for Pecos Country of West Texas
Opinion
Tuesday, May 28, 2002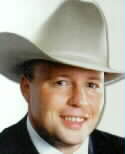 Sage
Views
By Smokey Briggs
<!=====paste copy here==========================>
Childbirth and the
female sense of humor
I think moms lose their sense of humor when a baby is born. After four-and-one-half-years of fatherhood I have had plenty of time to observe this phenomenon.
Being a school-trained observer of human nature I think I am well qualified to conclude that when a baby first exits the mom, mom's sense of humor leaves with it.
Case in point:
I like eating those little fish crackers _ you know the cheesy ones shaped like little fish. They taste fine but mostly they are just fun, especially when combined with a four-year-old and a toddler.
The fish crackers are part of the special dad-daughter relationship.
First you take a handfull of fish crackers and arrange them in "schools" on the counter top, the table, or even the floor if mom swept recently.
Then, the sharks swim through the schools maiming and eating the hapless fish.
The sharks, of course, are dad and his two daughter sharks. Sharks do not have hands so all maiming and eating of fish must be done shark-style. Teeth only.
The carnage is horrific. The fun goes off the top of the fun meter. And, snack time takes care of itself even if Dad cannot stick around for all the sharking.
This is great fun to a Dad who apparently still has a sense of humor.
Not so for humorless mom.
The other day, we were at some pretty civilized restaurant _ the kind where a flyswatter is not supplied by the waitress _ and as mom and dad carried on a semi-adult conversation my darling girls went about entertaining themselves with the baggie of fish crackers humorless-but-always-prepared mom has stuffed in most of the crevices of her purse, vehicle, stroller and I suspect her socks.
Anyway, my darling girls had barely begun the feeding frenzy when Mom noticed.
The look on her face did not reflect the mirth I personally felt at the moment.
It did not help when our youngest snapped her teeth at mom's finger as a shark probably would when something rudely interrupted a feeding frenzy. It really did not help that all of us sharks thought that the sight of the youngest shark firmly attached to mom's finger via her teeth was hilarious.
Mom found no humor in the whole situation.
None.
I was dumbfounded. This was funny stuff.
Then, Mom-who-should-have-been-an-interrogator-for-the-Inquisition began the questioning. It did not take long for the youngest sharks to innocently rat on the biggest shark as to the origins of the game.
Still no humor in Mom's eyes despite my boyish smile and the obvious comedy involved.
Go figure.
There was a similar situation concerning my teaching young four year old Ruby how to take care of nasal congestion without the aide of a handkerchief.
Many a day I find myself outside, working on a truck, hands begrimed, and set upon by the need to clear my nasal passageways. As generations of fathers have taught their children, that is when you use the "farmer blow."
One thumb compresses one nostril. Air is expelled from the lungs as well as any offending matter in the airway. Repeat for the other side, drag your forearm across your nose and the matter is finished. No muss, no fuss.
Ruby was helping me one day at about the age of three when a similar situation beset her. Being a good Dad, I taught her how to take care of the problem without need of a rag.
She was most impressed, and practiced most of the afternoon.
See, Dads can even make blowing your nose fun.
Well, sometime later, Ruby was beset once again with clogged nasal passages.
Unfortunately for me, she happened to be standing in the line for Communion at Church.
I heard the whoosh of air and stuff and glanced in the general direction to see my darling daughter, dressed to the nines in frilly white lace and black patent leather shoes, shifting her grip to clear the other side.
Church or not the scene forced laughter from my mouth. If the Lord was watching I know he laughed. The scene was charming and funny all at once.
Mom turned in time to see the results of try number two and the mandatory forearm drag.
"Hell hath no fury like a woman scorned?"
Not quite.
Hell hath no fury like a Mom who just watched her darling daughter clear her nasal passages the natural way in the Communion line.
At first I feared for Ruby's life. Mom's eyes held no humor. Wild fury might best describe the look.
Then Mom's gaze shifted. To me.
The look said it all.
"You taught her that," Judge-and-Jury-Mom declared with those eyes.
Sentence: Death.
Thank goodness I was underneath the roof of a Church where there must be some protection from such evil as I saw in those eyes. The memory still gives me chills, although not so that it suppresses an involuntary smile.
That was funny.
But not to Mom. The only explanation I have is that her sense of humor has deserted her and it really did seem to happen about the time our first was born.
So, it logically follows that Moms lose their sense of humor at childbirth.
I wonder if you could get doctors to do something about that?
EDITOR'S NOTE: Smokey Briggs is the editor and publisher of the Pecos Enterprise whose column appears on Tuesdays. He can be e-mailed at: smokey@pecos.net
Our View
Bush takes role of head nanny in armed pilot ruling
President Bush gets high marks for bowing to the politically correct advocates of the nanny state last week as his administration ruled against allowing pilots to be armed in the cockpit.

It seems that the carnage of 9/11 was not enough to allow a hint of common sense to seep beyond the gates of Washington, D.C.

The ruling toes the line of the nanny state _ "the government will protect us" crowd that seems to fear personal responsibility for anything, from finances to self-defense, more than anything else on earth.

This ruling, however, is especially enlightening into the nanny mentality.

Many of these pilots who may not enter a cockpit with a .38 caliber revolver loaded with rounds that cannot puncture the skin of their aircraft are also reserve pilots in the armed services.

Reserve pilots who were called up after 9/11 to stand ready at their airfields in the cockpit of armed fighter aircraft.

Fighter aircraft on standby to shoot down any hijacked aircraft before the plane can be used to damage ground targets.

Aircraft piloted by their brethren commercial/reserve pilots.

For the nanny state, it seems, it is okay for to put Pilot Doe in the cockpit to shoot down a 737 full of passengers once it has been hijacked, but it would be wrong to allow Pilot Doe to defend his 737 from those same hijackers with a pistol.

If not for the deadly nature of the problem, the hypocrisy would be laughable.

<!==========end copy==================>
---
---
Pecos Enterprise
York M. "Smokey" Briggs, Publisher
Division of Buckner News Alliance, Inc.
324 S. Cedar St., Pecos, TX 79772
Phone 915-445-5475, FAX 915-445-4321
e-mail newsdesk@nwol.net
Associated Press text, photo, graphic, audio and/or video material shall not be published, broadcast, rewritten for broadcast or publication or redistributed directly or indirectly in any medium.
We support Newspapers in Education
Copyright 2002 by Pecos Enterprise
---