|
Daily Newspaper and Travel Guide
for Pecos Country of West Texas
Opinion
Tuesday, April 23, 2002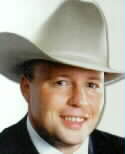 Sage
Views
By Smokey Briggs
<!=====paste copy here==========================>
The advantages of
flying with terrorists
I had my first brush with airline terrorism last weekend.
Luckily, despite the unmerciful torture of my fellow passengers, I was spared for most of the flight as I pretended to sleep through the ruckus.
It was nearly the end of the second leg of our three-leg flight when fate would no longer permit me peace.
"Here, you take her," She Who Must Be Obeyed said as she shoved a very sticky, 18-month-old Terrorist Number Two into my arms. At that moment Terrorist Number One was taking a breather _ recharging her four-year-old batteries on some kind of extra-sugary candy that some well-intentioned but foolish flight attendant had attempted to bribe her with.
(Notice I say "flight attendant" and not stewardess because I am a modern man _ a man modernized on that particular point several times during our flight by SWMBO who paid no attention to my argument that properly they should be called stewardess or steward depending on gender and not flight attendant which implied that they were somehow attending to the flying of the airplane, which they obviously were not).
Either way, holding a squirming, sticky, 18 month old toddler while fielding unending questions such as, "What is oxygen?" from a four-year-old at 30,000 feet is an experience in terror.
But, there are advantages to traveling with your own version of Terror Incorporated.
Getting on a commercial airplane these days requires something close to an act of Congress.
As you waddle up to the boarding gate you must have at the ready: boarding pass, boarding document, boarding verification document and a driver's license.
With the efficiency of a good Gestapo agent the guy at the boarding gate demands document after document all the while running a critical eye over your unworthy person.
Some of these guys are a little overbearing.
I took a certain glee in depositing my double armload of terror on the floor to wrestle between one particularly bossy gate guard's legs while I fished for my papers.
Before we were finished I think he would have accepted a stick figure sketch of myself drawn by Terrorist Number Two on a napkin as identification.
It gets better.
When you travel with Terror Inc. you gain privileges. You get to pre-board.
Pre-boarding means that no matter how many mooks stood in line for two hours in front of you, when it comes time to get on the plane, you and Terror Inc. get to go first.
It takes time to get Terror Inc. seated.
First each seat on the airplane must be investigated and each must be adorned with the appropriate amount of toddler goo.
Toddler goo is that substance found on an about toddlers that consists of candy, boogers, lunch, whatever they found on the floor, and the secret goo that holds it all together that toddlers emit constantly.
While Terrorist Number Two applies the goo to unsuspecting travelers' seats, Terrorist Number One begins THE CONVERSATION with an unsuspecting stewardess.
"Hi, my name is Ruby, what's yours?"
It sounds innocent enough.
The unsuspecting stewardess is charmed by the four year old imp before her.
"Hi Honey, my name is....."
Forty five minutes later the poor stewardess is still tactically engaged in conversation and looking desperately at the child's parents for salvation.
"How many stegosaurs do you think this plane would hold?" Terrorist Number One patiently asks as she bends the conversation to a topic she is better versed in than most archeologists.
I pretend not to notice the poor woman's plight. I have troubles of my own. I'm not sure SWMBO will buy my "I'm asleep" act much longer and that means I will be holding Terrorist Number Two soon.
As luck would have it, every leg of our flight was sold out.
This made for a few minutes of great entertainment before each flight as our fellow passengers shoved, jockeyed and fought not to be the unlucky few to share seating with Terror Inc.
Taking advantage of our pre-board status we would camp in one of the two or three clusters of seats where two rows of seats face each other.
Gradually our flight-mates would file aboard, first desperately searching for overhead storage for their duffle, and then realizing in horror that the reason that particular space was still available was because it was directly over Terror Inc.'s reserved seating.
Gradually the deadly serious game of musical chairs would come to an end and three unlucky souls would find themselves trapped.
"Hi, my name is Ruby," Terrorist Number One would begin as the verbal equivalent of Chinese water torture began.
"Blaaaah," Terrorist Number Two would holler as she launched herself along with a gob of toddler goo at our nearest seatmate.
Our seatmates on the second leg of the flight were particularly horrified when they realized their plight.
Nervously they sat down and smiled with the same sickly placating smile you would expect from a condemned man meeting his executioner.
Your see, they had also been our seatmates in the gate area and had personally observed SWMBO loading the biological weapon also known as Terrorist Number Two.
How one 18-month-old kid can eat an entire can of Vienna sausages, a banana, three cookies and top it off with eight ounces of milk is beyond me. I guess she takes after her dad.
No matter, our seatmates had personally watched the loading of the weapon. They knew the ticking bundle of exploding joy was primed and it was a matter of when, not if, it was going to blow.
Which brings us to the greatest advantage to traveling with Terror, Inc.
SWMBO always seems surprised at the natural consequences of feeding dad a couple of bean and egg burritos as a pre-flight meal.
Truthfully, the results are about as surprising as the rising sun each day but women are not necessarily rational creatures.
Anyway, being a rather cultured person, I try to refrain from introducing my fellow passengers to these consequences despite any personal discomfort it may cause.
But, when traveling with Terror, Inc., the problem is solved _ whenever things seemed a bit awkward I would scoop up my youngest terrorist and make a face.
"Whoo, somebody's a little ripe," I would say with a smile.
Yep, flying with your own terrorists has its advantages.
I highly recommend it.
Editor's Note: Smokey Briggs is the editor and publisher of the Pecos Enterprise. He can be e-mailed at: smokey@pecos.net

Our View
City Hall's petty response to an open records request
Our City government needs an attitude adjustment when it comes to public records.

Last Tuesday the Pecos Enterprise called Pecos City Hall to request a copy of the form Mayor Ray Ortega submitted when he filed as a candidate in this year's race for mayor.

Earlier this year the question of delinquent taxes played a prominent role in the Democratic primary race for Reeves County Judge. In light of that race the Enterprise decided to look into the property taxes of each of the candidates for city office.

The question seems especially pertinent since the Town of Pecos City Charter states that candidates and office holders cannot be delinquent on their city taxes.

The Enterprise's request to the city was covered under the Texas Public Information Act, as are all such requests for public records.

City Secretary Connie Levario was contacted since the city secretary is the official charged with accepting filings for candidacy in city elections.

Initially, Levario offered to fax a copy of Ortega's filing form to the Enterprise _ after all, what could be more public a record than a candidate's filing documents?

Later that same day, Levario called back and said that the city would not release a copy of the form without a written request from the Pecos Enterprise.

Levario would not comment on the city's sudden change in attitude toward a request for records that are so obviously a matter of public record and interest.

It seems a safe bet that the change in attitude did not originate in Levario's own office.

Under Texas open records law, valid requests for public records can be made verbally, in writing, by email or by fax.

Reporters are taught to make requests in writing so that they can later prove when the request was made if the governmental agency decides to fight the request. The law gives governmental agencies a fairly short time to either cough up the requested information or to request an opinion from the Texas Attorney General, so the date of the request can be important.

But, a request does not have to be in writing to be valid _ putting it in writing simply starts the legal clock ticking.

So, why should the Town of Pecos City demand that a request for such obviously public information be in writing?

We cannot think of a good reason.

Petty-minded obstructionism seems to be the only reasonable answer.

Public information is public information whether it is requested by a newspaper or a private citizen, in writing, or by voice.

In America, in Texas, City Hall is supposed to help put public information in the hands of citizens who request it.

City Hall is not supposed to be a roadblock to gathering public information.

That is the law.

It is also simply the right thing to do.

<!==========end copy==================>
---
---
Pecos Enterprise
York M. "Smokey" Briggs, Publisher
Division of Buckner News Alliance, Inc.
324 S. Cedar St., Pecos, TX 79772
Phone 915-445-5475, FAX 915-445-4321
e-mail newsdesk@nwol.net
Associated Press text, photo, graphic, audio and/or video material shall not be published, broadcast, rewritten for broadcast or publication or redistributed directly or indirectly in any medium.
We support Newspapers in Education
Copyright 2002 by Pecos Enterprise
---