|
Daily Newspaper and Travel Guide
for Pecos Country of West Texas
Opinion
Tuesday, April 16, 2002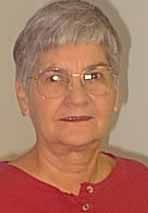 Squarely
Pegged
By Peggy McCracken
<!=====paste copy here==========================>
National events
develop local twist
Having reported on events in Pecos for 30 years, I don't pay much attention to national and world news until they develop a local twist. That's what happened with the recent Congressional action on campaign finance _ now signed into law by President George Bush.
When the Senate voted "yea" on the measure March 20, Dennis Burke of Common Cause was in the Senate Gallery with Doris "Granny D" Haddock. You may remember Granny D for her trek through Pecos in the Spring of 2000 to alert the country to the danger of "soft money" that she claims was buying our representatives in Congress.
Burke said that after the victory party, Granny D headed for Austin and he flew home to Arizona, taking a route over Texas. "After San Antonio, I looked down and saw what was clearly the town of Pecos and the Pecos River," he said. "I remembered wading across that river with Doris _ it's beginning to seem like a long time ago. I could barely make out the rodeo arena where she made her first big speech on her walk."
Granny spoke at the Relay for Life held in the rodeo arena that night, and I interviewed her there in the south stands. Burke sat a few rows above us in the reserved seat section, pecking away on the laptop computer that kept him and Granny in touch with the world as they traveled.
Burke says his flight continued over the "vast hills of the Long X Ranch (which Granny mentions in her book about her walk across America) and then over blowing sandstorms near El Paso. She had walked through such storms day after day, talking to any group of one or more people she could find. Campaign Finance Reform was a new issue to most of them, but many of them, I'm sure, have been among the tens of thousands who have kept the Senate and House phones ringing to disprove the big lie that people don't care about the corruption of our democracy."
You recall that Granny spent several nights in Toyah as a guest of Berta and Steve Begay. She captured their hearts, as she did mine.
I'm not sure how I feel about campaign finance reform. Granny's arguments sound good, but parts of the bill seem to tread on some constitutional rights. Nothing Congress does can keep crooks from buying votes anyway, but I suppose they had to try.
I do admire Granny, though, for having the grit to get out and do something positive. She has lived an interesting and productive 90-plus years, and she's not even thinking about quitting. May her tribe increase.
"Remember your Creator in the days of your youth, before the days of trouble come and the years approach when you will say, `I find no pleasure in them'…" Eccl. 12:1-2
EDITOR'S NOTE: Peggy McCracken is Enterprise business manager and webmaster. Contact her at peg2@pecos.net .
Our View
Killing our economy - one law at a time
Made in China. Made in Mexico. Made in Taiwan. Made anywhere, but here.
Last week Levi Straus and Company announced it was closing the rest of its U.S. based plants _ production will be shifted to plants overseas.
Overseas plants where costs of production are far cheaper.
President Bush recently signed regulations meant to protect what is left of the U. S. steel industry from foreign imports _ imports of good quality steel that is cheaper than American steel even after the cost of shipping.
Finding the "Made in the USA" label on anything, from hammers to t-shirts, is getting hard.
Why?
Have trade unions lobbied themselves out of a job?
Are American workers unwilling to work eight hours at a wage that will sustain a company's profits?
Maybe, but these are not the real problem.
The largest obstacle to business in America is the government. It is the maze of laws and regulations that we have created over the past 100 years.
OSHA. The EPA. Workers' compensation. Unemployment insurance. Equal opportunity laws. Sexual harassment laws. The Family Leave Act. Minimum wage.
Just the beginning of the long list of laws, government regulations and entire agencies that American business must deal with every day.
Each and every one was created with good intentions. Nobody wanted to drive up the cost of manufacturing. The intention was to make peoples' lives a little better.
Unfortunately there is a cost. Compliance costs money.
No American business can compete with foreign companies that do not have to navigate the tricky web of rules and regulations we have created.
Rapidly, real industry is leaving our shores. These are long-term cost of our good intentions: Chevy's made in Mexico and Levi's made in Taiwan.
Soon we may be the best protected out of work nation in the world.
Your View
Hospital staff, EMT personnel, police force are
congratulated for doing a job well done
Dear Editor:
My name is Alonzo Acosta, I work with Industrial Communications here in Pecos. Last Wednesday I was working on the Hospital paging system with Noe Orona.

I wish to report what I saw at the Reeves County Hospital Emergency Room area.

Noe and I were in the emergency room office where the paging system is located. I noticed a large group of people starting to gather within the halls of the emergency area. I recognized them as some of the hospital staff. I did not know what was happening.

I looked around, the air was so tense that you could have probably cut it with a knife. On each of the staff's faces, I saw sincerity and certainty as they patiently stood waiting with out a sound. What were they waiting for, I wondered. I saw Nancy Ontiveros whispering with some of the staff. I could not hear what was said, but some would shake their heads in agreement. I figured that they were going to have a meeting of some sort, but why did they all have plastic gloves on?

Lily Serrano was handing out some plastic items, I do not know what they were but by the way she was handing them out and by the way the staff was accepting them, I was assured that they knew what they were doing.

Just then both of the outside emergency room doors opened with a clang. In rushed the ambulance people, pushing people in on stretchers. I recognized Tony Carrasco and Dennis Thorpe among some of the EMT people bringing in patients in from several ambulances. Deputy sheriff officers were also coming in and helping with the crisis.

The whole room came to life, and the once motionless hospital staff worked like a well-oiled machine right along side the emergency people. It seemed like they were a swarm of bees working on their beehive. Each person knowing exactly what they needed to do. They all worked in a very methodical manner doing their part.

I heard a man on a stretcher complaining about having chest pains in spanish. Dennis, in his broken spanish, asked him where he was hurting. And then a nurse stepped in and asked the hurting man in spanish to tell her so that she could relay the information. I heard another nurse at the side of another patient stating she was going to start oxygen. And yet another nurse with another patient was starting an IV. Dr. Darpolor, in his calm usual manner, worked with a patient while giving directions to the staff, which they in turn accepting and preformed in a very professional manner.

I watched from the room that I was in. I looked in awe and amazement to see these people working so well along side each other.

I finally left and went to the nurse's desk and saw that some of the nurses were there looking at the television monitor to see what else was needed. I went outside only to see an emergency helicopter airlifting patients. I presume to another hospital.

A few minutes later, I then ran into a friend of mine, Teresa Talamantes, who is a nurse and works for the hospital. I advised her of what I saw. A look of concern swept over her face and stated, "I wonder if they need me, if they do, they can call me." About an hour later, I saw my sister, Delma Acosta, who was on her way to work. She is a nurse aide for the hospital. I told her what I saw at the hospital. The first thing she said was, "I better get going. I might be needed."

While tragic that this incident was, I found myself very happy and thankful to see the care and concern that our emergency and hospital people have for those in need of medical assistance.

I know that this incident might not have been of the same magnitude as the tragedy of September 11, but I saw first hand that the care and concern that the doctors, nurses, hospital staff, EMT personnel, and police force was the same, if not better.

I congratulate each and everyone of you for doing your job, a job well done.

Sincerely,
ALONZO "SPICEMAN" ACOSTA

<!==========end copy==================>
---
---
Pecos Enterprise
York M. "Smokey" Briggs, Publisher
Division of Buckner News Alliance, Inc.
324 S. Cedar St., Pecos, TX 79772
Phone 915-445-5475, FAX 915-445-4321
e-mail news@pecos.net
Associated Press text, photo, graphic, audio and/or video material shall not be published, broadcast, rewritten for broadcast or publication or redistributed directly or indirectly in any medium.
We support Newspapers in Education
Copyright 2002 by Pecos Enterprise
---