|
Daily Newspaper and Travel Guide
for Pecos Country of West Texas
Opinion
Tuesday, April 9, 2002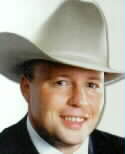 Sage
Views
By Smokey Briggs
<!=====paste copy here==========================>
Daylight savings time
... it's not worth it
Well, it is daylight savings time again. Or, as I like to refer to it, "Voluntary sleep deprivation" time.
How can one missing hour screw up every moment of your life for six months?
I cannot really explain it. However, like the sun rising and setting, I do know that it can. I will be missing that lost hour for the next six months.
I really do enjoy having a little extra daylight at the end of the day.
As I sit in the dark at six o'clock in the evening in January I pine for evenings filled with daylight
I think about little projects I would like to be working on _ like putting the cab back on my old truck that sits disassembled under the carport. That is also a favorite project of She-who-must-be-obeyed's (SWMBO) for some reason.
I think about sneaking off to the range to practice with my new pistol after supper.
I think about relaxing bike rides with my daughters.
I think about all the fun stuff I would do if the sun were still shining.
Then it happens.
I go to sleep one night. The next morning, the alarm goes off and tells me that 6:00 a.m. has once again arrived.
I crack one eye and the little guy that runs my brain when I am asleep assures me that the darned clock lies and tells me that it should be brutalized with a hammer or maybe a handy boot. It is only five in the morning, the little guy says.
Eventually my conscious self wins the brutal fight with the little guy that runs things when I am asleep, and who apparently can also be summoned into action by a few shots of Tequila, and who apparently was in charge of all bodily functions for most of my junior year in college. (Book learning was apparently not his strong suit).
It has started, I realize. Sleep deprivation time is here.
Bravely, I make it through the day _ always a minute or maybe an hour late _ and really tired.
The thought of all the fun I am going to have with that extra hour of daylight gets me through the day.
That and a lot of coffee.
At six o'clock I pull into the driveway and I am greeted by my darling daughters.
I get out of my truck with visions of a relaxing evening at play in my head.
Where is SWMBO?
Probably fixing her hair so that she looks her best when her husband sees her after a tough day killing lions and stuff, I think.
Then she appears.
It is sufficient to say that pearls and high heels are not the uniform of the day.
She has a broom in her hand and she is dusty and sweaty.
A quick look around the carport tells me that many of my best car parts have been moved and dusted.
Then the realization hits home.
There will be no extra hour of fun and relaxation today.
Instead, I will be rewarded for my sleep deprivation with projects _ projects that even slave-driving spouses must admit require daylight to be accomplished.
Daylight has arrived.
She even has a list.
She hands it to me. I scan line after work-laden line looking for headings like: "Sit in the kiddy pool and splash with your kids while your wife brings you a beer," or "Polish front end parts for your cool truck."
Instead my eyes are greeted with: "Turn flower beds," "Split railroad ties for landscaping," and "Mow lawn."
Man, I miss January already.
EDITOR'S NOTE: Smokey Briggs is the editor and publisher of the Pecos Enterprise whose column appears on Tuesdays. He can be e-mailed at: smokey@pecos.net
Our View
Pretty cities have citizens that care
About 45 people showed up Saturday morning to help clean up Pecos and filled over 200 bags with trash.

That was a noble effort and those folks deserve a pat on the back.

Unfortunately, these volunteers are spitting into the wind unless the people of Pecos decide they want to live in a clean town.

Volunteers can make a dent in the problem _ they can clean up especially trashy areas _ but the real solution starts with us as individuals.

Each day, each of us contributes to the general appearance of our city. We either make it a little better, or a little worse.

We can walk over the discarded paper in the gutter when we get out of our car, or we can pick it up. We can toss the refuse from lunch out the window or find a trashcan. We can pick up the can that blew into our yard or kick it into the street.

These are the decisions that will really determine how beautiful or ugly Pecos will be.

<!==========end copy==================>
---
---
Pecos Enterprise
York M. "Smokey" Briggs, Publisher
Division of Buckner News Alliance, Inc.
324 S. Cedar St., Pecos, TX 79772
Phone 915-445-5475, FAX 915-445-4321
e-mail newsdesk@nwol.net
Associated Press text, photo, graphic, audio and/or video material shall not be published, broadcast, rewritten for broadcast or publication or redistributed directly or indirectly in any medium.
We support Newspapers in Education
Copyright 2002 by Pecos Enterprise
---