|
Daily Newspaper and Travel Guide
for Pecos Country of West Texas
Opinion
Tuesday, March 26, 2002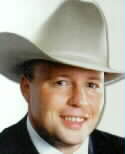 Sage
Views
By Smokey Briggs
<!=====paste copy here==========================>
Preachers, pistols
and small towns
I won a pistol in a raffle Saturday night.
Of course, most everybody in town knows that already.
Sometimes living in a small town can be a drag.
Everybody knows your business.
They know where you ate lunch last Wednesday who you ate with and what you talked about. They know if you won a pistol in a raffle and the circumstances surrounding that raffle.
On the other hand small-town life can be a lot of fun. It can be richly rewarding in ways that Dallas or Houston can only dream of.
Saturday night was like that.
Saturday night Pecos hosted its first Friends of the NRA banquet. The organization raises funds for youth shooting sports.
I am the chairman of the local committee. Did I mention that I also won a pistol?
It was a family affair. Twenty or so small children had a fine time despite us adults.
They were good kids. Generally the older ones were looking out for the younger ones. They played nice together. They were respectful to their parents and grandparents and other adults.
Moms, Dads and Grandparents were having a good time as well. It was the kind of evening you can only experience in a town of less than 20,000 people.
A lot of people already knew each other. Those who didn't quickly remedied the problem. People from out of town obviously felt welcome.
Overall there were more than 100 people gathered at the Civic Center having a good time, working a little bit, and raising a little money for a good cause.
It was small town America at its best, which I think is America at its best.
Did I mention I won a pistol?
That did not look good with me being chairman. I started to refuse and make them draw another name.
But it was a really nice pistol.
Mom took us to church the next morning. My oldest daughter Ruby was singing in the choir at the Methodist Church. I am not prejudiced about my children but Ruby's singing reminds me of an angel with rhythm.
Bruce Abbot, our local Methodist sky pilot was there to officiate. He attended Saturday night's banquet as well and took care of the praying.
Despite his heavenly connections, Bruce did not win a pistol and was not in a very gracious mood Sunday morning. When I told him I was a little bit hung over from the night before and asked him to keep it short he did not even smile.
After services were over Bruce made mention of the fact that the chairman winning a pistol looked a little shady.
I told him I almost gave it back and that Ruby's beautiful voice was not the only reason I was sitting up front in church this morning.
"Besides," he asked, "What will you do with another gun?"
I thought for a minute before I answered. It seemed a silly question but you hate to say that to a man of the cloth.
"What would you if another soul converted to Christianity?" I asked finally.
"Rejoice," Bruce said, or something like that.
"Exactly," I said.
Now if Bruce can just win my soul back from the devil we will all be happy.
Did I mention I won a new pistol?
EDITOR'S NOTE: Smokey Briggs is the editor and publisher of the Pecos Enterprise whose column appears on Tuesday. He can be e-mailed at: smokey@pecos.net
Our View
City ought to honor old handshakes
This is handshake country.
Country where folks do business, big business often, with nothing more than a handshake.
We have lost some of that as Yankees and television have made their respective marks.
Even so, if you could find a measuring cup for trust West Texas would fill it up and New York City would not wet the bottom.
Well, maybe we would. Times may be changing.
Today, the Town of Pecos City will hold a ground breaking for a new 20-unit low-income housing complex.
The city already owned the land these new houses will sit on and Pecos donated it after receiving a grant to install the necessary infrastructure for the project.
Unfortunately, this donation fails the handshake test.
The Pecos Volunteer Ambulance Service informed the city council early on that this land had been earmarked as the site for a new ambulance hall long ago.
As a matter of fact, the land was donated to Pecos by the Eisenwine family with this specific understanding.
That was back when Pecos did business on a handshake.
This is today.
Whoever shook hands with the Eisenwines is not calling the shots today and the city is not honoring old handshakes.
Not once since this controversy began between Pecos and the Ambulance Service has a representative of the city denied that the Eisenwine's donated the land, and the city accepted it, with the understanding that a new ambulance hall would be built on it.
What the city has said more than a few times is that donating the land to the housing project was "legal."
Yes, donating that land was legal.
Unfortunately, it was not also the right thing to do.
Sometimes, there is a difference.
While the Ambulance Service's land will soon be under a new housing development, the city should at least try to make things right.
The Ambulance Service ought to be allowed to take its choice of vacant land the city owns and Pecos ought to grant it to the Service.
When that happens the Ambulance Service would be wise to get a contract engraved in stone and written by a half-dozen lawyers.
It is a shame a handshake will not do.
Your View
Support your local merchants before going out-of-town
Dear Editor:
I, too, am very thankful that we have Wal-Mart, Bealls and La Tienda in our town. But my eyes are open and I am very aware of many, many other outstanding retail stores in Pecos. I choose to try these stores for my needs before even thinking about using my time to drive out of town to shop.

First, we have a Gibsons that is owned and managed by Larry Windham. He is a very accommodating person, probably knows you by your name and if he doesn't have what you want, he will try to get it for you. This holds true for almost all of the retail stores in Pecos. Lee Lumber and Brownlee Hardware can help you fix or build almost anything. Airlawn Furniture has a great selection of furniture that you can rent or buy and also has flooring and paints. Tony's also has a nice selection of flooring and Slancals has great Mexican import furniture. Desert Rentals can rent or sell you furniture, too.

Pecos has 3 flower sops, Hela's, Four Seasons and Taylors where you can also place and receive your J.C. Penny catalog orders. Each store will work with you on any project, try them. Jim Rankin at Pecos Feed and Supply can help you with all of your livestock needs and The Taylors at Pecos Valley Grain & Supply have Purina, and other brands for your pets and livestock. They regularly offer courtesy services such as dog dipping, etc. Cowboys boot repair is a very handy business to have around and Johnny Mauldin has been in this business for many years. Elliott Printing will also work with you on any project with great results. Bob's Thriftway is a very well stocked grocery store on South Eddy. Roza's Produce has great seasonal fruits and vegetables.

Pecos has two very well managed pharmacies, Professional and Redigers. One has a very nice gift shop, too. Fonvilles Jewelry has a great selection of almost any kind of jewelry and also custom makes jewelry to your specifications. There are two car dealerships, Colt Chevrolet and Valley Pontiac and Cadillac. Many, many towns of our size have no car dealership at all. Pecos can boast of having two auto parts stores, Car Quest and NAPA. Both are long established stores here. Eagle tire is on the Balmorhea Highway and can also help you with U Haul rentals.

Bryan's Nursery is open all year round for you to buy your plants and trees. Dan's offers CDs by the hundreds and all sorts of movies to rent. There are two different offices open for Cellular One. We even have a smoke shop run by Ernie. There is the Dollar Store and the Family Dollar where, if you take time to really look around, you can find all sorts of bargains.

And for clothing stores, there is Desiree's Boutique with clothing and shoes for both men and women and Hollywood Boulevard with ready-to-wear from daily to special events. To not be overlooked is my store, Needieworks, Etc. I have been in business for 18 years, offer very fine ladies ready-to-wear and accessories along with custom monogramming and heat press lettering and designs. I, too, will try my best to help you if I do not have in stock the exact thing you are looking for. I have enough faith in Pecos that I recently invested my time and money in refurbishing an empty building in the downtown area and moving in to it last September. Come by to see what I have done.

I guess what I am trying to say is before you start complaining about what Pecos does not have, try stopping by the many, many great places that we do have. These businesses are the ones that pay taxes here, support all the activities that take place with our school and community and are the first to take notice when someone in the community needs help. You might even be surprised by the competitive prices and the personal service that we offer.

Thank you,
PEGGY WALKER, Owner
Needleworks, Etc.
120 South Cedar

<!==========end copy==================>
---
---
Pecos Enterprise
York M. "Smokey" Briggs, Publisher
Division of Buckner News Alliance, Inc.
324 S. Cedar St., Pecos, TX 79772
Phone 915-445-5475, FAX 915-445-4321
e-mail newsdesk@nwol.net
Associated Press text, photo, graphic, audio and/or video material shall not be published, broadcast, rewritten for broadcast or publication or redistributed directly or indirectly in any medium.
We support Newspapers in Education
Copyright 2002 by Pecos Enterprise
---