|
Daily Newspaper and Travel Guide
for Pecos Country of West Texas
Opinion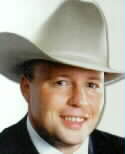 Sage
Views
By Smokey Briggs
<!=====paste copy here==========================>
Tuesday, January 29, 2002
John Walker -- Traitor?
So John Walker is a traitor? Somebody is going to have to explain this to me better than Dan Rather and the rest of the talking-head Muppets employed by the networks have.
I do not follow the logic.
Lets see, a sixteen-year-old kid becomes disillusioned with the you're-okay-I'm-a-self-centered-California-whacko life teachings of his parents and goes off in search of moral guidance. (I cannot say I blame him for that. A wild pig might find itself less than spiritually nourished with similar parenting).
For better or worse he ends up converting to one of the more conservative brands of Islam, moves to Afghanistan, renounces his citizenship for all intents and purposes, and becomes a foot soldier in the army of the Taliban.
At the time the United States is not at war with Afghanistan and few, save perhaps a few CIA analysts, could even begin to predict such a conflict in the next 100 years.
The terrorist cell his new government harbors destroys the World Trade Center and his government then refuses to hand the terrorist over.
We do what we ought to in such a situation and invade. John Walker fights on the side of his new country. His army gets pulverized and he ends up a prisoner.
What, in all of that, constitutes treason?
Nothing.
First, he renounced his citizenship in a such a way that anyone but a lawyer would recognize it. Non-citizens cannot be guilty of treason.
Sabotage yes, treason no.
Second, he was not a saboteur or terrorist, or I have not heard anyone accuse him of such. He was a foot soldier. A grunt.
So what can he be accused of? What could he be guilty of?
From what I can tell, his worst crime is renouncing American culture and joining a culture that likes to make its women wear veils.
I am not sure where that particular crime is written down in the United States Code.
The proper response is to send him back to Afghanistan — the country of his choosing — and let Afghanistan deal with her own. He is not an American and we should not treat him as one.
EDITOR'S NOTE: Smokey Briggs is the editor and publisher of the Pecos Enterprise whose column appears on Tuesdays. He can be e-mailed at: smokey@pecos.net
Our View
New York's firemen statue -- liberals run amuck
The debate surrounding the proposed statue to honor the fallen firemen of the World Trade Center attack is sad commentary on the state of American culture.
In case you missed it, the city of New York has commissioned a bronze statue recreating Thomas Franklin's now famous picture of three New York fireman raising Old Glory amidst the rubble of the Trade Centers.
Unfortunately, history demonstrated incredible poor taste by unfairly representing the races in that picture. All the fire fighters in the picture were white.
Darned reality!
The statue was commissioned to look just like the photo, except, two of the white firemen will be replaced with a black fire man and a brown fireman.
Welcome to the world of the hysterically politically correct.
The decision is a chilling illustration of the hypocrisy, stupidity, and blatant racism the left embraces as proper.
There is nothing wrong with creating a statue honoring whomever for whatever depicting people of any type — if New York wants to erect a statue representing every race, gender, sexual orientation and every possible mix of the three, that would be fine.
But such a statue should not masquerade as a historical image and that is what this statue as currently conceived does — it pulls a politically correct cover over a historical image to force it to conform to the beliefs of a bunch of quota-counting fools.
The worst part is that this politically driven decision by a few moral cowards detracts from the message of honor and sacrifice that this statue embodies for all Americans of every race, creed and gender.
Your View
City Hall -- a new beginning
Dear Editor:
I usually don't respond to editorials or letters to the editor. However the time has come to address the issues that have been addressed in the editorial of December 26, 2001 in the Pecos Enterprise and the letter submitted by Mrs. Emily Fernandes.
First about the editorial entitled "City Hall apparently the new doors were just the beginning." Mrs. Valenzuela spoke to the City Council during the "public comments" portion of the meeting. The city council is not allowed to take any action on matters that are addressed by citizens during this portion of the meeting. I later called Mrs. Valenzuela to inquire if her questions about the landfill had been addressed and to see if she had received the documents she had requested. I was told she had received the documents, I left a message for her to call me if she had any other questions. The editorial goes on and refers to our city employees as "minions" I find this use of language to be offensive and unprofessional. On this same day the editor printed in his column "SAGE VIEW" "The Best Part of Christmas" a brief quote excerpt from that column "With a pinch of that understanding in our hearts we are genuinely friendlier, and happier, and more likely to suspect goodwill rather than selfish motives from our fellow men." Food for thought. The City of Pecos has good employees. They are proud and hard working. Mistakes are made, no one is perfect. We should all try to improve and do the best job possible everyday.
To address the "moronic expense" for the new security doors, the actual expense was less than a $1,000.00. What value can you place on a life? The letter to the editor by Mrs. Emily Fernandes is concerned with the remodeling of City Hall. She asked if something had happened to warrant the changes. Do we have to wait for something to happen before changes can be made? The airline industry wishes they had made some security changes prior to the tragic day of September 11 2001. The doors and payment windows have been installed for the safety of our employees. I am concerned that an official of the West Texas National Bank would make public information the lack of security at the bank. The city staff is able to perform their job duties in a safe environment. The attitude at City Hall is to SERVE THE CITIZENS OF PECOS. People do not like change yet most everyone in the community always tells me "things need to change we need to do something to turn Pecos around". We are doing the best job we can.
The current administration has made changes and is looking to give Pecos a "NEW BEGINNING", we are working on problems for the City of Pecos that should have been addressed twenty years ago. At the same time we are trying to address the new problems. I was offended by the ignorant accusation of city government as "MAFIA" how ridiculous. The letter goes on to say the "Locked City Hall doors a bad image" It is letters that make accusations without any validity that create a dark cloud over the City of Pecos. At a time when we should be working together. Letters like this continue to divide the community. Anchor is closing it's doors and eliminating 700 jobs. Everyone asks "What are you doing?" Let me ask you, citizens of Pecos "What are you doing?". Do you tell people how great it is to live in Pecos or do you complain how bad it is to live in Pecos? I like living in Pecos and will continue to work to make it a better place to live. How about you?
There are many individuals in the community of Pecos that are working very hard to bring another business to replace Anchor. Those people have put many hours into this project. They remain anonymous and thankless. My thanks go out to these people who are trying to improve our community. Unfortunately there others in the community that suffer from the "CRAB MENTALITY". Some people in the community are working to go up and then there are those who will reach up and knock you back into the unproductive hole they live in. Those are the same people that ask "Why is Pecos drying up?".
Election time is here. Exercise your right to vote. All I ask is that you be an informed voter don't be influenced by the uninformed. Exercise all your rights, ask questions and wait for an answers.
Sincerely,
JOHNNY TERRAZAS
City Councilman & Citizen of Pecos, Texas
County judge candidate stresses development
Dear Editor:
I would like to share a few comments from a voter's perspective on the January 18th, "Meet the Candidate," night in which the candidates for County Judge differentiated their objectives. The incumbent advocates government involvement in problem solving our community's dilemma with more government spending, more bureaucracy; greater government involvement in the affairs of everyday life. His challenger advocated private and free enterprise, an environment of competition. His exact term was "Economic Development." My only hope is that the economic development he promoted is different from the "Economic Development Corporation's" definition of economic development, one of non-performance and lack of imagination.
This differentiation denotes two different systems of government; Capitalism versus Socialism. Capitalism has been the thrust in this country since its birth. Socialism has been the thrust in countries like Cuba, China and others. It really hasn't worked well there and I doubt it will work well here in Pecos.
The candidates utilized their time allotment wisely. They were straightforward, informative and to the point. As for the no-shows, is this an indication of their future performance?
I was very impressed by the Democratic congressional candidate, Henry Cuellar. His credentials are of the highest caliber. Even though I have voted for the Republican candidate in the past, I believe I will have a difficult time in not considering Mr. Cuellar for this position. Gracias.
Sinceramente,
JANIE N. RODRIQUEZ
Actions of Barstow fire dept. defended
Dear Editor:
I would like to respond to concerned reader's letter that appeared in the 22 January 2002 edition. The point of my letter was to inform the community of the services the BVFD has to offer. She brought up numerous points that I plan to address in my follow up letter. First, I would like to say that I agree 100% with her closing statement about tell the whole story and what I want. I told the current story of the condition of the BVFD. The whole story would wind up being a novel.
Concerned reader was curious about the firefighter's training and concerns for their own safety. I don't know a single firefighter that isn't concerned for their safety. When uniforms offer little to no protection because of age and use, the firefighter has to take extra precaution. As for training, most of the firefighters have been in for a short time. Training classes at College Station are in the works. We did have a mock car fire in which the new firefighters were shown how to operate the equipment and how to approach the situation.
Concerned reader mentioned that we were given a $3500.00 donation from the Ward County Irrigation District. We are extremely grateful for this donation. She also mentioned that Pecos donated a fire truck to the BVFD. In my previous letter, that was mentioned. I say this again ... we are grateful for that donation.
Concerned reader stated that our fire chief did not show up for the board meeting, which is true. He was out of town because of training for his new job. What she failed to mention was that our first assistant chief was present at that meeting. The utility bill we paid was part of an agreement in which the recipient was to pay us back. That is currently in process.
Concerned reader mentioned the Christmas lighting contest that the BVFD sponsored. What she failed to mention was the money was donated for the contest by two local citizens a Pecos business. The monetary awards did not come from our funds. I understand that the new fire department was taken over by the City Council for safety reasons. What she failed to mention is the current status of our post office.
Our postmaster has been working out of a postal truck since the post office was condemned for safety issues. She has been working out of that truck for close to a year. The taking over the project was not the issue. The issue was about the firefighters safety due to substandard equipment.
Concerned reader states that we play in the streets and in the water. Perhaps she misconstrued the mock car fire as playing in the streets. As for playing in the water, we're not allowed to check the fire hydrants. Perhaps she misconstrued the fact that several firefighters were washing the truck in preparations for the Christmas parade. The truck was dirty after responding to the car fire that occurred at the construction site just outside of Pecos.
I'm going to close this letter by reiterating concerned reader's closing statement. Tell the whole truth and not what you want told.
Sincerely,
JOHN V. DIEHL, JR.
Critic's Corner
Brook's book shows photos of places she's traveled
Joyce Brooks' list of places she has visited for free reads like a world map. All 50 states of the United States and nine Canadian provinces are just a start. From Antigua to the Virgin Islands in Central America, Argentina to Venezuela in South America, Andorra to Yugoslavian Europe, Brunei to Vietnam in Asia, Cape Verde Islands to Zimbabwe in Africa and Australia to Tahiti in the Pacific Area, she has traveled up and down the alphabet.

In her book, "Around the World in the Middle Seat," Brooks tells how she saw the world (and survived) as a group travel leader. She takes the middle seat because her husband likes the window seat, Brooks explains in the prologue to the 266-page paperback.

During the 25 years they led group tours, Brooks said the flight to and from the destination was the only unpleasant and bad part of a trip. "But it was certainly worth every inconvenience and all the dreadful food to see and to do everything that I have experienced," she said.

Photos accompanying the riveting text range from near-naked natives of Indonesia to uniformed waiters holding aloft dishes of Baked Alaska.

Anyone who has dreamed of seeing the Taj Majal or strolling the streets of Paris in the spring should read this travelogue, which sells in bookstores for $17.95. ISBN 1-887140-39-5.

_ Peggy McCracken

<!==========end copy==================>
---
---
Pecos Enterprise
York M. "Smokey" Briggs, Publisher
Division of Buckner News Alliance, Inc.
324 S. Cedar St., Pecos, TX 79772
Phone 915-445-5475, FAX 915-445-4321
e-mail newsdesk@nwol.net
Associated Press text, photo, graphic, audio and/or video material shall not be published, broadcast, rewritten for broadcast or publication or redistributed directly or indirectly in any medium.
We support Newspapers in Education
Copyright 2002 by Pecos Enterprise
---