|
Daily Newspaper and Travel Guide
for Pecos Country of West Texas
Opinion
Tuesday, January 22, 2002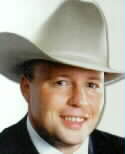 Sage
Views
By Smokey Briggs
<!=====paste copy here==========================>
Airline security and
the genius bureaucrats
Well, I have flown the friendly skies once more.
I have arrived at the airport hours early, slogged through security check points, been disarmed, put up with very stupid and equally rude security personnel (and I use that term loosely), and had a very interesting conversation with a lady who thought the air marshal was on the plane to protect her.
Obviously, I did not enjoy my trip through security city. But did I feel safe? That is the question right?
The answer is no. Well, not at first.
All of our upgraded airport security is a giant joke. But, it is a joke with two punch lines. That is the twisted beauty of bureaucratically inspired and implemented security measures.
I do not think these measures could stop a platoon of terrorist with lukewarm IQs and rocket launchers from getting on a plane _ but the combination of minimum wage, minimum IQ security guards with the power of Cerberus at the gates of Hades (and a federal job from which one could more easily return from Hades as be fired), and security measures implemented randomly by morons, is enough to thwart any terror-minded individual.
It is just too much of a hassle. Even terrorist understand time management.
Like I said, it took me some time to realize the genius involved in the plan. Until then, I was a bit disgruntled.
Being disarmed of my Navy Seal-issue commando nail clippers did not set well with me. I was particularly chapped as I spent 15 minutes chewing at a hangnail like a hungry first grader, and later as I was forced to bite a chew of tobacco off my plug like some uncivilized hillbilly.
Civilized men cut their tobacco, everyone knows that. I winced my understanding when the young lady sitting next to me grimaced as I gnawed at my plug. She obviously understood.
"Darn shame isn't it? Grown man reduced to this?" She just nodded. She looked kind of pale as though flying did not agree with her.
"I think I know who the air marshal is," she whispered conspiratorially a bit later. "He is in first class I think. I feel a lot safer with a marshal on board."
"Why?" I asked innocently.
"Well, because he will protect us if anybody tries anything," she said as though I really were an uncivilized hillbilly that preferred to gnaw at my plug rather than cut it.
"No he won't," I said.
You would have thought I had spit on a church pew by the look on her face. Actually I had missed my spit can by a bit but I had dabbed it up with my handkerchief.
"That is why he's here," she said. "To protect us."
"No it is not, Ma'am. He is here to keep some moron from taking control of the cockpit. If he came running back here every time some looney started hacking up the coach passengers with a plastic hatchet he would be easy to identify and neutralize. We are acceptable casualties," I said. "His job is to protect folks on the ground from the plane, not passengers on the plane from terrorists."
I guess the poor girl thought she was flying with Marshall Dillon standing ready with fists and six guns in case some would-be terrorist assaulted her honor or person.
"But who protects us?" she asked looking a little pale again.
"I think that is the job of the little gal back at the secuirty check point _ the five-foot, two hundred pound, minimum-wage version of Napoleon with the long blue nails. Did you come through her check point?" I asked.
"Yes. I almost missed my flight because of her."
"That is how she protects you," I said and received another blank stare.
So I explained my new understanding of airport security.
"No self-respecting terrorist is going to go through that much hassle," I finished. "I feel completely safe now."
The poor girl never did look very reassured. I guess some people just cannot grasp the subtle genius of the bureaucrat mind.
EDITOR'S NOTE: Smokey Briggs is the editor and publisher of the Pecos Enterprise whose column appears on Tuesdays. He can be e-mailed at: smokey@pecos.net
Our View
Demand specifics from your candidates
Here is a thought. This year, vote for the first local candidate that says anything, anything at all, specific about why he or she should be elected to office.
Or the one who offers any proof whatsoever to substantiate a claim made concerning the performance of his opponent.
Or maybe the first candidate that spews forth a refreshing breeze of honesty, like _ "I want to be (fill in your favorite public office here) because the paycheck is better than what I draw now."
Local politics often degenerate into the equivalent of a high school student council race with quite niceties about serving my fellow man interspersed with unsubstantiated accusations usually served up under the table.
This year, find your candidates for public office and ask them specifically what they will do different than the people they are running against. Make them go on the record with their ideas. Demand specifics. Pecos deserves it.
Your View
Reader rebutts Barstow FD allegations
Dear Editor:
I feel compelled to respond to Mr. Diehl's letter to the Editor that appeared in the January 15, 2002 newspaper.
I must strongly disagree with the argument that Mr. Diehl posed to the community. I would like to know, if these firefighters are concerned about their safety, how many of them have attended any type of training to become certified? I have had limited dealing with the Barstow Volunteer Fire Department. They have requested donations from my place of employment for fire equipment and aid in the construction cost of their new fire department building. In February 2001 they received $3,500.00 from Ward County Irrigation District #1 for a new pump for the fire trucks. Shortly after that donation was given to them, Pecos Volunteer Fire Department gave them one of their trucks. Ward County Irrigation District #1 was once again prepared to waiver the opinion of contributing to the BVFD so they would have some of the materials necessary for construction. The serving Fire-Chief was told by WCID #1 Board of Directors, in a public meeting, that under the advice of their attorney an inter-local agreement would be required and must be obtain first. Mr. Martinez, Fire-Chief, then again requested to be placed on the agenda for another board meeting and failed to appear. To this day, an inter-local agreement has not been obtained therefore no further discussion has been held on contributing to the building fund. The question also arises, if they are so broke, how do they pay for medications or utility bills that community members cannot afford. There is an apparent shortage of money, yet a Christmas lighting contest was sponsored that offered monetary awards. It seems amazing to me how these very details were left out of Mr. Diehl's letter.
I am also at a loss over the statement of the project being taken out of the BVFD's hands. Once again, that is not the case. The city council had to take action for the safety of the community because construction had stopped due to the fireman having jobs. If this is truly upsetting to the Fire Department, why do they have time to play in the streets and in the water instead of work on their new facility?
I must conclude this letter by stating that as Public Relations Officer, it is your duty to tell the whole story not what you want told.
Sincerely,
ROBIN LE BEOUF
Enterprise reader pleased with stories
Dear Editor:
Thirty-two years ago in 1970, after working for 16 years on New York City's Madison Avenue, I came to Texas to work in Dallas. Because my wife and I wanted to get to know our new environment better, we early on spent many weekends visiting every nook, cranny and twinkle in the Lone Star. Despite good-natured ribbing about "damn Yankees" displacing Loyal Texans in the work force, we liked the people we met on our weekly forays and sights we saw in the far stretches of the State!

Early in our meanderings, we headed for what our new North Texas friends called "Far West Texas." Initial impressions included (1) jaw-dropping wonder at the lack of trees as we left Fort Worth, (2) bug-eyed amazement at endless horizons between Comanche and Odessa, (3) childlike fun feeling hot sands under our bare feet at the dunes near Monahans, (4) the strange (to us) dips in the highway that the Locals called "Washes," (5) flashy billboards promoting a "Must-See" Rodeo in Pecos, (6) intriguing whispers about some "Marfa Lights," and (7) finally, the spectacularly daunting Big Bend National Park.

I fell in love with Big Bend and its buttes, mesas, canyons salt-and-peppered with cacti and all those yuccas! Although I've returned often, (once for a whole week by myself!), I haven't ever revisited Pecos.

But I've changed my mind about your community! Let me explain:

A year or so ago, a young friend of mine gave me a "subscription-by-mail" to the Pecos Enterprise. At first, I just glanced at its front page after picking it out of my Dallas mail box. Gradually, I began reading interesting headlines, looking at photographs, following local issues in Our View, Your View, Sage Views, and Pegged. Without realizing it, I began anticipating follow-up stories by Rosie Flores and Leia Holland.... I have become, without paying taxes or going to your polls, an in absentia citizen of Pecos!

I feel your pain over the "McCain-Archer departure," as well as the asbestos problem at Pecos High.

I wish my wife and I could have attended the Pecan and Food Show (we'd both have been careful NOT to say Pe - cahns the way we used to back East).

I'd enjoy sitting down with Janien Rodriguez and compare notes on "politicians who don't respond to community," and with Bob Dean and Charles Eisler to talk more about how to pursuade business and community leaders to get down into the trenches to help shoulder pesky problems, and with Richard Creasy on how to inject some inspired activity into lethargic business interests.

When Rosie Flores took that digital photo and wrote her December 7th front page story on Luis "Watching Wolf' Tijerina's visit to Cockett Middle School, I got nostalgic. Years and years ago, as a seven-year-old youngster accompanying my dad to a Chatauqua Lecture in central Pennsylvania, I was profoundly impressed by an Indian gentleman, dressed in resplendent feathered headgear, who explained his tribal heritage, customs, rituals and bravery so forcefully that on the way home from the lecture, I informed Daddy that "when I grow up, I'm going to become an Indian!" Treating me like the adult I still had to become, my dad candidly informed me "Dick! Only Indian boys can grow up to be an Indian brave!"

After we got home, I crawled into bed, pulled the covers over my shoulders and silently cried myself to sleep! Like Daddy said, I could never become an Indian!

Thanks, Rosie! For the memory!

Thanks, too, Pecos Enterprise, for your continuing enlightenment on the heart and soul of your warm and lively community!

Thanks, Pecos-ans, for making this 83-year-old Yankee wish he'd gotten to know you years and years ago! You all are going to be in my heart and mind for a long time!!

Sincerely,
DICK SUTCLIFFE
Dallas - 2002

<!==========end copy==================>
---
---
Pecos Enterprise
York M. "Smokey" Briggs, Publisher
Division of Buckner News Alliance, Inc.
324 S. Cedar St., Pecos, TX 79772
Phone 915-445-5475, FAX 915-445-4321
e-mail newsdesk@nwol.net
Associated Press text, photo, graphic, audio and/or video material shall not be published, broadcast, rewritten for broadcast or publication or redistributed directly or indirectly in any medium.
We support Newspapers in Education
Copyright 2002 by Pecos Enterprise
---