NEWS PAGES

Obituaries
Archive
Photos

ADVERTISING
Commerce
Classified
Economic Development
TRAVEL
Area Papers
West Texas
STAFF
Smokey Briggs
Jon Fulbright
Peggy McCracken
Rosie Flores

LINKS
Other Sites
|
Weekly Newspaper and Travel Guide
for Pecos Country of West Texas
Opinion
Tuesday, March 29, 2005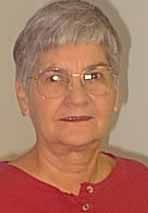 Squarely Pegged
By Peggy McCracken
<!=====paste copy here==========================>
Good news comes
with Easter sunrise
As I write this on Thursday, Easter is yet three days away, but I have good news already.
Last week I wrote about a mammogram that was to tell me whether a lump in my breast was malignant. If no news is good news, then I have good news about that. Nancy (Bitolas Ontiveros) Martinez tells me that had the lump been malignant, the radiologist would have called Dr. Bang right away. He didn't, so I am assuming that God answered your prayers for a "negative" report. And I thank you.
I have been reading a book called "Passion of Love," which came in my mail and probably in yours too. It details the events surrounding the crucifixion. It's not as gory as the movie, but includes a lot of colorful detail that brings the story to life.
Color plays a big role in Easter. Maybe new Easter frocks and hats are not as prominent as they once were, but little kids still hunt colorful Easter eggs in the tall grass and weeds left over from winter.
I got in some practice on the federal courthouse lawn when I dropped the Enterprise mail this morning and the strong winds blew colorful cards and letters onto the grass. Rosie Flores, arriving at work the same time I did, asked if I were hunting Easter eggs as I scrambled to catch them before they blew to kingdom come.
By the time you read this, the celebration will be over, and I hope it was one of new life and hope for you and yours.
There is something about the budding fruit trees, roses about to bloom, trees sprouting new leaves (and allergens) that wakes the spirit and draws us closer to our creator. I am anxious to plant the yellow marigold, red poppies, sunflowers and vegetable seed lying on my kitchen table. And to go to Bryan's for herbs and stuff to set out in my green bathtub/garden.
Good news? Yes, there is good news.
"But I say unto all of you: In the future you will see the Son of Man sitting at the right hand of the Mighty One and coming on the clouds of heaven." Matt. 26:64, NIV
EDITOR'S NOTE: Peggy McCracken in Enterprise business manager. Contact her at peg2@pecos.net <!==========end copy==================>
---



Pecos Enterprise
York M. "Smokey" Briggs, Publisher
324 S. Cedar St., Pecos, TX 79772
Phone 432-445-5475, FAX 432-445-4321
e-mail news@pecos.net

Associated Press text, photo, graphic, audio and/or video material shall not be published, broadcast, rewritten for broadcast or publication or redistributed directly or indirectly in any medium.
Copyright 2003-04 by Pecos Enterprise
---