|
Weekly Newspaper and Travel Guide
for Pecos Country of West Texas
Opinion
Tuesday, March 22, 20005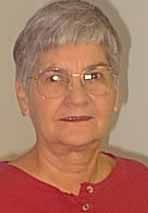 Squarely Pegged
By Peggy McCracken
<!=====paste copy here==========================>
Pick the best surgeon
when life in balance
Years ago, when I was a cub reporter, it was my privilege to interview Dr. W.J. Bang about the high incidence of breast cancer in Pecos. Dr. Bang was known throughout the state, and maybe the nation, as one of the best breast cancer surgeons around.
He wasn't much help with the article, because he didn't know any more than the rest of us why so many women in Pecos turn up at his office with lumps in their breasts.
One of the women's clubs was doing some research into the matter at the time. Bonnie Cearly volunteered to raise some pot plants that might pick up cancer-causing chemicals from the air and alert scientists to the presence of those chemicals.
Bonnie's plants died, and I don't know if anyone else had success in that area. A good reporter would follow up, I guess. Maybe now would be a good time for me to try to follow up, because I have one of those lumps.
Watching Sylvia Sadler and Frances Heath die painful deaths from cancer should have made me go for a checkup, but it didn't. Not until Nancy Bitolas Ontiveros Martinez found a lump and Dr. Bang diagnosed it as fast-growing cancer did I do my own self-check.
Sure enough, there was a lump, about the size of a large hen egg. It was so big, I suspected that it was normal and I was imagining things. But it didn't match its twin across the divide, so I finally decided to go to the expert for his opinion.
While he examined me, Dr. Bang asked if I were still writing for the paper. "Yes," I said, "and I may write about you next week."
"Oh, you don't want to write about me," said the modest doctor. "You would have to say I have turned gray headed. I had black hair when I came here."
"Yes, and you are two inches shorter," I said.
That's not true, of course. Dr. Bang has grown taller in everyone's eyes over the past several decades. He is one of the jewels that makes Pecos a good place to live and work. And die if need be.
Dr. Bang's opinion was that I should have a mammogram ASAP, which I did. Now we are awaiting the results to decide what action, if any, we need to take.
I am not overly concerned, because I know I am in good hands. Not only is Dr. Bang a top surgeon, (he did my hysterectomy 20 years ago) he also has a close relationship with his and my best friend, Jesus. And so do others in 50 states and 37 countries, who are asking the One who has power over life and death and everything in between to make the lump benign.
Of the mammogram, "Think negative," said my sister Gail. So we are all thinking negative and hoping for the best. Even if it should be positive, I know that God has the situation in hand. If He calls me home, I will be glad to go, but sad to leave you here. Stay tuned for the results.
"Charm is deceptive, and beauty is fleeting; but a woman who fears the Lord is to be praised." Proverbs 31:30, NIV
EDITOR'S NOTE: Peggy McCracken is Enterprise business manager. Contact her at peg2@pecos.net <!==========end copy==================>
---



Pecos Enterprise
York M. "Smokey" Briggs, Publisher
324 S. Cedar St., Pecos, TX 79772
Phone 432-445-5475, FAX 432-445-4321
e-mail news@pecos.net

Associated Press text, photo, graphic, audio and/or video material shall not be published, broadcast, rewritten for broadcast or publication or redistributed directly or indirectly in any medium.
Copyright 2003-04 by Pecos Enterprise
---