|
Weekly Newspaper and Travel Guide
for Pecos Country of West Texas
Opinion
Tuesday, March 8, 2005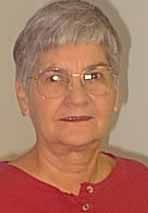 Squarely Pegged
By Peggy McCracken
<!=====paste copy here==========================>
Gunn reflects on war
during R&R trip home
Joe Gunn met his future wife, Frances Henderson, while on leave from his bombing duties during World War II. In his book, "One Day at a Time," Joe describes the girl who worked at the Texas and Pacific Depot in Pecos as resembling Vicki Lane, the girl he was in love with back in England.
Frances helped him pick out some gifts for Vicki, which took up so much room in his B-4 bag that he had to throw away about half his own clothes before returning to England on the Queen Mary.
During the long ocean voyage, Joe had too much time to think, and he found himself reflecting on war and listening to others' theories.
Q: What is war?
A:
1. War is the determined effort of one country to enforce its will or beliefs on another country of different beliefs.
2. War is nothing but economics. The have nots will fight the haves until both share equally.
3. War is inevitable. We need war to control the population.
4. War is a game of industrialists. Without war, they would not survive, and the economy would stagnate.
"I listened to all the theories, but none of them seemed to be 100 percent correct," Joe said. "I even offered one of my own - maybe war was a contagious disease, like diptheria or the plague. Maybe, in the future, it could be contained as measles, whooping cough, and other diseases have been."
Sadness overcame Joe when he got back to England to find Vicki hurt because he had not written. Although she was delighted with the gifts, Joe cursed himself for not writing.
While Joe was serving his second tour of duty as a command pilot, he learned that Vicki had been killed.
There's more to that story, but I am going to let you read it for yourself. Go to the West of the Pecos Museum for your own copy of "One Day at a Time" by Joe Gunn.
I've written about Joe before. Since my maiden name is Gunn, I am sure we are related. Some of the Gunns traced their lineage back to Gunnison the warrior in Scotland. I don't think Joe really enjoyed war, but he sure did his part by flying 45 missions, winning seven air medals and the Distinguished Flying Cross three times.
"Nation will rise against nation, and kingdom against kingdom. There will be great earthquakes, famines and pestilences in various places, and fearful events and great signs from heaven." Luke 21:10-11, NIV
EDITOR'S NOTE: Peggy McCracken is Enterprise business manager. Contact her at peg2@pecos.net <!==========end copy==================>
---



Pecos Enterprise
York M. "Smokey" Briggs, Publisher
324 S. Cedar St., Pecos, TX 79772
Phone 432-445-5475, FAX 432-445-4321
e-mail news@pecos.net

Associated Press text, photo, graphic, audio and/or video material shall not be published, broadcast, rewritten for broadcast or publication or redistributed directly or indirectly in any medium.
Copyright 2003-04 by Pecos Enterprise
---