|
Weekly Newspaper and Travel Guide
for Pecos Country of West Texas
Opinion
Friday, March 4, 2005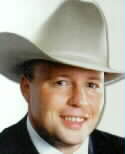 Sage Views
By Smokey Briggs
<!=====paste copy here==========================>
Internet hunting -
none of your business
Well the self-righteous of the hunting/sporting community have joined forces with the anti-hunting tree huggers, and the anti-property rights statists of the world.
They make for a strange bunch of bedfellows to say the least.
Just what precipitated this unholy alliance?
Internet hunting.
What in the world is that, you ask?
Internet hunting is where some fellow with a ranch sets up a rifle mounted to computer-controlled servos in a deer stand on his land.
Now, the operative word here is "his."
Then, Mr. Entrepreneur allows people to blast Bambi from the comfort of their office in Dallas.
If Mr. Hunter manages to send 300 grains of screaming lead through Bambi's heart and lungs Mr. Entrepreneur goes out, dresses out the carcass and the meat and trophy are handled according to Mr. Hunter's desires.
It did not take long for the easily beguiled of the hunting community to leap into bed with those who think that property rights should be modified daily by the whims of the majority of voters and those who think we should all eat tofu after praying to the gods of tofuness to apologize for any agony caused the tofu-things when we made tofu out of them.
All I can say is that hunters need to take a minute to re-think their choice of bed-fellows.
Do I like the idea of Internet hunting?
No.
Do I consider it sporting?
No.
Would I enjoy it?
No.
Do I care if somebody else does?
No.
Is it my right to tell a person who owns his land to tell him he cannot offer this service?
No.
Of all the groups that should be protective of individual rights gun-owning hunters should at the front of the line.
But, instead of standing by a creed that defends Constitutionally guaranteed, God given, individual property rights and rights of self-defense over the whims of the current majority, we jumped ship the moment somebody wants to do something that is legal but that we find distasteful.
That makes us hypocrites in the least.
For now it also makes us allies with many of the people who have been seeking the destruction of our culture of at least the past four decades.
That makes us stupid.
The facts of the matter are that a rifle goes bang and a deer or some other critter dies.
I seriously doubt the deer cares if his death was initiated by a guy freezing his fanny off in a deer blind with his finger on the trigger of a Remington or by a guy in loafers drinking a latte with his trigger finger caressing the right-click button of a mouse.
In terms of law and rights, it should not make a difference to us either.
Your View
Reader takes issue with Lincoln response
Perhaps more than a few locals, particularly politicians, took glee in seeing the Enterprise's working partner publicly 'taken to the woodshed' by his more senior partner.
I was overjoyed by Buckner's outburst as it gave credence to all of the reasons I've shunned business partnerships. Buckner angers me because he gave credence to the growing perception that opinion must conform to accepted standards of belief or it is extremist and dangerous.
Such is the birthing chamber of 'zero tolerance' and restrictions on free speech. It's why clergymen are being led from public meetings in handcuffs for quoting Bible verses that have been branded by secularists as 'hate speech'.
The emergence of the American gulag cannot be far off. I hope to share a cell with the likes of Natan Sharanski, Moses, Jesus, or Sam Adams. All of those men were branded 'extremist' and 'dangerous'. They all deviated from the accepted societal standard for opinion.
Briggs' deviation from Buckner's accepted standard earned Briggs being branded as 'extreme'. Briggs also committed the gravest crime in modern American intercourse. He said or did something that 'offended' someone.
Did Buckner refute Briggs with his version of history?
No, this is not requisite in our day. Briggs' partner simply followed current protocol.
He spewed invective. Buckner merely raised a flag that he was offended and intemperately revealed portions of the partnership agreement between himself and Briggs.
Then, as a coup-de-grace, he smears Briggs' ability to be credible in the future. Buckner conveniently forgets that the offending print was an op-ed piece and not touted as news.
In one breath, Buckner graciously allows that Briggs is "free to express his opinions". In the very next breath Buckner warns that, "…there are consequences if the views are extreme and run counter to the very important beliefs of others."
Hmmm… so, some speech is freer than other speech. Why does the title 'Animal Farm' come to mind? Briggs may express any opinion…so long as it conforms to populist beliefs.
Small wonder Buckner admires Lincoln. The latter imprisoned scores of dissenting newsmen and suspended the Constitutional right of habeas corpus.
Perhaps the important thing to remember is that, thanks to G-d, Buckner acted as an irate business partner and not as a member of government. It's easier to shed a tyrannical partner than it is to shed a tyrannical government. While Buckner speaks as a businessman and not as a government censor, he gives dangerous credibility to those who cry out for official censorship and 'protection' from ideas and opinions counter to their own.
I don't give a whit if Buckner's publishing résumé includes that he once mixed ink for Guttenberg. He bought no credibility with me by stating that he's owned the Enterprise since the 1960s.
I would counter that, after forty years, the Enterprise continues to meet its most sacred obligation as a newspaper.
What an extreme concept.
John Libbie
History's most heinous serial killer
Dear Editor:
I would like to compliment you on your very informative editorial, "Abe Lincoln is no hero," which appeared in the February 18th, 2005 issue of the Monahans News. It reflects a depth of historical knowledge that is generally not available at the mandatory government propaganda camps that some still insist on calling public schools. (Yes indeed, the victors do write the history books.) With your permission, I would like add a few comments for perspective.
First, the quoted 600,000 souls that Mr. Lincoln murdered to "preserve his tax base" was closer to 650,000. It might seem superfluous to quibble over a "mere" 50,000 dead Americans. However, consider that the modern day equivalent of this total body count is 5.5 million. For perspective, try to envision dead American bodies stacked 5.5 million high-all for no reason other than an unjust tax.
Second, Lincoln's contention that the "union preceded (created) the states" (instead of vice versa) is logically absurd. That would be like saying a marriage happened before the two people involved were born. Yes, he might have "saved the union," but he destroyed the federal republic in the process.
Third, contrary to the propaganda, his famous "Emancipation Proclamation" did not free one single solitary slave. It applied only to "states in open rebellion against the united States." In other words, areas over which he had no control. It was years after the war that the Yankees gave up their slaves and the constitution had to be amended to get that done. He did NOT "free the slaves" but he certainly enslaved the freemen (His was the first administration to levee the unconstitutional income tax.)
Fourth, a little known fact is that no flag associated in any way with the Confederacy ever flew over a slave ship. The Yankee flag flew over slave ships for 90 years.
Also, as you aptly point out, the Lincoln cult's contention that "it worked out for the best" is unfounded in fact and logic. The fact is that April 9, 1865 (the day General Lee walked out of the courthouse at Appomattox) was the day America breathed her last gasp of hope for freedom-for that was the day that Lincoln's agenda was made "official." The federal government was no longer bound to govern at the "consent of the people." This was the day that, through the use of military force, it gained full authority as the sole judge of the limits to its own powers. Obviously, it has since judged that there are no limits to those powers.
Many other impacts of the War of Yankee Aggression are still felt today. For example, few realize that Lincoln lusted after continental empire and, although he may not have lived to see it to fruition, his awful and unnecessary war was an integral part of the process.
General Sherman was the first to develop the concept of "total warfare." In modern parlance, that means "kill 'em all (old men, women, kids, invalids) and let God sort 'em out." After his infamous "March to (and from) the Sea" there was not a single, solitary structure left standing in the state of South Carolina. But that was merely a dress rehearsal, a warm-up, for events yet to come. Almost immediately after they (the Yankees) got through "practicing up" on us Southerners, they turned the tactic onto the American Indian.
It is only a small step from continental empire to global empire. All that was needed was the development of modern communications and transportation technology. And that is where we are today.
Think secession!
Dr. Jimmy T. LaBaume <!==========end copy==================>
---
Pecos Enterprise
York M. "Smokey" Briggs, Publisher
324 S. Cedar St., Pecos, TX 79772
Phone 432-445-5475, FAX 432-445-4321
e-mail news@pecos.net
Associated Press text, photo, graphic, audio and/or video material shall not be published, broadcast, rewritten for broadcast or publication or redistributed directly or indirectly in any medium.
Copyright 2003-04 by Pecos Enterprise
---