NEWS PAGES

Obituaries
Archive
Photos

ADVERTISING
Commerce
Classified
Economic Development
TRAVEL
Area Papers
West Texas
STAFF
Smokey Briggs
Jon Fulbright
Peggy McCracken
Rosie Flores

LINKS
Other Sites
|
Weekly Newspaper and Travel Guide
for Pecos Country of West Texas
Opinion
Tuesday, December 6, 2005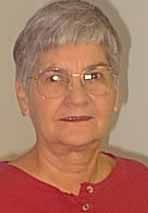 Squarely Pegged
By Peggy McCracken
<!=====paste copy here==========================>
Surfing the 'net
for just right gift
Southwest Airlines offers gift certificates for travel that will "go everywhere and not return."
That gave me the idea to Google "Christmas Gifts" to see what I could buy online and have shipped directly to family and friends. Gift-wrapping and mailing is not my thing.
Here are some ideas I uncovered among the 65.8 million pages Google displayed:
"All kinds of creative Christmas craft, decorating, cooking and project ideas! Great ideas for gifts you can make and projects to decorate your home" Whoa. That is not what I had in mind.
"Give a cruise from $499 per person." Not bad, but out of my price range. The Levis Original Jeans Online is more my style. I am not sure they wouldn't be out of my price range, too. Levis don't come cheap. That was my Daddy's favorite brand, and much of the time he couldn't afford them.
Macy's offers "cashmere, jewelry, fragrance, gift baskets, electronics and more." That might be a good place to start shopping.
Gourmet nut holiday gifts includes "Holiday Tins and Towers, Chocolate Almonds, Cashews & More" at HouseofAlmonds.com I get lots of catalogs from this type of merchant. Their gift packs look beautiful, but again, the price is way up there. This is the type of gift rich corporations give customers. When my husband worked for the cottonoil mill, we often enjoyed a monthly shipment of fruit or a delicious fruitcake at Christmas and Thanksgiving.
Gourmet popcorn baskets are also a familiar sight in offices around town. I love the caramel variety. You'll find that at Popcornopolis.com..
You can even gift someone with a weekend getaway at over 3,000 bed and breakfast inns. Now who wouldn't enjoy that little treat? We will all need a rest after the hustle and bustle of holidays back-to-back.
If you like to browse for E-cards, you can find just the right Christmas Tale for that special niece or nephew. Or you can order Christmas gifts kids can make. Do you know a child who does not enjoy putting something together? Or taking it apart? Most of them have more fun with the box the gift came in than with the gift itself.
Pick www.gifts.com for the "easy way to find great gifts" by age or personality. Among the top 10 gifts are iPod, portable radio, spa bag, bar tool set, monthly wine club gift set, cashmere sweater, track jacket, Vcam, ski pocket hip bag, and a "Crème de Corps Classics Set," from Saks Fifth Avenue. I think that is some type of makeup, but am not sure.

My granddaughter, Dana, asked what I want for Christmas. Maybe I should have suggested she buy my airline ticket to St. Louis, where I plan to spend Christmas. But then I wouldn't have anything under the tree when I get there. Even great-grandmothers look forward to shaking the gifts to guess what they are. And to the magical moment when it is time to pull the string and tear off the gift wrap.

Merry Christmas to all!!

"…And she gave birth to her firstborn, a son. She wrapped him in cloths and laid him in a manger…" Luke 2:7, NIV

.EDITOR'S NOTE: Peggy McCracken is Enterprise business manager. Contact her at peg2@pecos.net <!==========end copy==================>
---



Pecos Enterprise
York M. "Smokey" Briggs, Publisher
324 S. Cedar St., Pecos, TX 79772
Phone 432-445-5475, FAX 432-445-4321
e-mail news@pecos.net

Associated Press text, photo, graphic, audio and/or video material shall not be published, broadcast, rewritten for broadcast or publication or redistributed directly or indirectly in any medium.
Copyright 2003-04 by Pecos Enterprise
---