|
Weekly Newspaper and Travel Guide
for Pecos Country of West Texas
Opinion
Friday, December 2, 2005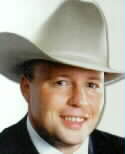 Sage Views
By Smokey Briggs
<!=====paste copy here==========================>
How to
fix Pecos
The past few editions The Enterprise has carried articles concerning our local government entities squabbling over the bed-tax funds.
This particular fight involves the Chamber of Commerce, the Museum and the City.
But, it does not really matter. On a regular basis we cover similar stories. While the names change the story does not.
The story is always about two or more government entities fighting over their piece of the ever-dwindling pie of tax money in Pecos and Reeves County.
Higher taxes will not solve the problem. Most people cannot afford to pay them and those that can will move to avoid them.
The usual solution is the look for a "grant."
I've got news for everybody - there is not a grant this side of heaven that can fix this area's problems.
Cutting services would help. The truth of the matter is that we cannot afford the services we demand.
There is not enough economic activity to fund them.
But, we could fix the problem and bring economic prosperity to Reeves County and Pecos like never seen before.
How?
End the taxes. Not cut, not reduce, but eliminate all taxes.
But we would not have a city government, a county government, a hospital board, a chamber of commerce, or a school district, right?
Right. So what?
There is not a function performed by any of these taxing entities that could not be better performed by private industry.
Pecos and Reeves County need a one-year plan to end local government, and hence local taxes, of all kinds.
Put the services on the auction block and auction them off to the highest bidder - water works, sewers, streets, prisons, jails, law enforcement, fire department, ambulance service, deeds and records, schools, hospital - the whole nine yards.
What if nobody bought one of these?
Then let it die. If it is not economically viable enough to attract an entrepreneur then it is a waste of your tax money in any form.
If the economic experience of this great nation has taught us anything it is that where there is a demand for a service, the free market will provide it - and do a heck of a lot better job than any government agency will.
Everybody who has shopped at Wal-Mart at least once raise your hand. Now, everybody try to find somebody with both hands down.
I hate Wal-Mart but if there is a service in demand you can bet your eyeteeth that it will be providing it.
Seriously, would you rather deal with a government agency staffed by people who get to keep their jobs no matter what, or with a free market business that will go out of business if they do not provide decent service?
Would you rather renew your driver's license or make a purchase at Gibsons?
Would you rather try to straighten out a billing problem with your water bill or fix a billing problem at Wal-Mart?
Think about it. Where do you get great service and where do you get so-so service?
You get great service at places owned by businessmen who are desperate for you to come back and do business with them again.
Why do you think that Fed Ex and UPS even exist when the U. S. Postal service had a virtual monopoly in that area of business?
Okay, just for the record, this is not a swipe at the folks who staff all these agencies. There are plenty of good, hard working people in all these places. But, the very system of government precludes them from providing the service they could provide if they were part of a real business that was focused on serving its customers.
And, as we all know, not every government employee offers the kind of customer service that would allow them to keep their job if they were employed in the private sector. We've all been there.
Face it, government and mediocre are synonyms - two words for the same kind of service.
A year after we ended taxation this area would be growing at a rate that would make the rest of the nation cry.
Gee Mr. Business Man, where are you going to put your next manufacturing facility - in Dallas where they tax you nine ways to Sunday or in Pecos where there are no taxes and you contract for the services you feel you need?
With business comes jobs. With jobs come people and income. With people and income comes demand for services and with demand for services come services.
Every time.
It's a simple solution and it will work - unlike our current solution that is more of the same.
Lets fix this before Pecos looks like Toyah and Reeves County edges out Loving County as the least populated chunk of earth on the planet. <!==========end copy==================>
---
---
Pecos Enterprise
York M. "Smokey" Briggs, Publisher
324 S. Cedar St., Pecos, TX 79772
Phone 432-445-5475, FAX 432-445-4321
e-mail news@pecos.net
Associated Press text, photo, graphic, audio and/or video material shall not be published, broadcast, rewritten for broadcast or publication or redistributed directly or indirectly in any medium.
Copyright 2003-04 by Pecos Enterprise
---