|
Weekly Newspaper and Travel Guide
for Pecos Country of West Texas
Opinion
Tuesday, February 15, 2005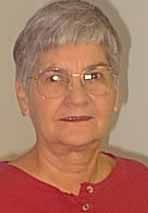 Squarely Pegged
By Peggy McCracken
<!=====paste copy here==========================>
Old files refresh
memories of yore
I had backed up my files, turned off the computer, gathered up lunch pail and papers, and was out the door when I met Pete Armbruster at curbside. Pete is one of my better sources, and he has some information he thinks might make an interesting column.
Seeing him reminded me that I hadn't done a column for this week, so I did a 180, unlocked my office door, turned on the computer, and here I am, composing another Pulitzer Prize winner.
Have you ever started looking for one thing and wound up doing something else entirely? That happened to me last week when I wanted to use the pressure cooker my husband used to cook beans and stuff in.
I have always been leery of pressure cookers, because they have a reputation for blowing their stack. We never used one back on the farm, and I just don't trust them. Mama's bean pot had a little button on the lid that would jump up and down to let the steam escape.
Steam under pressure is supposed to cook three times as fast as simmering, so I thought I would try it as one more tool in my quick-cooking arsenal. The microwave is Tool No. 1, George Foreman grille Tool No. 2, Crock Pot Tool No. 3, and an electric steamer that doesn't have to be watched holds fourth place.
All the recipes using pressure cookers tell me to follow the manufacturer's directions. Thus the hunt for such a manual in my appliance folders. I started out years ago dropping everything pertaining to appliances in a folder so I could find warranties, directions and the like as needed. That one folder has expanded to seven folders, so the search took awhile.
I didn't find the manual, but I did find a goldmine of information for my memoirs. Do you have any idea how many lawnmowers you wear out over a lifetime? And fans. And washers and dryers. (Not that many if you buy Maytags.) I found receipts and instructions for stuff long since worn out and forgotten.
Among the receipts was one from Southern Union Gas Co. for the central heater that has kept us warm for over 30 years. It cost $228. I installed it myself, so the only installation cost was for materials. I bought a short section of duct to tie into the air conditioner duct in the attic; one piece of sheetrock to enclose half my walk-in closet, tape and mud for the joints, a 2x4 for the platform frame, and a short pipe and nipple for the gas connection.
Material re-purposed for the closet included a door I had taken off the hall linen closet so my dryer would fit in it; and an electrical outlet I moved from the adjoining bedroom. (I miss having that bedroom outlet to this day.)
When I had finished throwing away instructions for old TV sets, lawnmowers, electric blankets, a Bowie knife and other stuff long since forgotten, I had two appliance files left. Maybe the next search won't take so long. And maybe I'll find what I need. Meantime, the pressure cooker will have to stay on the shelf.
"Go, eat your food with gladness, and drink your wine with a joyful heart…" Eccl. 9:7, NIV
EDITOR'S NOTE: Peggy McCracken is Enterprise business manager. Contact her at peg2@pecos.net <!==========end copy==================>
---
---



Pecos Enterprise
York M. "Smokey" Briggs, Publisher
324 S. Cedar St., Pecos, TX 79772
Phone 432-445-5475, FAX 432-445-4321
e-mail news@pecos.net

Associated Press text, photo, graphic, audio and/or video material shall not be published, broadcast, rewritten for broadcast or publication or redistributed directly or indirectly in any medium.
Copyright 2003-04 by Pecos Enterprise
---