|
Weekly Newspaper and Travel Guide
for Pecos Country of West Texas
Opinion
Friday, February 11, 2005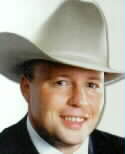 Sage Views
By Smokey Briggs
<!=====paste copy here==========================>
If you liked Little Rock
you got to love Iraq
While I am not keen on our stated reasons for being in Iraq I have less heartburn about it than some - mostly because I think a strategic base in the Middle East might be valuable in the future and I think our invasion had a lot more to do with that than the stated goals of bringing democracy to bunch of folks who do not want it.
And, after years of less-than-forceful leadership at the national level there is some small consolation that at least Bush can conceive of some threat to national security that deserves a forceful response even if this one is misbegotten.
I am somewhat amazed by those that have lined up, for or against, our invasion.
When Bush first announced this war he mumbled something about WMD's and then started talking about bringing democracy to the Iraqi people.
He left unsaid that part about, "Whether they want it or not."
Now I expected true conservatives to be split on the issue. I thought some conservatives would simply happy to see leadership at the helm that knows that sometimes you use force, and convinced that an invasion of Iraq would advance a very real war on terrorist organizations.
I figured that the other side of the conservative camp would see the invasion of a country that probably did not present a very real threat to American interests as the act of an empire, not a constitutional republic, and an improper use of American military power and American kids' lives.
And, that seems to be about how the conservatives split.
But the liberals in the country surprised me. I was convinced that the liberal camp would end up similarly split by conflicting values.
I knew that the namby-pamby side of the camp - the vegetarian, sandal-wearing, knee jerk anti-military, anti-anything-resembling-masculinity crowd would start the war protest movement the next day.
They cannot help it. It is a Pavlovian response no different than my dog Cooter barking at a cat. It just is.
But, I also figured the philosophical blue-blood liberals would support this war, especially given President Bush's stated intentions of brining democracy (read morality) to Iraq.
It seems to me that the facts in the Iraq case are really no different than the facts that culminated with President Dwight Eisenhower sending in federal troops to force the integration of public schools in Little Rock, Arkansas in 1957.
Cultural and political liberals loved that move.
No matter what your personal feelings on forced integration the underlying facts of Iraq and Arkansas are very similar.
Arkansas in 1957 was puttering along as a sovereign state within a constitutional republic with supposed divisions of power between federal and state governments.
Iraq in 2002 was puttering along as a presumably sovereign nation.
Arkansas found itself politically and culturally crosswise with the federal government - Arkansas' sin was failing to see the "rightness" of forced integration.
Iraq in 2002 found itself politically and culturally crosswise of the federal government - Iraq's sin was failing to see the "rightness" of Western-style democracy.
In both cases the underlying justifications for the invasions were moral - it was the right thing to do - despite the fact that clear majorities in both Arkansas and Iraq would have preferred self-determination over forced conformity with the current morality of the United States federal government.
In both cases the United States government trashed ideas of freedom and self-determination in favor of enforcing the morality of the current ruling majority.
In both cases supporters used an ends-justifies-the-means.
It seems that if you are cool with the ends and means of the Little Rock episode you would automatically be cool with the current Iraqi war.
The only difference is the population on whom our morality is being enforced. <!==========end copy==================>
---
---
Pecos Enterprise
York M. "Smokey" Briggs, Publisher
324 S. Cedar St., Pecos, TX 79772
Phone 432-445-5475, FAX 432-445-4321
e-mail news@pecos.net
Associated Press text, photo, graphic, audio and/or video material shall not be published, broadcast, rewritten for broadcast or publication or redistributed directly or indirectly in any medium.
Copyright 2003-04 by Pecos Enterprise
---