NEWS PAGES

Obituaries
Archive
Photos

ADVERTISING
Commerce
Classified
Economic Development
TRAVEL
Area Papers
West Texas
STAFF
Smokey Briggs
Jon Fulbright
Peggy McCracken
Rosie Flores

LINKS
Other Sites
|
Weekly Newspaper and Travel Guide
for Pecos Country of West Texas
Opinion
Tuesday, February 8, 2005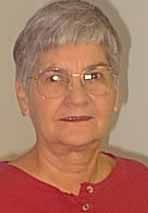 Squarely Pegged
By Peggy McCracken
<!=====paste copy here==========================>
Jazz it up
at my funeral
Funerals are not my favorite event to attend. I've been to many that were downright depressing. Some were all-out wailing sessions. But a few have lifted my spirits and sent me home smiling.
Such was the homegoing celebration of Frances Heath, who died just as she completed 85 years on this earth.
Frances knew her end was near when doctors found cancer in her abdomen that was past treating. She spent those last months getting her affairs in order, including planning her funeral.
Here's what she wanted. Lively music. No sermon. Nothing sad, just a celebration. And that's what she got.
The no-sermon part was the best for this Baptist who has heard enough funeral sermons for two lifetimes. Then the music: "In the Garden," beautifully sung by Leslie Gray, with her dad, Woody Woodard on the guitar. Then Nancy McAnally and Joyce Morton sang "How Great Thou Art."
Here's the fun part for me. For exit music, Frances chose "When the Saints Go Marching In," and our sound man played a foot-tapping version recorded by Jerry Lee Lewis. I couldn't let that lead-in go unanswered, so I followed on the piano with "Onward Christian Soldiers," and several hymns played to the boogie-woogie beat I love. It was the most fun I ever had at a funeral.
Forgive me if that sounds unholy. I haven't found anything in the Bible that says church music has to be somber. In fact, I think it should be the most joyous. Who but Christians can rejoice when someone dies?
My time is coming, and I want the same upbeat music to inspire and, yes, entertain those who care enough to take time out from a busy day to attend my last rites. If I could get up out of that casket and dance, I would. And if you get that jitterbug feeling, let it all hang out.
"Let them praise his name with dancing and make music to him with tambourine and harp." Psalm 149:3, NIV
EDITOR'S NOTE: Peggy McCracken is Enterprise webmaster and business manager. Contact her at peg2@pecos.net <!==========end copy==================>
---
---



Pecos Enterprise
York M. "Smokey" Briggs, Publisher
324 S. Cedar St., Pecos, TX 79772
Phone 432-445-5475, FAX 432-445-4321
e-mail news@pecos.net

Associated Press text, photo, graphic, audio and/or video material shall not be published, broadcast, rewritten for broadcast or publication or redistributed directly or indirectly in any medium.
Copyright 2003-04 by Pecos Enterprise
---