|
Weekly Newspaper and Travel Guide
for Pecos Country of West Texas
Opinion
Tuesday, February1, 2005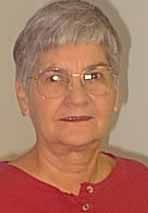 Squarely Pegged
By Peggy McCracken
<!=====paste copy here==========================>
Cotton overflows
Flomot gin yards
Daddy wanted so much to make 100 bales of cotton in one year. He promised that he would buy us girls a piano when that happened. And furniture for Mama. And a new car for us all. One extra good year we made about 20 bales. Far short of his dream, and we never got the new car.
We did get an old piano and a hand-me-down sofa about a year before I married and moved to the big city of Quitaque.
If Daddy were still alive (he'd be 111), he would be in high cotton this year, because 30+ inches of rain have produced abundant crops all over that part of the country, according to Ruth Skinner Lee, our landlord's daughter.
"I don't remember such fields in my whole life. Two bales on dry land is not uncommon. Now you remember our land has spotted soil and it may not be the same across but its been a wonderful year for some of the farmers," she said in a recent email.
She also invited my siblings and me to attend the triennial homecoming July 2, which we plan to do. Since our last meeting, three of the homeomcing regulars have died. Barney Joe Martin is the latest to shuffle off this mortal coil. He was 74 and a pal of my older brother. I fell in love with him when I was 5 and he came to spend the night. I remember that he refused shredded coconut while we waited for supper. Mama then made an extra pie with no coconut just for him, but he preferred the coconut pie.
Isn't it funny the little events we choose to remember from the billions that happen over a lifetime?
Barney Joe didn't return my affection, and shortly after graduation, he married Cloris Neatherlin from Quitaque. They remained friends and lovers, dancing every dance at homecoming together. I don't recall seeing either of them dancing with anyone else.
My dance card gets smaller every homecoming, as the few men I could drag out onto the concrete slab that used to be a schoolhouse have either died or got so stove up they can't two-step anymore. Richard Nall was quite a dancer. Like Barney Joe, he danced only with his wife, Jane, until she died in a car wreck some years ago. Since then, my sister Mary and I have shared him. Last homecoming, it sprinkled most of the night, but we just kept dancing. That was an especially dry year, and I wouldn't have stopped it if I could, knowing what rain means to farmers and ranchers. Ironically, it was rain that caused Richard's pickup to hydroplane and crash that same year. So Mary and I will have to share our brother Walter or dance together if we want to dance.
Girls dancing with girls was not uncommon when we were young, because the boys didn't want to dance. It didn't matter much, because dancing was verboten at Flomot anyway.
I got another email about Flomot this week. Marcella and David Lovett said they met two Flomot exes in Lubbock, where they now live. Wanda Moseley was a few grades behind me, and I didn't know her well. And I don't recall meeting her mother, who is related to Dene Lindsey. Dene has asked me about them and where they lived. I couldn't even remember that until my younger sister described their place as being just east of Flomot on the north side of the road. I had forgotten people even lived there, because the school bus didn't cross the creek to their houses. When the creek was up, nobody crossed.
That is probably the same creek that runs between the schoolhouse and "downtown" Flomot. It ran behind our house when we lived east of Flomot, and I recall that it overflowed in a 1950 flood that washed out the bridges between Flomot and Quitaque.
OK Charlotte, I am quitting. I know you probably went to sleep a few paragraphs back.
"If you give to others, you will be given a full amount in return. It will be packed down, shaken together, and spilling over into your lap." Luke 6:38, CEV
EDITOR'S NOTE: Peggy McCracken is Enterprise business manager and webmaster. Contact her at peg2@pecos.net <!==========end copy==================>
---
---



Pecos Enterprise
York M. "Smokey" Briggs, Publisher
324 S. Cedar St., Pecos, TX 79772
Phone 432-445-5475, FAX 432-445-4321
e-mail news@pecos.net

Associated Press text, photo, graphic, audio and/or video material shall not be published, broadcast, rewritten for broadcast or publication or redistributed directly or indirectly in any medium.
Copyright 2003-04 by Pecos Enterprise
---