|
Weekly Newspaper and Travel Guide
for Pecos Country of West Texas
Opinion
Friday, June 24, 2005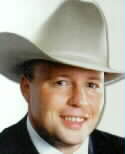 Sage Views
By Smokey Briggs
<!=====paste copy here==========================>
A man of
principle
Today I would like to honor a man.
His name is Ronnie Barrett and he is a man of principle.
He is a man willing to stand on his principles even when it costs him money.
Talk is cheap. You can find plenty of people who will tell you that being right is more important than making money.
But, when it is time to cowboy up, most of those same people will start finding shades of gray in a black and white world that justify their profit despite what is right and wrong.
Not Ronnie Barrett.
Ronnie Barrett owns Barrett Firearms.
It is a relatively small company as firearm makers go, but not that small. Barrett, a former law enforcement officer, started his company in 1983.
Since then his rifles, especially the .50 caliber Model 82A1, have seen service throughout our armed services, and found favor with law enforcement, long-range competitive shooters and militaries throughout the world.
Barrett Firearms is a success, and the foundation of that success is selling rifles.
Recently Ronnie Barrett did something not many businessmen are willing to do.
He said "no thanks" to a large chunk of business on purely ethical grounds.
There are people with cash in their hands that want to buy a Barrett rifle that he will not sell to, nor will he service their previously purchased rifles.
Who are these people so tainted as to be unworthy of accepting cash from?
Every agency of the State of California, aka, the Peoples Republic of California.
You see, as of January 1st of this year, the commissars of California banned all .50 caliber rifles.
Law-abiding, honest, tax-paying citizens cannot be trusted with these rifles - most of which are single shot rifles - the commissars decreed.
The State of California did not include itself in the ban of course.
But, Ronnie Barrett did.
He understands the Second Amendment.
He understands that without an armed citizenry freedom is a word that can only be defined by the government.
And freedom, when only defined by the government, is not freedom. It is slavery, no matter how many Happy Meals you can buy, how many cruises you can afford, how nice your car is, or how many times you are allowed to vote for a Repulicrat or Demublican.
He also understands that this ban is a continuation of the strategy that has worked well for those who think freedom can be defended with pedicured toenails and whining pleas for mercy.
The strategy of targeting specific guns or bullets because they are too small, too cheap, too ugly, and now too big has been effectively used to slowly but surely chip away at a God-given, and Constitutionally guaranteed right.
So, he told the People's Republic to do business with somebody else.
Cost him money?
You bet.
But, I bet he has no trouble looking in the mirror to shave in the morning.
Mr. Barrett, I salute you.
And, if I ever scrape the cash together, I will buy one of your rifles if for no other reason than the fact that you are truly a man of principle. <!==========end copy==================>
---
Pecos Enterprise
York M. "Smokey" Briggs, Publisher
324 S. Cedar St., Pecos, TX 79772
Phone 432-445-5475, FAX 432-445-4321
e-mail news@pecos.net
Associated Press text, photo, graphic, audio and/or video material shall not be published, broadcast, rewritten for broadcast or publication or redistributed directly or indirectly in any medium.
Copyright 2003-04 by Pecos Enterprise
---