|
Weekly Newspaper and Travel Guide
for Pecos Country of West Texas
Opinion
Tuesday, June 21, 2005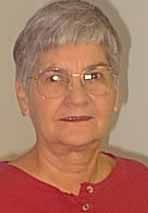 Squarely Pegged
By Peggy McCracken
<!=====paste copy here==========================>
Sand and water
sweeten farewell
Monahans is not just another place to work. It has long been a vacation spot for me and my grandchildren. Now my great-granddaughters know the thrill of sliding down tall sand dunes, digging for wet sand and swooshing down a water slide at Hill Park.
Jasmine and Cieara came for a visit last week, and we made the most of it. The sandhills and swimming were icing on the cake we enjoyed for four days. Our first shared experience was singing at West Park Baptist Church Sunday night.
My singing group was practicing the lively Gospel tune "When I Get Carried Away," and the girls really got into it. Three-year-old Cieara danced to the tune while singing "Carried away, carried away." The words fascinated Jasmine, 9, and she had them memorized before it was over.
The song's theme is about being happy at the end of life on earth because life in heaven is just beginning. I was able to use it to help Jasmine understand my health situation and its inevitable conclusion. She asked lots of questions about cancer, and I answered them truthfully. I even showed her my plot at Evergreen Cemetery.
Monday dawned before I was quite ready, and the girls slept in until I rousted them out about 8:30. They cooked their own breakfast and gulped it down in time for my 9:00 appointment at the God's Army house. My man didn't show, but the girls helped me clean the yard and shovel dirt into a hole.
We took mail to the Enterprise, then visited Steve Balog and Cliff Atkins at the federal courthouse before coming home to eat and rest, They watched a Veggie Tales video while I napped, so I was the only one still fresh and wide-eyed after supper of Jasmine's favorite, macaroni and cheese. We played "Upwords," a crossword game similar to Scrabble.
Cieara cried for Mama at bedtime, but soon settled down for a good night's rest.
Tuesday was a special day, because we had invited the Briggs girls for a play date. We met them at Dairy Queen for lunch, then came to the house for an afternoon of games, piano playing and swimming.
I have to work sometime, so I planned to do my bit in Monahans Wednesday in between the Sandhills and the pool. I realized Tuesday night that I needed to do the Enterprise payroll and sign checks before I left, so I took the girls to the office. They are so well behaved that I was able to knock out the payroll in jig time, and we had time to stop at West Park to let them play church, their favorite activity.
Wednesday was the best day of all. While I did payroll, Jasmine and Cieara made instant friends with Seth and Kaitlyn, twin children of the Monahans News sports writer, Randy Hogan. I invited them to go to the sandhills with us, and they eagerly accepted. Receptionist Diane Vallie loaned us three sand disks, and we were set.
When they had all the sliding and digging they wanted, we got in the shade and ate lunch, then picked up treats at the headquarters gift shop and headed back to the office for more work.
They were well entertained while I posted receipts and prepared the deposit. We dropped off the deposit at the bank, then swam for awhile before returning to complete the day's work. Amanda showed up just as I was finishing work, so we loaded their wet swimsuits and sandy clothes in her Explorer for the trip back to Midland.
I arrived home at 5:30, not even exhausted. Can you top that for a vacation?
"Do not withhold discipline from a child; if you punish him with the rod he will not die." Proverbs 23:13, NIV
EDITOR'S NOTE: Peggy McCracken is Enterprise business manager. Contact her at peg2@pecos.net <!==========end copy==================>
---



Pecos Enterprise
York M. "Smokey" Briggs, Publisher
324 S. Cedar St., Pecos, TX 79772
Phone 432-445-5475, FAX 432-445-4321
e-mail news@pecos.net

Associated Press text, photo, graphic, audio and/or video material shall not be published, broadcast, rewritten for broadcast or publication or redistributed directly or indirectly in any medium.
Copyright 2003-04 by Pecos Enterprise
---