|
Weekly Newspaper and Travel Guide
for Pecos Country of West Texas
Opinion
Friday, June 17, 2005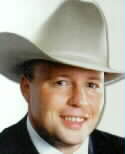 Sage Views
By Smokey Briggs
<!=====paste copy here==========================>
Freedom is always
a good memory
It is funny the things you remember.
It is summer time. Our girls, Carson Mae age 4, and Ruby Leigh age 7, are having a very good summer filled with swimming, tennis, chickens, books, bicycles, sticks, Cooter and Penny our dogs, and all the other things that make summer a wonderful unending jumble of delight when you are young.
I have been thoroughly enjoying this summer - living it vicariously through my girls.
This is the first year where summer meant something other than the hot season to us.
For the past ten or more years summer lost much of its magic. We were out of school and when you are all grown up going to work in the summer is not all that different than working in the winter except you get to come home with the sun still up.
This year the magic is back. Ruby graduated from first grade in May and suddenly summer is magic again for the whole family.
Bedtime is relaxed. Spelling test are things of ancient history. The hurry to exit the house by 7:40 a.m. is almost gone.
Anyway, back to remembering things. I was driving to work the other day after waving goodbye to my girls happily playing and a number popped into my head.
424-3489
It is a telephone number. I am pretty sure it is my best friend Chris Plemons' telephone number.
Well, it was. That was 31 years ago.
Chris and I were best friends through grammar school.
During the long wonderful months of summer in the agricultural land north of Dallas we spent four days out of five together.
It started the week after third grade let out. I don't remember who called who but he ended up at our place and I'm pretty sure we whooped the entire German army that day.
And it began. Nearly every summer morning I would wait till about 8 a.m. and then my finger would start dialing the number on our telephone (the kind with a round dial). It was a party line and sometimes I would have to wait for someone to hang up before I could call.
"Hello," the female voice would answer.
"Hello, Mrs. Plemons, this is Smokey, can Chris come over and play today?"
Most days were good days and the answer was yes.
He lived a few miles away, further than we were allowed to travel by bike, so his mom would bring him over.
Usually he came to my house. His family lived on a very nice ranchette affair with pretty barns and such.
We lived in a farmhouse built in the 20s on a place with about 75 acres of pasture, old barns and creek running through it.
It was not nicer, but it certainly was more welcoming to the imaginations of a couple of 9-year-olds.
Chris would scramble from the car, a 1973 Chevy Blazer painted orange with a black top, and we were gone. We were both budding history buffs, even at nine, and both spent hour upon hour reading about the wars of yesteryear. Much to the hurt of our father's wallets we were both members of the Military Book Club and we would coordinate our selections so that we did not duplicate orders.
Each month new books would arrive and a few days later we re-enacted the latest installment.
We were American rebels at Bunker Hill in the morning and American rebels riding with Mosby and his Confederate raiders in the afternoon.
The next day we would put the hurt on the Japs at Wake Island, or spend hours fixing an abandoned 50s model GMC into a German Tiger tank before becoming a deadly efficient German SS panzer crew holding off the Communist hoards on the Eastern Front. The next day that GMC served as a PT boat. An imagination is a wonderful thing.
Breaks were spent cooling off in the creek and fishing for perch and crawdads, and holding shooting contests with BB guns. On rainy days we built model ships that would probably end up sunk in the creek only to be raised from murky graves and patched to fight again another day.
If you add up the summers, I think Chris and I spent about a year like that - our bodies and imaginations running free.
I guess those were pretty good times for the memories to survive 30-some-odd years. I hope Chris has such good memories.
And, I hope that 30 or 40 years from now, Ruby and Carson will be driving to work or some such and have some flash of memory that harkens back to long summer days of nearly pure freedom. <!==========end copy==================>
---
Pecos Enterprise
York M. "Smokey" Briggs, Publisher
324 S. Cedar St., Pecos, TX 79772
Phone 432-445-5475, FAX 432-445-4321
e-mail news@pecos.net
Associated Press text, photo, graphic, audio and/or video material shall not be published, broadcast, rewritten for broadcast or publication or redistributed directly or indirectly in any medium.
Copyright 2003-04 by Pecos Enterprise
---