|
Weekly Newspaper and Travel Guide
for Pecos Country of West Texas
Opinion
Friday, April 29, 2005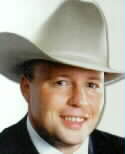 Sage Views
By Smokey Briggs
<!=====paste copy here==========================>
When I die, I want a four-
year-old to bury me
Well, it had to happen.
We were scattered about house and yard when the wail began.
Mom, Dad and Big Sister hustled toward the cry that proclaimed, "something is terribly wrong."
Parental visions of bloody stumps for arms, blood spurting lacerations and such disappeared as I rounded the corner.
Before me was our four-year-old, Carson Mae, dragging a dead chicken that was nearly as big as her by the feet.
Her face was the essence of grief, not to mention her words.
"Black Chicken is dead," she wailed.
Now, you have to understand, Black Chicken was not ordinary chicken.
She was a family pet.
She was one of the original six Aracana chicks that came to our house after the first original six Aracana chicks were eliminated by our ever-helpful blue heeler Penny Durham in a night of pure doggie indulgence.
Desperate at the time not too have to explain to my two-year-old Ruby Leigh how her puppy had massacred the cute little chicks that followed her around "like I'm their mommy," I raced to the feed store minutes after I discovered dead chicks on a Saturday morning.
I fished the last six Aracanas that resembled Ruby's chicks out of a cage of geeselings, ducklings, and chicks, threw money at the counter and screeched back home.
One of those chicks grew up to be Black Chicken.
Black Chicken celebrated her 5th birthday this year. She has been to library story hours, school show and tells, Easter celebrations and I forget what else.
She was as tame as an old dog and spent countless hours being petted (tortured) in the arms of Ruby and Carson over the past five years.
So, when Carson found her, it was a part of her family that she found.
After a few minutes spent regaining composure I told the girls to get their shovels to help me dig a grave. (I was not about to suggest any other means of disposal).
So, with tears flowing the three of us dug a hole while mom found something appropriate for a shroud of sorts.
When the hole was deep enough we put Black Chicken in it and began to fill it up.
All the while the conversation alternated between sobbing and the sometimes-insightful and always delicate conversations parents have with their children regarding death.
When the last shovel full of dirt filled the hole, Carson dropped her shovel, jumped onto the mound of dirt, and began a fast paced, foot stomping jig, whirling round and round as she did it.
Ruby's eyes communicated her distress over the situation. At seven years of age she has already begun to learn the manners of our culture - the dos and don'ts.
Let's face it, dancing on a grave is probably a "don't."
"Carson, what are you doing," I asked.
"Packing down the dirt," she said, her feet never missing a beat.
All I could do was smile.
She was not being disrespectful. She was doing what needed to be done - but the irrepressible force of life that we are all born with was bubbling out of her - completely untamed at the age of four by the strictures of culture and such.
At four, she unconsciously understands what time seems to dull for most of us: Life is good. Being alive is good. We should be joyful, and act like we are joyful.
After about fifteen minutes of grief that force in Carson could no longer be denied and it bubbled out of her as she packed down the dirt on Black Chicken's grave despite her grief.
"Will we see Black Chicken in Heaven?" she asked when she was finished.
"Yes, I think you will," I answered truthfully. (If seeing her chicken would bring a smile to her perfect face I do not see how God could resist no matter what the rules in are).
"Good," Carson answered.
A minute later she was off chasing butterflies, watching ants, playing dolls and mostly just jumping around like a young calf while she continued that day's exploration of her world.
When I croak, I would like that kind of burial. Selfishly, I hope that there are a few folks who care enough to be a little sad, but I want the irrepressible joy of a four-year-old to pack the dirt around me, and to remind folks that life is good and should be lived at full throttle.
Your View
Committee thanks Father Lopez for his dedication, leadership
Dear Editor:
We are writing to praise Father Gustavo Lopez of the West Texas Catholic Communities for the outstanding job he did in bringing a well-known Christian composer and musician to Pecos, Texas. The Jaime Cortez Concert that took place on Friday, April 22, 2005 was a tremendous success. Pecos benefited greatly from the concert and the conference, which was held the following day. Many people traveled from El Paso, Odessa, Stanton, Fort Stockton, Fort Davis and other places to attend the Music Ministry Concert and Conference. These people stayed in our hotels, ate at local restaurants and fueled up for their return trip home. The concert was not only a success for West Texas Catholic Communities but for our community as well. It was wonderful to see a community united as they shared their Christian faith and fellowship with visitors from out of town.
Father Gustavo is a visionary who has a good sense of how things will turn out. While many doubted whether bringing someone of this stature would be well received in Pecos, the results proved to be a tremendous success.
We wish to thank Father Gustavo Lopez for his dedication and his leadership to this project and to his church community.
The Jaime Cortez Conference Organizing Committee:
NANCY MARTINEZ, CHRISTINA BITOLAS, CARLOS AND ALICIA NICHOLS, LILY DOMINGUEZ, FATHER MIGUEL MUNOZ, FATHER MIKE ALGUINO, EDDIE VASQUEZ, RACHEL DOMINGUEZ, ELOISA GOMEZ, JESUS GONZALES, NORA BRICENO, ELIA FLOREZ, LINDA MARTINEZ, TINO AND LUPE ACOSTA, FATHER GUSTAVO LOPEZ AND HILDA WOODS <!==========end copy==================>
---
Pecos Enterprise
York M. "Smokey" Briggs, Publisher
324 S. Cedar St., Pecos, TX 79772
Phone 432-445-5475, FAX 432-445-4321
e-mail news@pecos.net
Associated Press text, photo, graphic, audio and/or video material shall not be published, broadcast, rewritten for broadcast or publication or redistributed directly or indirectly in any medium.
Copyright 2003-04 by Pecos Enterprise
---