|
Weekly Newspaper and Travel Guide
for Pecos Country of West Texas
Opinion
Tuesday, April 26, 2005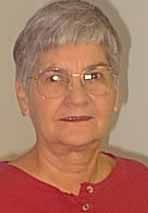 Squarely Pegged
By Peggy McCracken
<!=====paste copy here==========================>
School Days
By Gail Trent
Bob Bickley, a fellow inmate at Reeves County Hospital last week, told me he likes to read my columns about Flomot. So for Bob and other Flomot fans, here is a poem by my little sister, Gail. She is taking care of me while I recuperate from surgery.

Built way back in the twenties, the Flomot school had class.
We loved that tired old building made of wood, stucco and glass.
Pot-bellied stoves were fed with coal we lugged from basement realms To keep us warm and cozy as we studied for exams.
There were no fancy restrooms, just a toilet down the way For kids as well as teachers. No spiffy lounge, you say?
The superintendent's office was filled with special awe.
Mr. Tate gave me a paddling there for overloading the see-saw.
The wooden floors were soaked with oil; what a fire it would have made.
We learned to read and write and add, but, most of all, we played.
The football field was pasture without the trees and grass
Til in '53 they leveled it and added lights at last.
The gym was like a church house where we worshiped basketball, And we thought we'd really made it big when bleachers lined the wall.
But now the gym's a symbol, a house of memories.
It holds a mirror to the past that each alumnus sees.
"Praise God in his sanctuary; praise him in His mighty heavens." Psalm 150:1, NIV
EDITOR'S NOTE: Peggy McCracken is Enterprise business manager. Gail Trent lives in the Sandia Mountains of New Mexico, where she continues to write and publish poetry on her website, www.cgtrent.com .
Citizen supports the propsed lodging tax
Dear Editor:

As president of the West of the Pecos Rodeo Committee, I would like to add the support of the West of the Pecos Rodeo Committee for the proposed lodging tax.

There is a tremendous amount of repair, which needs to be done to all parts of the grandstands and rodeo arena as well as the convention center. The tax would make it possible for the restorations and not put a burden on the resident taxpayer of the City of Pecos and Reeves County. This has been done in other communities and is apparently working well.

This money will also be used for the continuing improvement of the community's parks.

We urge that all residents support this tax.

Sincerely,
Jason Garduno <!==========end copy==================>
---



Pecos Enterprise
York M. "Smokey" Briggs, Publisher
324 S. Cedar St., Pecos, TX 79772
Phone 432-445-5475, FAX 432-445-4321
e-mail news@pecos.net

Associated Press text, photo, graphic, audio and/or video material shall not be published, broadcast, rewritten for broadcast or publication or redistributed directly or indirectly in any medium.
Copyright 2003-04 by Pecos Enterprise
---