|
Weekly Newspaper and Travel Guide
for Pecos Country of West Texas
Opinion
Friday, April 22, 2005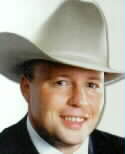 Sage Views
By Smokey Briggs
<!=====paste copy here==========================>
I say no to upping
the bed tax
I simply cannot do it. The warm fuzzy side of me (yes there is one) wants to support the Town of Pecos City's proposed hike on bed taxes for local motels and hotels.
It sounds like a good idea. The money will be used to fix up the rodeo arena.
That's not exactly baseball, mom and apple pie but it is close.
When I first heard the pitch my natural inclination was to support the idea.
It is a good cause. The rodeo is good for Pecos. It is good for my newspaper. And, I won't have to pay the money. Some other sucker gets stuck with the tab. That appeals to the greedy side of my nature.
Not too long afterwards, however, my conscience started poking me (yeah, I think I have one of those as well).
There are a couple of things that about the new tax that stick in my craw.
First, it is a new tax. I am sick of new taxes. In my short 39 years I have seen at least 100 new taxes and tax rates enacted - maybe more.
I have never seen a tax repealed or lowered. Never.
Something is wrong with that picture.
Those rodeo stands were built and maintained for many decades without a new tax.
Second, I do not like taxes that single out a minority for special treatment.
What if it were legal to single out hardware stores, or dress shops, or restaurants, or whatever?
I know it is legal to single out motels and hotels, but as far as I am concerned, legal and right are not always the same thing.
The final thing is this: at some point, we have to start living within our means - that goes for all levels and parts of government. Every family and Pecos does it - or at least most of us do. We cannot go to our boss and say, "Hey dude, I want to add on to the house so how about a extra $200 a month."
We all know life rarely works like that. The rules do not change just because the house in question is a city or county or whatever.
If the arena is important to Pecos then we will find a way to make the necessary renovations without shaking down a couple of unlucky businesses for the cash.
Either we can cut something else, or we can raise our own taxes. Either is better than this new tax.
Your View
Everyone loses with loss of enhanced program
To: PBT-ISD School Board and Superintendent
My name is Laura Briggs. I have been a Pecos Area resident for more than six years, I am a mother of two girls, Ruby age 7, and Carson age 4, and we have one on the way. My husband, Smokey, and I are partners in the Pecos Enterprise newspaper. We are involved in the Pecos community and schools. This is my second year of involvement with the PTO (I am vice-president of Austin Elementary PTO), and I am also a school volunteer and classroom mom.
I am disappointed and angered by the school board's April 14, 2005 decision to terminate all enhanced school programs in the PBTISD. My daughter Ruby has benefited a great deal from the first grade enhanced program at Austin Elementary, and I admit that I have a vested personal interest in keeping this valuable program in our school system for my own children.
However, I also want the PBTISD to be a strong school district. With the lack of economic draws to our area our school is the best draw we can provide. Consider how many parents do whatever necessary to get their kids into the Wink Schools. I would be thrilled if PBTISD had the coveted reputation of the best educational system around!
However, even as I consider the best interests of the school district, I am not able to agree with the board's decision that placing all children in random classes of 20+ students will improve the overall learning for our children. (I believe a problem of aggressive "teacher requesting" will become the parents' way of keeping what they can of the enhanced program).
I have experienced the board's proposed academic plan of having all students in the same curriculum, and a "GT" or "gifted and talented" program a few hours a week for the students that quality. I found that the teachers had their hands full keeping all the students interested at the same time. It was like having two grade levels together.... one part of the class is flying through their lessons and then has nothing to do, while the other students need the teacher one-on-one to help them. The students who do not get as much time with the teacher spend their time entertaining themselves with toys and books in designated play areas instead of learning.
The 2-3 hours of "GT." each week divided the enhanced kids from the kids on the regular curriculum because the "GT" students leave the classroom to do "special" things, like a creative group project, which frankly, is not even close to replacing the curriculum of the enhanced program.
If new football and sports field improvements, new coaches and better equipment is what it takes to make our athletic department stronger, why are we terminating a successful enhanced learning curriculum which strengthens our schools' academic abilities? We should not be closing the door to enhanced curriculum, but instead opening it to include more children, and challenging our students up. Instead it seems that the school board's decision is to take away that advantage and keep every child below their potential. Just because every student is not necessarily good at sports or band doesn't mean that we terminate these programs. We cannot justify terminating our strong academic programs because all students don't qualify.
I understand the "No child left behind" requirement, however, my child will be left behind her potential if she cannot be pushed to learn all that she can.
This last month of school, my child's first grade spelling words went from the enhanced curriculum to the regular curriculum. Words like temperature and explosion were replaced with star, car and far... How am I going to keep Ruby interested in school when she moves to second grade and is essentially repeating the first grade? For her, it is punishment for doing well. For me it will be an enormous task to keep her interested and challenged and wanting to go to school. She could help other students learn, however, she is not trained in educating other students, and I worry about her and other students losing their motivation.
As a person who has lead civic organizations and served on boards and committees, I do my best to look at this decision through your position. The only complaints I can see coming to you from the enhanced program currently in place is from parents with students not in the program telling you that it is unfair that their child is not in the program, and complaints that the different levels of curriculum within each grade level divides the students.
I believe these issues can be remedied by a reasonable enhanced enrollment qualification structure, and expanding the enhanced program to include every student who qualifies. Maybe instead of termination, the program is in need of reform. Any concerns about dividing the students within each grade level could easily be fixed with team teaching approach done daily, biweekly, or weekly which combines enhanced students with other classes for a simple music, athletic or art type activity or a mutual learning study in science or health.
I understand that your position as the superintendent, and board members is not to be popular with the community, parents and teachers, but to do your best in providing the best educational possibilities for PBTISD with the funding and resources available. However, listening to and considering the needs, worries and wants of the people who contribute to the school funding base and those with students affected by the school boards decisions are part of this process.
Please consider my input toward your decision. I hope that my comments are useful, maybe giving you a different outlook on the situation. I wish that the Board had done a better job of opening this somewhat controversial topic to the community prior to the vote to terminate the enhanced program. I feel that many parents and teachers agree that it is a program worth keeping. Respectfully,
Laura Briggs
Local citizen upset with superintendent, school board members
To the Editor:
The day I am elected God, my kids won't be smarter than me (It's a good story, read it to end)
I am going to change all things that are not fair or right in our land. As of that day, you can be assured that people will be of the same color. I think I like blue, a nice dark blue with red spots. That way we would not have worry about where we live and who lives next door. If we were all same color, no one would care who was the boss. We would all have the same job, pay, cars, house, and the same number of children. Oh yes, all the children would be the same. They would think the same. They would all speak the same. And by God (that would be me) be able to learn at the same rate. My most favorite change would be that no one would ever have to die in a war again.
Because that won't happen, lets deal with what we have.
1. First we are lucky we do not look alike. That would take away the enjoyment of attraction to that special someone in our lives.
2. Second, we have the ability to shop for what looks the best on us (and lower the chance two ladies wearing the same dress).
3. We have an opportunity work and study hard for the job or promotion we want.
4. I can buy the car of my dreams provided I work hard for it. After all, the better job I have, the nicer car I can afford.
5. I am sad that I can not have the power to prevent war.
But I do have the power to work as hard as I can to see that my children get the best education possible. Last year our School Board attempted to do away with a program that is working well. It is called the enhanced program.
As I said, if I was God, all kids would be able to learn the same. Well, I can't make it happen. Some people just do not learn as fast as others (I am one of those slower learners). In a few words, I gave up caring when we moved to a less progressive city school system. I was told I had to repeat the work that I had already been mastered. I was bored to tears. I did not regain an interest in school until I fell in with a teacher who would not give up on me - Coach Charlie Wild. He cared enough to see that all his athletes were headed in a direction where they could learn to the best of their ability.
Now down to the main reason for this letter.
I am ashamed of OUR School Superintendent, Board Members and the Board President. Unfortionaly I did not get to this last meeting as I did not hear about it until after you decided to rob from our school system, a program that is good for our kids, school system and our community. Do I have an axe to grind? Yes, I have a smart young lady that loves and does well in the program. She and her other classmates work well ahead of standard curriculum. That cannot happen if the class is held to learning capabilities of someone (like me) who is slower on the uptake.
On the other hand, if the teacher tries to keep up a good learning pace, the student that cannot keep up will suffer. These are students that should also be identified as needing more attention and should have access to more resources and better situations such as more aides, smaller class sizes and maybe even a second teacher. The school system is forced to get the best test scores. Eliminating the enhanced program will lower the scores for the students that were in the program. Placing these kids into a class of kids that have trouble keeping up will only end up frustrating both.
Here we are trying to attract business into Pecos and our School Board and Superintendent (that by the way - work for US running OUR schools) have taken away another positive attraction to new business. Bruce Shores <!==========end copy==================>
---
Pecos Enterprise
York M. "Smokey" Briggs, Publisher
324 S. Cedar St., Pecos, TX 79772
Phone 432-445-5475, FAX 432-445-4321
e-mail news@pecos.net
Associated Press text, photo, graphic, audio and/or video material shall not be published, broadcast, rewritten for broadcast or publication or redistributed directly or indirectly in any medium.
Copyright 2003-04 by Pecos Enterprise
---