|
Weekly Newspaper and Travel Guide
for Pecos Country of West Texas
Opinion
Tuesday, April 19, 2005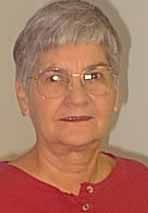 Squarely Pegged
By Peggy McCracken
<!=====paste copy here==========================>
Count your blessings,
see what God has done
How do I count my blessings?
Children with character who love their mother.
Grandchildren who are a crown of glory.
Siblings who show up in good times and bad.
Co-workers who take up the slack when I'm laid up, and who provide material help and encouragement.
Brothers and sisters in Christ who pray for, love and support each other.
Young people who put their hands to the task and try to follow the right path.
God's Army and He-Brews ministries that point the way for children and youth.
Volunteers who step out as role models, counselors and teachers for children and youth.
A God who counsels, guides and protects his children each day.
An employer who challenges, confronts, consoles, supports and suffers in silence.
A comfortable home.
Good transportation.
Hospital board members who had and have the vision to provide an excellent health care facility right here in Pecos.
Good doctors, an excellent surgeon, an outstanding anestheologist and nursing staff. And administrators and support staff.
By the time this paper hits the streets, I should be waking up from surgery in Reeves County Hospital, surrounded by family who took time out and drove long distances to be with me.
Yes, the tumor is malignant, and Dr. Bang is my choice to perform a mastectomy. He and Jerry Giardina are tops in their field, and I feel safe in their care. Just to be sure, I am marking the "good" breast with a "Do not remove" sign.
"My frame was not hidden from you when I was made in the secret place. When I was woven together in the depths of the earth, your eyes saw my unformed body. All the days ordained for me were written in your book before one of them came to be." Psalm 139:15-16, NIV
EDITOR'S NOTE: Peggy McCracken is Enterprise business manager. Contact her at peg2@pecos.net <!==========end copy==================>
---



Pecos Enterprise
York M. "Smokey" Briggs, Publisher
324 S. Cedar St., Pecos, TX 79772
Phone 432-445-5475, FAX 432-445-4321
e-mail news@pecos.net

Associated Press text, photo, graphic, audio and/or video material shall not be published, broadcast, rewritten for broadcast or publication or redistributed directly or indirectly in any medium.
Copyright 2003-04 by Pecos Enterprise
---