|
Weekly Newspaper and Travel Guide
for Pecos Country of West Texas
Opinion
Friday, April 8, 2005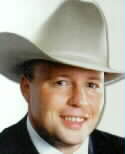 Sage Views
By Smokey Briggs
<!=====paste copy here==========================>
A billion dollar
piece of paper
Value is an interesting concept.
Wednesday, I had the opportunity to hold a piece of paper worth at least a billion dollars - and I stop at a billion because I cannot fathom more money than that.
Actually there was no way to put a value on that piece of paper. It was worth everything to me.
To the next guy it would have been scrap paper to be tossed into the trash.
You see, on August 31, 1997, our first child, Ruby, was born. Four hours after entering the world the doctors told us there was something wrong with her heart and the longest week in mine and Laura's lives officially began.
The next day a team of cardiologists performed a procedure to open up her partially closed pulmonary valve.
The operation was a success in that the valve worked good enough to prevent her from having to have immediate open-heart surgery.
It was touch-and-go for a week, but then we got to take her home.
Life was good.
Nine months ago her cardiologist informed us that she would probably need an open heart valve replacement in the near future to prevent her heart from being damaged from the extra work caused by her leaky valve.
Survivability was excellent - better than 95 percent, he said.
I almost threw up. Those are good numbers if you're playing the lottery. They are terrifying when it is your baby girl.
Wednesday we went to Odessa for her regular checkup, expecting to find out when Ruby was scheduled for surgery in Houston. Instead her doc handed us a letter from the specialist in Houston. It was written on the most valuable piece of paper I have ever held. My hands shook as I read it.
In short, the good doctor said that he had patients 20 years past similar procedures as Ruby had her second day on this earth and they were doing fine with similar leaky valves.
She certainly did not need surgery now, and might never need it.
Better yet, we learned that doctors are pioneering a new procedure for valve replacement that is accomplished with a catheter rather than an open-heart procedure. As the girls played on the playground across from the hospital Laura commented that she felt like she had lost 50 pounds all at once.
The weight of the world was gone.
I was re-reading the letter, looking for some hint of impending problems and could find none.
Better yet, it was signed by a doctor who was highly recommended by Dr. Charlie Sang, the man who took care of Ruby that first week and in whom we have the utmost trust.
As I stood there it struck me that an hour before I would have traded all my worldly possessions and more for the faxed-smeared words written on that piece of cheap 8 1/2 X 11 paper.
Anything.
The world does that to (or maybe for) us from time to time.
Gently, or not so gently, we are reminded that most of the junk we spend our lives worrying about and working for is just that - junk.
It is without comparison to the stuff we often trade for that junk.
As we drove home I made a mental list of the stuff I thought was truly valuable - and reaffirmed my commitment to pursue the real value in life and not the junk.
It was how I was taught to live and how I hope to teach my children to live. I stray. There are days when pennies win the battle for my time.
There are realities we all have to face - you have to make some money in this world.
But, I really try to allow the truly valuable to rule my life, and not the pursuit of material stuff. And, sometimes life gives me a little nudge.
When I am an old man (if I make it that far) and looking back on my life these are some of the things I think I will find valuable:
Time I spent with my children. The love of a fine woman. The camaraderie of strong men and women who lived and acted with conviction. Having lived in such a way that I am proud of my life. Having stood up when it was time to be counted. Having spoken the truth as I saw it, rather than what I thought people wanted to hear. Good hunts, especially with my father, my brother, and my girls. Fish I have caught and the ones that got away.
The list could go on for a while and would probably get smarmy.
What I am pretty sure will not make the list is the number of zeros in my bank account.
There will be one material thing on that list though and that is a plain sheet of typing paper with some very ordinary words typed on it.
That was a billion dollar piece of paper. <!==========end copy==================>
---
Pecos Enterprise
York M. "Smokey" Briggs, Publisher
324 S. Cedar St., Pecos, TX 79772
Phone 432-445-5475, FAX 432-445-4321
e-mail news@pecos.net
Associated Press text, photo, graphic, audio and/or video material shall not be published, broadcast, rewritten for broadcast or publication or redistributed directly or indirectly in any medium.
Copyright 2003-04 by Pecos Enterprise
---