|
Weekly Newspaper and Travel Guide
for Pecos Country of West Texas
Opinion
Friday, April 1, 2005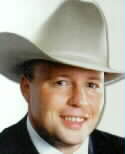 Sage Views
By Smokey Briggs
<!=====paste copy here==========================>
Rule of
the extremists
A few days back a Colorado court overturned a case where the death penalty had been imposed after conviction for a terrible rape and murder.
Why?
Because one of the jurors brought his Bible into the jury room with him and read his fellow jurors that part about an eye for an eye and a tooth for a tooth.
Check this???
Apparently Colorado judges think the Bible is a bad place to start when citizens have to pass judgment on their fellow citizens accused of a crime.
I wonder where they would like jurors to start? Probably with an oath disavowing any basis for morality except the official stance of our national government on a given day.
I can see the beginning of the jury instruction now - "The basis for all morality, Your Government, has decreed that X is right and Y is wrong. Any deviation from this correct morality will be considered juror misconduct and is punishable…"
Wow.
As I write this, we are all waiting for Mary Ann Schiavo to succumb to starvation.
Now, we have not heard much about it but there was a $1 million malpractice settlement won in Ms. Schiavo's name awhile back.
And, we also know that her husband has had a girlfriend for a decade.
And, we know that her mom and dad claim that she actually does have some recognition of where she is and such.
And, we know that there is no proof of her husband's claim that she did not want to be kept alive by measures such as a feeding tube.
And we know that her mom and dad desperately want to preserve the life of their little girl.
And we know that every day in that hospice is expensive and probably eating into that $1 million settlement.
And we know that good old husband cannot inherit all that money unless Ms. Schiavo is dead.
Gee, I think the boys in law enforcement call that motive.
And we also know that a person convicted of raping and murdering a person gets a bazillion appeals before he is put to death - and maybe can avoid getting the lethal shot if some juror actually was prejudiced enough to read his Bible to help in pass judgment in the case.
How many appeals did Ms. Schiavo get?
Not that many before the process of starving her to death began.
I wonder what the euthanasia crowd that is supporting this mercy killing would say if we decided to institute starvation/dehydration instead of lethal injection for death row inmates?
Somehow it is okay for a severely disabled young woman who never committed a crime but probably inhumane if applied to someone convicted of murder.
I understand completely.
Well, not really.
What I do understand is that the people who own this country, the people who support it, the people who work 40-hour weeks and love their spouses and rear families and pay taxes, have absolutely lost control of their own country.
Instead we have government by the extremists. We have a thousand special interest groups of one flavor or another each lobbying a bunch of illiterate prostitutes who would sleep with a snake if it kept them in office for a few more years of living on the people's back and not having to work for a living.
This is the combination of people and ideas that become law.
Somewhere in the process, common sense gets left out of the equation. The idea of innate knowledge is quashed. The idea that we are all free people with God granted, inalienable rights, is trampled into the mud.
The idea that common people are actually capable of making a decision without interference from government functionaries becomes laughable.
In truth, self-government becomes a joke. In Colorado and Florida the symptoms are quite different but the underlying disease is the same - the rule of the state overwhelming the rule of common people and common sense.
The only question remaining is if and how common people will wrest control of this country back from the extremist and prostitutes that are running it today. <!==========end copy==================>
---
Pecos Enterprise
York M. "Smokey" Briggs, Publisher
324 S. Cedar St., Pecos, TX 79772
Phone 432-445-5475, FAX 432-445-4321
e-mail news@pecos.net
Associated Press text, photo, graphic, audio and/or video material shall not be published, broadcast, rewritten for broadcast or publication or redistributed directly or indirectly in any medium.
Copyright 2003-04 by Pecos Enterprise
---