|
Weekly Newspaper and Travel Guide
for Pecos Country of West Texas
Opinion
Tuesday, November 22, 2005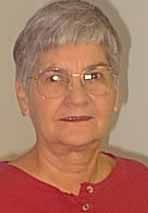 Squarely Pegged
By Peggy McCracken
<!=====paste copy here==========================>
Cinnamon and honey
cure for every illness
What would we do without the Internet? Each morning I find a new batch of goodies in my in-box that would tickle my funny bone, beef up my immune system or take me on a cruise to Alaska.
Sister Mary is touting the Alaskan cruise. Brothers Jerry and Walter forward jokes and pictures. Sister Gail, the healthiest one of the bunch, gathers health tips and passes along the best of the best.
Today's tip is to eat (or drink) honey with cinnamon to cure just about any disease, including influenza. With the bird flu threatening a pandemic, maybe we should stock up on honey and cinnamon. Consider this:
INFLUENZA: A scientist in Spain has proved that honey contains a natural ingredient, which kills the influenza germs and saves the patient from flu.
Based on Gail's recommendation, I tried it immediately for cancer of the bone and hearing loss. Then I Googled "cinnamon and honey" to see what I could find.
On "Holistic Living," I found he same material Gail sent: an article taken from Weekly World News, a Canadian newspaper. When I went to the newspaper's website, I found a tabloid-type paper with these headlines: CIA Wants Dr. Phil; Plus-sized Athletes Compete in 'Big' Games; Man Poses as CPR Dummy for Women's Training Class; Pres. Bush Converting 'West Wing' to 'Arrest Wing." Can I believe anything they print?
Next I tried some of the other web sites touting cinnamon and honey. Here is a sampling:
"Spicy hot lip plumpers for super sexy lips. Cinnamon and honey infused lip plumpers add the perfect amount of color and sting to plump your lips to the fullest"
"Joop for Men - 1 oz EDT Spray: JOOP! is a refined oriental woody fragrance. This Perfume has a blend of cinnamon, jasmine honey, tobacco and vetiver…" Mexican Desserts:
"Dust with cinnamon sugar or pour small amount of honey over the sopapillas. Serve hot."
Several websites quoted the Canadian newspaper. Here are some excerpts:
"HEART DISEASES:
"Make a paste of honey and cinnamon powder, apply on bread, chappati, or other bread, instead of jelly and jam and eat it regularly for breakfast. It reduces the cholesterol in the arteries and saves the patient from heart attack.
"ARTHRITIS:
"Take one part honey to two parts of lukewarm water and add a small teaspoon of cinnamon powder, make a paste and massage it on the itching part of the body slowly. It is noticed that the pain recedes within a minute or two.
"HAIR LOSS:
"Those suffering from hair loss or baldness may apply a paste of hot olive oil, one tablespoon of honey, one teaspoon of cinnamon powder before bath and keep it for approx. 15 min. and then wash the hair. It was found to be effective even if kept on for 5 minutes.
"COLDS:
"Those suffering from common or severe colds should take one tablespoon lukewarm honey with 1/4 spoon cinnamon powder daily for 3 days. This process will cure most chronic cough, cold and clear the sinuses.
"INFERTILITY:
"Yunani and Ayurvedic Medicine have been using honey for thousands of years to strengthen the semen of men. If impotent men regularly take two tablespoon of honey before going to sleep, their problem will be solved. "
Honey and cinnamon promise to cure upset stomach, indigestion and flatulence. It also kills pimples at the root, clears up skin infections and promotes weight loss. Fatigue and bad breath cease to be a problem, the article says.
"IMMUNE SYSTEM:
"Daily use of honey and cinnamon powder strengthens the immune system and protects the body from bacteria and viral attacks. Scientists have found that honey has various vitamins and iron in large amounts. Constant use of honey strengthens the white blood corpuscles to fight bacteria and viral diseases.
"LONGEVITY:
Tea made with honey and cinnamon powder, when taken regularly arrests the ravages of old age. Take 4 spoons of honey, 1 spoon of cinnamon powder and 3 cups of water and boil to make like tea. Drink 1/4cup, 3 to 4 times a day. It keeps the skin fresh and soft and arrests old age. Life spans also increases and even a 100 years old, starts performing the chores of a 20-year-old.
"The fear of the Lord adds length to life, but the years of the wicked are cut short." Proverbs 10:27, NIV
EDITOR'S NOTE: Peggy McCracken is Enterprise business manager. Contact her at peg2 @pecos.net <!==========end copy==================>
---
Pecos Enterprise
York M. "Smokey" Briggs, Publisher
324 S. Cedar St., Pecos, TX 79772
Phone 432-445-5475, FAX 432-445-4321
e-mail news@pecos.net
Associated Press text, photo, graphic, audio and/or video material shall not be published, broadcast, rewritten for broadcast or publication or redistributed directly or indirectly in any medium.
Copyright 2003-04 by Pecos Enterprise
---