|
Weekly Newspaper and Travel Guide
for Pecos Country of West Texas
Opinion
Tuesday, November 8, 2005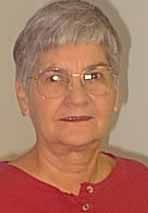 Squarely Pegged
By Peggy McCracken
<!=====paste copy here==========================>
It's good to be back
in my own church pew
Worshiping at different churches gives me a sense that God is alive and well in Pecos. I am retiring from writing about my experiences, though, because I make too many mistakes.
After visiting First United Methodist Church, I got the name of the new pastor mixed up with his installer, Rev. Dr. John McClean. The Rev. John Barrett is the pastor, and he delivered his first sermon Oct. 30. He will also be preaching at Toyah.
While it is good to be with extended family, I was glad to be back in my own pew at West Park Baptist Church the past two Sundays, getting re-acquainted with my immediate family. Last week, I joined the vocal group in singing my funeral song, "When I Get Carried Away."
I told them before we sang that they will have awhile to practice for my funeral, because the cancer that is eating my bones has let up some. "If you live until we get it right, you don't have anything to worry about," quipped Rey Carreon, our pastor and fellow tenor.
Years ago, I made an effort to visit at least one church of each denomination in Pecos. I missed a few, and hope someday to make it around to the rest. This past Sunday I attended the Fourth and Bois d'Arc Church of Christ. They used to meet during the time I was teaching a Sunday school class, but now they have both English and Spanish services at 11 a.m. and 6 p.m.
Fred Dominguez is minister for the English congregation, and Juan Palacios preaches in the Spanish mission. One thing that impressed me was the number of men in the congregation and participating in the service. They are well organized and efficient. I sang with the men on the tenor parts of the hymns, sung without accompaniment.
My daddy's family members were leaders in the Church of Christ, and my childhood memories include both Sunday services and week-long revival meetings in the little building at Flomot. Cousin Viba Hunt's strong alto voice came in on the chorus of those gospel songs with special parts.
My favorite was "A Beautiful Life," where the bass part leads in the chorus. I've never heard it sung anywhere else.
I learned just recently that my grandfather traveled with David Lipscomb, a Church of Christ preacher who has a church school named for him. In fact, my uncle and cousin are named David Lipscomb Gunn.
Wherever we worship, whether in a church building, on the lake or on our knees in our prayer closet, God hears and blesses our praises.
"Hear my voice in accordance with your love; renew my life, O Lord, according to your laws." Psalm 119:149, NIV
EDITOR'S NOTE: Peggy McCracken is Enterprise business manager. Contact her at peg2@pecos.net <!==========end copy==================>
---



Pecos Enterprise
York M. "Smokey" Briggs, Publisher
324 S. Cedar St., Pecos, TX 79772
Phone 432-445-5475, FAX 432-445-4321
e-mail news@pecos.net

Associated Press text, photo, graphic, audio and/or video material shall not be published, broadcast, rewritten for broadcast or publication or redistributed directly or indirectly in any medium.
Copyright 2003-04 by Pecos Enterprise
---