|
Weekly Newspaper and Travel Guide
for Pecos Country of West Texas
Opinion
Friday, November 4, 2005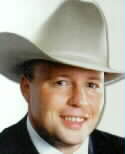 Sage Views
By Smokey Briggs
<!=====paste copy here==========================>
I want my
machine gun
I was once part of a two-man machinegun team.
I was the assistant or "A"-gunner at that point. The A-gunner is responsible for carrying extra ammunition, feeding the belt into the gun during firing, and taking over when the gunner is disabled. It did not really matter to me. Dave and I were partners in just about everything and it was no different with our gun. We both got plenty of trigger time.
At some point Dave had a t-shirt made up for me. On it was the silhouette of an M-60 machinegun and the following words: "Happiness is a 200-round belt and one long trigger squeeze."
There was a lot of truth to that.
Now, good machine gunners do not run 200 round belts through their gun without letting off the trigger. It tends to melt the barrel. Good discipline demands short, aimed bursts, and that is what you practice and practice. Hammering away like John Wayne in an old movie is a good way to get a sergeant's boot where the sun does not shine.
But burning 200 rounds through a gun without letting up was our forbidden fruit. It was wrong. It was wasteful. It was fun with a capital F.
Not that Dave and I ever did it, of course.
It has been more than a decade since I was charged with keeping a cantankerous, nearly worn out M-60 alive.
And I still miss it. I miss the hammering pulse of round after round of 7.62 NATO ammunition heading down range - every fifth round a burning red-orange streak of tracer. It is just fun.
So?
Well, I have hopes of one day having full-auto fun again - without either paying absurd amounts of money for the gun and BATF permission or indenturing myself to Uncle Sam again in the process.
Why?
Machine Gun Sam Alito.
For the first time in my life, the national media has been forced to report that a person of some note actually agrees with me and a few other folks regarding the National Firearms Act of 1934, and every other ridiculous piece of so-called gun control legislation that has followed.
That person is Judge Samuel Alito - George Bush's current nominee for the Supreme Court.
Now, I do not think it will make a bit of difference to the history of our nation who is named to the Supreme Court.
As a country, we gave up the idea of voluntary self-government in 1865 when we finished killing 600,000 of our countrymen for the right to tell the Confederate states that they damn well would remain a part of the United States and pay their taxes - either peacefully like good slaves or with a bayonet stuck in their guts.
In the long run it probably will not matter, but for several decades I have pointed out time and again that the 1934 Act and all of its progeny are unconstitutional horse feathers.
I was not alone philosophically, but often I was physically when the topic came up at social gatherings, in class rooms in the halls of the five universities I graced with my presence, over beers after work, on one or two dates before I learned better, and once or twice in columns such as this.
The response I got was almost always either the Democrat/Liberal, "You are the anti-Christ, knives and rocks are evil much less guns, you should be wrapped in a straightjacket and put away," or the Republican / Conservative, "What's the difference? You can still hunt deer and you do not really need a fully automatic, silenced, Browning 1919A4 .30 caliber machine gun as long as you can have a nice house, send your kids to private school and drive a BMW."
The fact that the law was wrong, that it violated the very principles upon which this nation was founded, that it violated chapter and verse of the Constitution we supposedly live by, made no difference to most.
But it chapped me to no end. Still does. By either response, I knew that I had just been written off as one of those fringe people who care more about principle than reality. Which is fine by me, since the other option is to be a hypocrite.
But now, here is an actual Supreme Court nominee who has espoused the same view.
Now, I wish I could say that being nominated to the Supreme Court was actually an indication that you walk and chew gum at the same time.
Considering the legion of idiots that have gone before, it obviously is not.
But, after 15 years as a Federal Appellate Judge, Alito has some credibility nationwide. Judging from a fairly slack-jawed Democrat response, he has more than most.
It is public record that Sam thinks the 1934 National Firearms Act is a crock of bad sauerkraut just like I do - earning him the moniker "Machine Gun Sam," at least to those who think the proper response to a physical threat is to whimper.
So, to everyone who ever blew off the constitutionality of gun control as a topic not worth arguing about this is for you … Phhhppttttttt!
(That was a Bronx cheer in case you are not familiar with the spelling.)
Judge Alito, I hope you are confirmed. And I hope you manage to turn back the volumes of ridiculous law the federal courts have created, starting with the National Firearms Act of 1934.
I know that I might as well hope that the sky turns a nice shade of green as well, but shoot, hope springs eternal.
And there is nothing quite like a 200-round belt and one long squeeze of the trigger. <!==========end copy==================>
---
Pecos Enterprise
York M. "Smokey" Briggs, Publisher
324 S. Cedar St., Pecos, TX 79772
Phone 432-445-5475, FAX 432-445-4321
e-mail news@pecos.net
Associated Press text, photo, graphic, audio and/or video material shall not be published, broadcast, rewritten for broadcast or publication or redistributed directly or indirectly in any medium.
Copyright 2003-04 by Pecos Enterprise
---