|
Weekly Newspaper and Travel Guide
for Pecos Country of West Texas
Opinion
Friday, September 23, 2005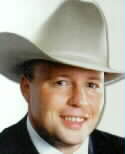 Sage Views
By Smokey Briggs
<!=====paste copy here==========================>
Puppies are smarter
than Republicans
Puppies and kids go together like nothing else on earth. Watching two of them get together has to be one of the real privileges of living on this earth.
At 40, I still remember my first pup. That was a day of pure joy and the beginning of years of friendship and camaraderie.
Last night Carson, age 5, got her first puppy. Like most top-notch dogs, it has a fine pedigree much like our other two dogs
. Penny Durham, our oldest pup, was adopted later in her life. Two of our friends got divorced and we got the dog. Penny is a pure bred blue heeler-terrier-dachshund-thing that really resembles a pre-historic rat-dog thing with bad teeth.
Cooter, Ruby's dog, likewise claims a pure lineage as a purebred Barstownian Terrier.
And now we have Spot.
It was her dog, so Ruby named Cooter, and so Carson named Spot - who at least has a few spots in his pure-bred looking coat of black, brown and white.
When we get the papers from the neighborhood dogcatcher, I imagine they will testify that he is purebred hound-terrier-dingo.
Now Spot came home last night looking a bit rough. Ticks, fleas and malnutrition nearly got the best of him.
But, like most young things, a bath and a good meal brought him right around. By the time Dad got home, Carson and Spot were romping in the soft night on the porch under a low spotlight.
I watched until She-who-must-be-obeyed (actually as she is 8 months pregnant she is technically She-who-must-really-really-be-obeyed-or-you-will-die) ordered me into the house.
Before I retreated to the supper table though, I was struck by Spot's incredible intelligence.
As he and Carson played, he just had to go investigate the spotlight. Carson tried to keep him from it, but eventually he touched his nose to the hot bulb.
With a yelp, he backed up, wiped his nose with a paw, and then went back to playing with his new friend.
Not once after that did he go stick his nose to that hot light bulb.
It was then I realized he was smarter than me and every other conservative that has been hornswaggled into voting for Republicans on the promise that they were conservatives - again and again and again. I cast my first vote for president in 1984 with a mail-in ballot from my barracks at Marine Corps Recruit Depot San Diego.
I voted for Ronald Reagan, with the naïve faith that only an 18-year-old kid can have.
While I did not know much, I knew he was more like me than that soldier hating, family hating, absolute pansy, Dukakis.
Since then I have often voted Republican in the hopes of helping put this country onto a slightly more conservative route in terms of fiscal responsibility, reverence for a solid Constitution not to be bent by current popular whim, and a foreign policy that made sense.
Last night I realized that Spot, at six weeks of age, was smarter than me.
I've been getting burned for 20-some years. The Republicans promise me conservatism, I vote for them, they get elected, and we get more of the same.
Five years of absolute ownership of our elected national government and Republicans have managed to spend like Democrats, wage war like Democrats (see LBJ and Viet Nam) and now have managed to nominate a supreme court justice that should make social liberals feel warm all over.
If this guy votes even once with Scalia and Thomas during his entire career I may swoon from surprise.
What we are getting, I am afraid, is another "middle-of-the-road" justice which is the nice name for a justice who thinks the Constitution is meant to be whatever the majority of the day says it means - and that is not conservative, I do not care who you are.
Great.
Okay, I may not be smarter than a six-week-old puppy, but I am not stupid. Spot only had to burn his nose once to figure out that touching the light is dumb.
I've voted for conservative promises from Republicans for 22 years.
Well, I'm done. From now on I am going to vote like a guy who has as much sense as a new puppy.
Democrat? Well the last conservative Democrat died about 50 years ago, so, well, no.
Nope, instead me and Spot are going to polls together. I'll give him my ballot and anywhere his teeth punch through will be my vote.
It just cannot be any worse than what I have achieved in the past 22 years.
Guest Column
ACLU saving New Mexico now, Texas next?
By Ned Cantwell
The American Civil Liberties Union is once again astride her black steed, charging around the countryside saving New Mexico from God.
Specific target this time is God in sports. Let's make this clear: there is no place for God in sports.
Sports, and we're talking about Big Time College and Professional Sports, belongs in the Kingdom of the Worldly, populated by iconic idols who feast at a buffet of sex, drugs, alcohol, $100,000 sports cars and multi-million dollar mansions.
Where does God fit in that picture? He doesn't. And yet you got guys like Ritchie McKay, UNM Lobo basketball coach, actually professing his belief in God and even - get this - placing a Bible on the front of his desk.
McKay irritates Peter Simonson, executive director of the state ACLU who admits the basketball coach has every right to his belief in Christianity, but no right to make belief in Christianity a condition of participation on the team.
That's funny by its own self. A major college coach would play a guy with pointy ears who divides his time between Sunday Mass, the Synagogue, and services at the Buddhist Temple as long as he is 6 foot 8 and can sink a jumper from 25 feet.
This McKay guy, says Simonson in an Albuquerque Journal op-ed piece, talked to basketball recruit J. R. Giddens about God and Christianity when he brought him to UNM after Giddens got in big trouble at Kansas University for a bar brawl.
Here is a quote from Giddens that bothers the ACLU exec: "Everybody that was scouting me was only looking at me as a talent while coach McKay talked to be about changing as a person, too…He lives by the Lord and we talked a lot about that. This team is really a family, and I wanted to be part of that."
Is that the most horrible thing you have ever read? The Lord? Family? Looking beyond a guy's enormous ball-handling ability to the person inside? What is this basketball program coming to?
Maybe it is coming to prayer before games. No, it has already knelt in that pew and got knobby knees. Up until last November a chaplain was leading the Lobos in prayer, but that practice ended after the ACLU raised a ruckus.
Much of Simonson's protest revolves around the notion that mandatory church attendance is a part of McKay's program. Were such the case, it would be wrong. The fact that McKay's players have stated that they are not required to go to church and that the fact many of them do not go to church and their playing time is not based on going to church…what more do we need to know?
Let us not downplay, however, the efforts of our ever-vigilant ACLU. This is not just an issue for our state. Here's the thing. You let God in sports in New Mexico, and it's going to spread.
Pretty soon God will be over there in Texas dealing with that Lancaster High star who is facing six counts of aggravated battery with a deadly weapon.
This boy doesn't need the spiritual stuff. He just needs his dazzling speed, green grass, an open field, and the marvelous legs God gave him.
Whoops. I mean "someone" gave him. I wouldn't want to get in trouble with the ACLU. (New Mexico columnist Ned Cantwell - ncantwell@charter.net -- doesn't have a prayer when it comes to sinking a free throw.)
Your View
Locals thanked for assisting baby girl
Dear Editor:

Sunday, Sept. 18, 2005 was the worst day of my life. My 11-month daughter was choking. I couldn't save her, my neighbor B assisted until paramedics arrived. Mr. Hannah was the first to arrive along with officers Villalobos, Prieto and Vernon. Mr. Hannah could not get her to spit out so he said lets go and they left. Paramedic Lujan was on standby, put her in the ambulance and left. At the hospital we were assisted with nurse Samantha Meloday and Dr. Yoganandan. They helped me by calming myself and calming my daughter. I appreciate everything they all did for me. Especially the 2 nurses cause their shift was over at 7 and they stayed by myself until AeroCare airlifted her to Odessa Medical Center. I would like to thank every individual who assisted me with my daughter if it wasn't for any of you guys, my daughter would probably not be alive today. Thank you,
CATHY BACA <!==========end copy==================>
---



Pecos Enterprise
York M. "Smokey" Briggs, Publisher
324 S. Cedar St., Pecos, TX 79772
Phone 432-445-5475, FAX 432-445-4321
e-mail news@pecos.net

Associated Press text, photo, graphic, audio and/or video material shall not be published, broadcast, rewritten for broadcast or publication or redistributed directly or indirectly in any medium.
Copyright 2003-04 by Pecos Enterprise
---