NEWS PAGES

Obituaries
Archive
Photos

ADVERTISING
Commerce
Classified
Economic Development
TRAVEL
Area Papers
West Texas
STAFF
Smokey Briggs
Jon Fulbright
Peggy McCracken
Rosie Flores

LINKS
Other Sites
|
Weekly Newspaper and Travel Guide
for Pecos Country of West Texas
Opinion
Tuesday, September 20, 2005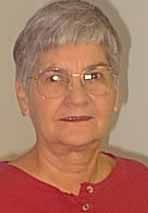 Squarely Pegged
By Peggy McCracken
<!=====paste copy here==========================>
Hereís the rest
of the story
Grandson Scott called Thursday to make sure I had contacted the Allison Cancer Center for an appointment. He is thrilled that I have agreed to seek treatment.
Hereís the catch. Scott has to come to Pecos every six months, and while here, he will handle all my little projects. Like fixing the leaky drain to my dishwasher and the light over my sink, both of which I had abandoned.
I got tired of fixing things, so I quit. While Scott and his wife, Laura (carrying great-grandson Houston), were here last week, he hunted up my scarce tools and set to work. Not only did he fix a bunch of stuff, he cleaned out the storeroom and carport, then the two (three?) of them washed two months worth of dirt off my car. I didnít even recognize it.
Laura washed more than the car, too. She took over dishwashing chores, kept their bedroom clean, and did several loads of laundry.
In return, I took them out to eat at all our great restaurants, to Balmorhea swimming, then to the roadside park in the Davis Mountains. Scott remembers climbing those big rocks, so he posed atop the biggest for one of the excellent photos Laura shot while here. Copies of the best are on the way, so avoid me if you donít want to see grandma pictures.
We toured the zoo, where both of us posed at the Alamo. ďItís smaller than I remembered,Ē Scott said. He was 5 the first time he climbed those walls.
Oh yes, donít forget the rattlesnake hunt. Scott had told Laura about his previous hunts and the hides and rattles he kept for posterity. We peeked into an abandoned irrigation ditch, but didnít wade into the dead weeds to scare up our prey. He did spot a ringtail rattler shortly thereafter, and snagged it long enough for a photo. It was a little one, about 2.5 feet long, but Laura wasnít getting a closeup. Scott took the camera and shot a closeup from his end of the catching pole, then let it slither back into the weeds, rattling all the way.
Now for the highlight of the trip. Scott was baptized Sunday at West Park Baptist Church, which thrilled my heart. He and Laura are serious about being good parents to little Houston, and placing their faith in God is a major step in that direction.
ďThe father of a righteous man has great joy; he who has a wise son delights in him.Ē Proverbs 23:24, NIV
EDITORíS NOTE: Peggy McCracken is Enterprise business manager. Contact her at peg2@pecos.net <!==========end copy==================>
---



Pecos Enterprise
York M. "Smokey" Briggs, Publisher
324 S. Cedar St., Pecos, TX 79772
Phone 432-445-5475, FAX 432-445-4321
e-mail news@pecos.net

Associated Press text, photo, graphic, audio and/or video material shall not be published, broadcast, rewritten for broadcast or publication or redistributed directly or indirectly in any medium.
Copyright 2003-04 by Pecos Enterprise
---