|
Weekly Newspaper and Travel Guide
for Pecos Country of West Texas
Opinion
Friday, September 16, 2005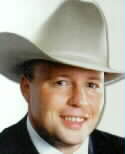 Sage Views
By Smokey Briggs
<!=====paste copy here==========================>
Katrina spawns some tough questions -
but they will not be asked
I made the mistake of turning on the television the other night around news time.
I landed on a cable news channel. A few moments later a talking head in New Orleans informed me that in light of the devastation to New Orleans from hurricane Katrina, and the less than perfect response by a slew of government agencies, journalists were going to start having to ask some tough questions.
It was everything I could do not to puke.
The implication was that somebody had to answer for the federal government's, and maybe the state government's, supposedly crummy response to Hurricane Katrina.
The obvious fact, however, was that Mr. TV Reporter would not know a tough question if it was latched onto his leg like a pit bull.
If he did, here are a few questions you would hear:
• "Mr. President, can you please point out the section of the Constitution that authorizes any action by the federal government in a situation such as this? I apologize but I cannot find it, and after reading the Constitution it seems rather clear that the federal government can only do the things specifically allowed by that document - legally speaking of course."
• To the citizens of New Orleans - "Gee guys, what has your ever-so-corrupt local government been doing with your tax money that was more important than building a levee that was rated for more than a Class 3 hurricane - since for the past 20 years, at least every other year, there has been a major storm in the Gulf of Mexico that had the potential for doing exactly what Katrina did. NBC, FOX, CBS and ABC all reported on these past close calls. Surely your leaders caught at least one such broadcast."
• "Mr. President and good members of Congress. Could you please point out to me where you are authorized by the Constitution to take my tax money and shower it on those unfortunate enough to live where Katrina went?"
• "Mr. President and good members of Congress, can you show me how it is just to spend tax dollars in what amounts to charity for the people of New Orleans, when you do nothing when my neighbor's house burns to the ground? I assure you that my neighbor's plight was no less horrific than that of the people you are currently stumbling over yourselves to hand tax dollars to.
The last time I checked, charity was not mentioned once in the Constitution. Please explain your actions."
• To every moron that works for FEMA - "Please explain why your entire unconstitutional organization should not be nuked? While FEMA and the rest of the federal government was making sure that volunteers with boats could not enter the city to help survivors, Wal-Mart had 1,500 of its own trucks on the road with free food and merchandize to help the survivors.
Please explain how you did better than Wal-Mart? If you cannot, I suggest that Wal-Mart be allowed to purchase all of FEMA's assets at a discounted price."
• To the citizens of New Orleans that are mad about the governments' supposedly slow response - "Please explain why you think anyone, and especially the federal government, owes you any response at all? The way I was taught, planning for disaster was a personal responsibility, or at most, a local responsibility."
• "Mr. Ray Nagin, as mayor of New Orleans, you have issued orders calling for the forced evacuation of property owners who do not wish to leave and for disarming all private citizens in the area. Please explain how the mayor of a city, or anyone else in this country for that matter, has the authority to override the God-given and constitutionally protected rights for citizens to be secure in their homes and to be armed in the face of danger.
"If a natural disaster that frees the thugs that live among us to loot, rape and kill is not the proper time to possess a firearm, what is the proper instance we should be allowed to posses our guns?
"Also, how long have you subscribed to the theory that government has more rights than the people you supposedly serve?"
Okay, there are a couple of questions you cannot call softballs. Lets see how many of them the talking head crowd has the guts to pitch.
I do not believe that I will hold my breath waiting. <!==========end copy==================>
---
Pecos Enterprise
York M. "Smokey" Briggs, Publisher
324 S. Cedar St., Pecos, TX 79772
Phone 432-445-5475, FAX 432-445-4321
e-mail news@pecos.net
Associated Press text, photo, graphic, audio and/or video material shall not be published, broadcast, rewritten for broadcast or publication or redistributed directly or indirectly in any medium.
Copyright 2003-04 by Pecos Enterprise
---