|
Weekly Newspaper and Travel Guide
for Pecos Country of West Texas
Opinion
Friday, January 21, 2005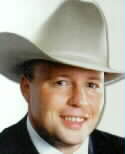 Sage Views
By Smokey Briggs
<!=====paste copy here==========================>
I want a
magic bed
What is your mental outlook when you first open your eyes in the morning?
I know mine is not always what it should be. The older I get, the worse mine is.
At 39 I rarely wake up smiling, thinking how perfect the world is, and how wonderful it is simply to exist here and now.
I should. Probably we all should. But the aches of life past 35, the stress of modern living, late nights, and everything else seems to conspire to make sure that dawn is not the highpoint of my day.
Now, nights at our house have become one never-ending and tortuous game of musical beds.
It starts just after mid-night - usually the exact moment when some movie star looking gal looks across the room in my dreams and shoots me a sultry look. (Of course it is She-who-must-be-obeyed because I do not even dream of other women).
Just as I cock an eyebrow and strike my best ruggedly handsome pose, I get poked in the eye.
I squeeze my eyes shut. A smart man would just sit up. I squeeze my eyes shut and wait - feeling like Charlie Brown when Lucy offers to hold the football.
Poke.
I open one very sore eye.
"Daddy, are you awake?"
It is the sound of my youngest daughter's voice. Carson Mae is four.
"Yes," I say through the tears.
Then she climbs over me, knifes into the covers like an Olympic diver and makes herself at home. Why we have to go through the eye-poking ritual is beyond me.
I usually get up and look for a drink of water and some eye drops.
When I get back, the bed is occupied to capacity between SWMBO and Carson Mae who is now sideways and doing her best impersonation of the letter "X."
So, the game begins.
I head for Carson Mae's twin bed - the princess bed with the princess sheets and the princess pillow.
At least I was smart enough not to skimp on the mattress.
In my next dream I am Ulysses and must wrestle a huge octopus armed with many clubs.
The beast contorts my body into painful shapes and pounds me constantly with the clubs.
I awake in agony.
The beast is peacefully sleeping beside me, her feet drumming against my stomach like Bruce Lee in the middle of a fit. It is Ruby Leigh, age seven. I am hanging off the side of the bed like a trapeze artist.
I retreat to Ruby's bed, fight Cooter the dog for some cover and by 4 am I am finally sleeping blissfully.
Until 5 am.
That is when two kids and two dogs have managed to kick SWMBO out of our bed and she has retreated to Ruby's bed.
With a surly growl she takes all the covers and rolls up. Teeth chattering I pray for the soothing embrace of death.
A few Saturdays ago the first rays of sunshine were drifting across us when SWMBO and I awoke and enjoyed a few waking moments of peace before Thing One and Thing Two and Cooter and Penny jumped out of our bed, perfectly rested and ready for 20 hours of non-stop action.
By this point, Carson Mae had somehow actually migrated to her own bed. Mom and I were in Ruby's bed. Ruby and the dogs were in our bed.
You can see Carson's bed from Ruby's. We watched the sun flicker onto Carson's face.
In the perfect peace that must be the age of four, she stretched and then sat bolt up right as though pinched, separated the blinds on the window by her bed and smiled the smile to beat all smiles.
"The sun's up. My magic bed worked," she said gleefully and then jumped out of her bed to go torture her older sister. With the perfect radar of a little sister she knew instantly to go to our room to find her sister.
I have no idea how she decided her bed was magic and that it was her magic bed that determined if the sun was going to rise the next day.
I started to ask her about it and then thought better of it.
If a four-year-old girl wants to think her magic bed helps the sun rise in the morning, why mess it up?
There was a pure beauty in that moment. There was an unquestioning acceptance - a bliss that I guess most of us lose with each chunk of knowledge the world beats into us. I do know that just once, I want to wake up like that - perfectly rested, perfectly serene, and absolutely joyus that the sun is up and my magic bed worked.
We lay there for a bit and chuckled. It was one of those perfect moments that occasionally visit a marriage.
It was cold outside, but the sun was shining the promise of a warm afternoon. The house was snug and warm. Whatever else we had accomplished in our lives, we had obviously managed to provide well enough for our offspring that dawn was a fine moment.
Even though I had just awoke, I felt like the king of the world. Maybe a little of the magic had rubbed off on me.
Then the sounds of a four-year-old, a seven-year-old and two dogs wrestling, screaming and barking broke the spell.
I guess even magic beds have limits. <!==========end copy==================>
---
---
Pecos Enterprise
York M. "Smokey" Briggs, Publisher
324 S. Cedar St., Pecos, TX 79772
Phone 432-445-5475, FAX 432-445-4321
e-mail news@pecos.net
Associated Press text, photo, graphic, audio and/or video material shall not be published, broadcast, rewritten for broadcast or publication or redistributed directly or indirectly in any medium.
Copyright 2003-04 by Pecos Enterprise
---