|
Weekly Newspaper and Travel Guide
for Pecos Country of West Texas
Opinion
Tuesday, January 18, 2005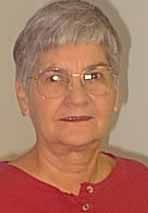 Squarely Pegged
By Peggy McCracken
<!=====paste copy here==========================>
Warm water soothes
sore, aging muscles
Exercise is a must to keep an old heart beating and an old brain sending and receiving. But it can put a strain on old joints and make old muscles sore.
That's where warm water comes in. I didn't know until I rejoined the Adult Water Therapy group that meets Monday-Thursday in the Pecos High School Natatorium that you can exercise in water without getting sore muscles.
One lady in the group told me that is because the water keeps muscles from getting hot. It's the heat that causes soreness, she said.
Not so, said Terri Morse, PHS swim instructor. "You are working up a sweat; you just don't notice it because of the water," she said.
Water buoys up the body, thus relieving stress on joints and muscles, Morse said. That's why I can do jumping jacks, tennis strokes, push-ups, leg lifts and all the other exercises, along with swimming, without getting sore.
Gigi Stroup leads the structured part of the 45-minute sessions. She calls out the same routine every morning. First moving the head from side to side and up and down. Then rolling the shoulders. Some of the exercises benefit the arms, some the legs, and others the whole body.
Some skip the structured exercises to swim laps or walk.
During free time, I swim laps, which makes the blood flow through hardened arteries while toning the body overall. Others walk or do pull-ups.
Any adult is welcome, young or old, male or female, rich or poor. School taxpayers foot the bill for the pool. I'm not sure if Terri volunteers her time, or if it is part of her school duties. She arrives between 8 and 8:15 a.m., and has to be in health class by 9.
"I used to be here all day and had more time. I could extend it longer," she said. "Now I have to conform to a strict overall schedule."
Terri has been the swim coach for 20 years, and district, regional and state banners lining the natatorium walls attest to her success. Last year, both boys and girls won district and regional and placed at state. The boys were fourth overall.
A notepad on Terri's desk reveals why she produces so many winners. Inside the outline of an apple is a heart, a 2, and the word "teach." And I'm sure her students love the teacher, 2.
"You have laid down precepts that are to be fully obeyed." Psalm 119:4, NIV
EDITOR'S NOTE: Peggy McCracken is Enterprise business manager and webmaster. Contact her at peg2@pecos.net <!==========end copy==================>
---
---



Pecos Enterprise
York M. "Smokey" Briggs, Publisher
324 S. Cedar St., Pecos, TX 79772
Phone 432-445-5475, FAX 432-445-4321
e-mail news@pecos.net

Associated Press text, photo, graphic, audio and/or video material shall not be published, broadcast, rewritten for broadcast or publication or redistributed directly or indirectly in any medium.
Copyright 2003-04 by Pecos Enterprise
---