NEWS PAGES

Obituaries
Archive
Photos

ADVERTISING
Commerce
Classified
Economic Development
TRAVEL
Area Papers
West Texas
STAFF
Smokey Briggs
Jon Fulbright
Peggy McCracken
Rosie Flores

LINKS
Other Sites
|
Weekly Newspaper and Travel Guide
for Pecos Country of West Texas
Opinion
Tuesday, January 11, 2005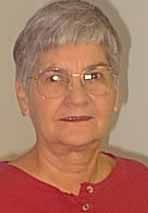 Squarely Pegged
By Peggy McCracken
<!=====paste copy here==========================>
Slack sets sights
on century mark
Dick Slack whizzed past his 90th birthday and headed for 100 just before the Christmas holidays. But by New Year, he was coughing so much he decided to drive out to Reeves County Hospital for some relief.
When I visited him Thursday morning, he was wheeling and dealing from his hospital bed, while antibiotics dripped into his veins. Jennifer Ward, an ex-Balmorhea correspondent for the Enterprise, and her brother, James, were at his bedside.
"We're negotiating," Dick said when I pushed open the door and peeked in. He introduced me to Jennifer as an engineering major who can also weld, and to James as a brilliant student completing his doctorate.
He took time out from the negotiations to inquire if I had come to invite him to lead the singing at West Park Baptist Church Sunday morning.
"No, I want us to play a duet: you on the violin and me on the piano," I said.
"I can't do that," Dick said. "I broke a string on my violin."
Dick claims his occasional visits to my church are to hear me play the piano. Our pastor, Rey Carreon, told me that Dick showed up one Sunday when I was out of town, and Christie Weatherby was filling in at the piano. "He was standing there looking kind of puzzled," Rey said. "I asked if I could help him, and he said, 'That's not Peggy. She plays very well, though.'"
In fact, Christie plays quite well, much better than I do. And I'm sure he enjoyed the music more than usual that morning.
Dick's gift of gab fills up the holes in any conversation. I like to visit with him because I don't have to say much. In case you don't know who Dick Slack is, he served this district in the state legislature for something like 26 years, I believe. He was still on the state ethics commission the last time I inquired.
What brought Dick to mind Thursday morning was a little chorus I was playing on the piano that starts out, "I'll be so glad when day is done." I wondered if he were looking forward to graduating to that place where "There'll be no sorrow in God's tomorrow." Apparently he is not in a big hurry to shuffle off this mortal coil, as he cheerfully looked forward to getting out of that bed and on with life. "Once, when you were 90 and had pneumonia, it was all over," he said. "But I may make 100. Who knows?"
By the sound of that harsh cough when he called me at the office after lunch, I doubted that his doctor would let him go home anytime soon. His secretary may have had to take her pad and pen to the hospital for a few more work sessions.
"Whoever of you loves life and desires to see many good days, keep your tongues from evil and your lips from speaking lies." Psalm 34:12,13, NIV
EDITOR'S NOTE: Peggy McCracken is Enterprise business manager and webmaster. Contact her at peg2@pecos.net <!==========end copy==================>
---
---



Pecos Enterprise
York M. "Smokey" Briggs, Publisher
324 S. Cedar St., Pecos, TX 79772
Phone 432-445-5475, FAX 432-445-4321
e-mail news@pecos.net

Associated Press text, photo, graphic, audio and/or video material shall not be published, broadcast, rewritten for broadcast or publication or redistributed directly or indirectly in any medium.
Copyright 2003-04 by Pecos Enterprise
---