|
Weekly Newspaper and Travel Guide
for Pecos Country of West Texas
Opinion
Tuesday, January 4, 2005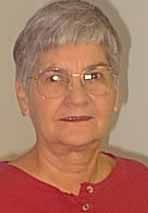 Squarely Pegged
By Peggy McCracken
<!=====paste copy here==========================>
Old challenge
starts new year
Here it is 2005, a new page to fill in. I have noted that I would be seeking a new challenge, and what do I get? An old one revised.
Yes, this week I return to the Monahans News as business manager. You may recall that I took on that challenge in 2003, but spent 2004 training someone else to do the work. The latest trainee is Smokey Briggs, who owns the place and wants to know how to do everything in the shop.
Smokey found out keeping books takes more time than he wants to invest in number crunching, and off-handedly invited me back. "Surely you jest," was my initial reaction. But the fact is, working half a day or less has not been the utopia I envisioned.
He made a concrete offer, which I accepted, and will spend Wednesdays and Fridays in Monahans; Monday, Tuesday and Thursday at the Enterprise.
Crunching numbers for a newspaper seems insignificant in the face of disaster such as that in the 11 countries devastated by the recent tsunami. As of this writing on Saturday, official number crunchers said at least half a million people lived in unreached villages that were wiped off the map by the ocean waves. Initial survivors are in danger of deadly diseases as well, and the death toll could double.
It's just too much for the mind to wrap around. I think of the Saragosa tornado that killed 31 and drew worldwide attention. Tragic as it was, it isn't even a speck in comparison.
News agencies report that tourists are already returning to the beaches in some of the affected countries. I hope they are there to help out, rather than enjoying a holiday. How could anyone think of fun when so many millions are in deep distress?
I wonder how many tourists died on those beaches and will never be identified. My own brothers could have been among them. Baby brother Jerry and his wife Pat get out of England as often as they can to escape the dreary weather. They've been under the weather and stayed in during the holidays. And big brother Walter has junketed all over the world with friends. He's busy building a house now, so it's likely he spent the holidays in Ennis.
My own holidays were quiet affairs. In my attempt to keep stress from killing me, I did less for Christmas than normal, which is not much in itself. I did send out Christmas cards to everyone in my address book and church directory, because I found a bunch of leftovers while cleaning house. Some of the messages were politically correct "Happy Holidays" or "Season's Greetings," explaining why they were leftovers. I debated whether to send them, and decided a generic greeting is better than none at all.
For gifts I sent cash, continuing a tradition my husband started. I don't like it, but hate shopping for myself, much less for people I rarely see and have no idea what they would like.
When David and family came for an afternoon, I wrapped small gifts I already had on hand so they would have something to open. I baked a chicken (no dressing) and opened a couple of cans.
It only took me five minutes to take down the decorations: a small pre-decorated tree and a string of outside lights. My co-workers call me Scrooge, but so be it. I am not stressed out, and I don't owe anybody a dime.
Now on with the new year.
""I pray that your hearts will be flooded with light so that you can see something of the future he has called you to share." Eph. 1:18, TLB
EDITOR'S NOTE: Peggy McCracken is Enterprise business manager and webmaster. Contact her at peg2@pecos.net
Your View
Error in Fonville's caption
To the Editor:

I want to thank you for featuring the picture of the closing of Fonville Jewelers on the front page of the Enterprise.

There were some errors in the caption under the picture, Fonville Jewelers has not served Pecos for 35 years.

My father, Johnny Fonville purchased the business from his previous employer, Mr. and Mrs. Charlie Manahan, who had started the business in 1919. My father obtained the store in 1950 so that is fifty-four years. Thus, the name was changed to Fonville Jewelers in 1950.

Bill and I have been associated with the store since 1956. That equals forty-eight and a half years. We bought the store from my parents in 1980. We have been the sole owners for 24 and a half years.

I was disappointed that the paper did not give a short history of the business. It was an icon in Pecos and we outlasted four competitors. I think that says something for the quality of our merchandise and service to our cusomters. We have had numerous phone calls from throughout Texas saying they could not imagine Pecos without a Fonvilles - it was synonomous with Pecos. How they learned of our closing, I have no idea. I assume it was through e-mails from some of our local customers.

I wish the paper had mentioned our two dedicated employees. Rosa Carrasco has been with us for 31 years and Ludi Valencia for 34 years. We could not have offered our customers the service that we did without them. They hosted the lovely reception on Wednesday in congratulations of our retirement.

JO FONVILLE COOKSEY <!==========end copy==================>
---
---



Pecos Enterprise
York M. "Smokey" Briggs, Publisher
324 S. Cedar St., Pecos, TX 79772
Phone 432-445-5475, FAX 432-445-4321
e-mail news@pecos.net

Associated Press text, photo, graphic, audio and/or video material shall not be published, broadcast, rewritten for broadcast or publication or redistributed directly or indirectly in any medium.
Copyright 2003-04 by Pecos Enterprise
---