|
Weekly Newspaper and Travel Guide
for Pecos Country of West Texas
Opinion
<! date ________>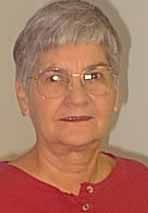 Squarely Pegged
By Peggy McCracken
<!=====paste copy here==========================>
Tuesday, July 26, 2005
Pecos through eyes
of guest columnist
I am giving up my space this week to my granddaughter, Dana, who has brought sunshine into my life these past three weeks. Here is her take on Pecos:
Have you ever had a time where there were so many thoughts streaming through your head that it was nearly impossible to think clearly? Well, Iíve been running into that problem quite frequently lately. Iíve met quite a few people here in Pecos since Iíve been here but not nearly all of you.
My name is Dana Kay Goddard. I flew in from St. Louis Missouri on Wednesday July 6th to stay with my grandmother, Peggy McCracken. She asked if I would write a column for the newspaper last week, but as a typical 16-year-old often does I procrastinated and told her Iíd write one for the next weeks paper.
Writing has never been a big challenge for me, but then again I very rarely if ever have the task of writing something that should interest anyone more than my English teacher. However, I donít mind doing it since itís for my grandma.
Most people in Pecos have at least heard of my grandma since sheís been an employee of the Pecos Enterprise for so many years. And there are some of you who are aware that sheís been diagnosed with cancer not that long ago.
I remember the day I was told about her health problem. I was sitting on my back deck up in the quite humid warm weather of St. Louis, when my older brother Scott brought up in a conversation with my Dad that our grandma had cancer. My first reaction was disbelief I had never even thought about my grandma having health problems.
As a child I was always reminded of my grandpa Leon McCrackenís health issues, who passed away a couple of years ago. I was very disappointed to hear that my grandma was not as healthy as I had always thought she would be, but it didnít hit me until I got down here, that this trip could very possibly be the last time I am able to spend time with her before she starts getting really sick.
I am dreading having to leave back for St. Louis. Itís going to be quite difficult to let go of my grandma and say goodbye as she hugs me at the airport. Iím so happy to have gotten come down to Pecos. Itís been a good trip that I wonít soon forget. I cannot tell you how many great people of all ages that I have gotten to know and love down here.
When I first flew down I spent a few days with my cousin Amandaís daughters, Jasmine, 9, and Cieara, 3. I was recruited to help out at West Park Baptist Churchís Vacation Bible School, which was a great experience in itself. I also soon discovered the new skate park where many of the youth often hang out.
During all of this Iíve been very fortunate to meet many new people here to spend my extra time with, including a young man named Gonzalo Reyna. Heís a very attractive 17-year-old who works hard at Dairy Mart but still has time for fun. After having some bad luck with the guys Iíve dated up in St. Louis, I was very happy to see that not all teenage boys are no good. Heís treated me with the utmost respect and has made what I thought was going to be a somewhat sad trip into a lot of fun. I was also lucky enough to meet and get to know his beautiful family. His mother has raised him to be an amazing young man who I wish I could take home with me in my suitcase.
All in all, my trip here to Pecos has been very pleasant. Iíve enjoyed every day of it and canít wait to return. Though it is much different from St. Louis itís been good for me. Iíve spent time in church building a faith in our Lord, met many great people who Iíve made friends with, dated a handsome guy, ate plenty of Mexican food, quenched my thirst with cherry limeades, and most of all gotten to spend a lot of time with my beautiful and extraordinary grandma who wonít ever understand how much I love her.
ďRemember now your creator in the days of your youthÖĒ Eccl. 12:4, KJV
EDITORíS NOTE: Peggy McCracken is Enterprise business manager. Dana Goddard is her granddaughter. <!==========end copy==================>
---
Pecos Enterprise
York M. "Smokey" Briggs, Publisher
324 S. Cedar St., Pecos, TX 79772
Phone 432-445-5475, FAX 432-445-4321
e-mail news@pecos.net
Associated Press text, photo, graphic, audio and/or video material shall not be published, broadcast, rewritten for broadcast or publication or redistributed directly or indirectly in any medium.
Copyright 2003-04 by Pecos Enterprise
---