|
Weekly Newspaper and Travel Guide
for Pecos Country of West Texas
Opinion
Tuesday, July 5, 2005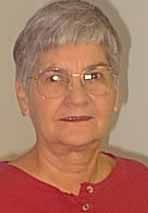 Squarely Pegged
By Peggy McCracken
<!=====paste copy here==========================>
Flomot homecoming
as good as it gets
Every three years, the Gunn clan gathers at Flomot to renew friendships and re-live the good old days when we were all together. This year was the best, because all five of us were able to attend.
We garnered applause just for all being there, and the baby, Jerry Winn, won the honor of coming the farthest distance. I donít know the number of miles, but England is even farther away than the Texas border.
I was the first to arrive, having only a two-hour drive from Lubbock Friday morning. The Quitaque house was recovering from hail damage, and I didnít know if we could stay there, so checked it out first. It was pretty much intact, and had one air conditioner, so I closed off the bedrooms and camped out, inviting Mary to take one of the two couches.
Gail and Jerry got there about mid-afternoon, while I was trying to stop a leak in the commode tank I had caused while trying to replace the wax ring. Jerry bailed me out, and we had water by suppertime.
Cousin J.W. ďDubĒ Caraway from Gainesville joined the clan for supper at the famous Sportsman Caf», then we adjourned to Benny Brownís house for a jam session. Jerry played in a band with some of the guys in his youth, and Gail is a vocalist at the Turkey Jamboree now and then. Walter, Mary and I found a couch and grinned while they picked.
Mary and I had our own jam session the next morning, using the grand piano thatís been in the McCracken family since 1912 and hymnals my late mother-in-law left stacked on its lid.
Arriving at Flomot around mid-morning, we found a few Flomot faithfuls manning the registration booth and concession stand. The red-headed Tanner girls were the first to greet us, as always. And the Starkey family had already checked in. They lived up on the gravel hill across the road from cousin Harley Gunn. The 12 kids and their clans, numbering about 180, gather on that hill every Easter, and I am invited for next year.
Wilburn Martin, Mr. Flomot, has not changed one whit since he taught us in high school and coached the girls teams. His photo with the Class of 1946 looks much like the one in 1950 when as a teacher he sponsored the graduating class. His baby sister, Waydetta Clay is a retired champion horsewoman. She counseled me about my health and made me promise to be at the next homecoming in 2008.
Charles Tanner hasnít changed since high school, either. I still canít get him to dance with me. Flomot guys just donít dance, except with their soul mates.
Barney Joe and Cloris Martin were always among the first on the dance floor, and they sat out very few. Barney Joe died last year, so Cloris came by herself, all the way from Sherman. She dragged Walter onto the floor for one two-step before calling it a night.
Walter and Jerry limbered me up with a couple of turns around the floor, but I mostly hopped from bench to bench, visiting and just enjoying the cool breeze. Since the Gunns are all over the age of retirement, the Hotel Turkey and the McCracken house started looking good around 10:30.
Another gathering in Quitaque Sunday morning, a visit to the Skinner house for photos, a turn around Flomot where church was in session at the Church of Christ and Baptist Church where we attended as children, we headed back to the Sportsman for a farewell lunch. Walter and his friend, Cynthia, headed east toward Dallas. Mary, Gail and Jerry went to Amarillo for one more night together. I drove to Midland for a visit with son David, granddaughter Amanda and extended family.
We played bingo while watching Amanda work at Daytime Bingo on Monday. One boring session was enough for me, so I headed toward the sinking sun.
Extended family includes Brenda Virgin, my faithful friend from Odessa. I stopped by her place for an afternoon gab session and tour of her beautiful and restful back yard, where they have just installed a big blow-up pool.
Then home to a hot house and suffering plants. The swamp cooler didnít make much of a dent in the heat, which was still 93 at 10:30 p.m. when I went for a walk. I did manage to sleep under a vent in the living room, so it wasnít a total disaster.
For you rodeo fans, donít think my July 4 trip was a snub at the best rodeo in the nation. I did my patriotic duty and attended Wednesday night as a guest of Birdie Slack, before taking to the road.
ďIt isnít fair to punish the innocent and those who do right.Ē Proverbs 17:26, CEV
EDITORíS NOTE: Peggy McCracken is Enterprise business manager. Contact her at peg2@pecos.net. <!==========end copy==================>
---
Pecos Enterprise
York M. "Smokey" Briggs, Publisher
324 S. Cedar St., Pecos, TX 79772
Phone 432-445-5475, FAX 432-445-4321
e-mail news@pecos.net
Associated Press text, photo, graphic, audio and/or video material shall not be published, broadcast, rewritten for broadcast or publication or redistributed directly or indirectly in any medium.
Copyright 2003-04 by Pecos Enterprise
---