|
Weekly Newspaper and Travel Guide
for Pecos Country of West Texas
Opinion
Friday, July 1, 2005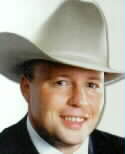 Sage Views
By Smokey Briggs
<!=====paste copy here==========================>
A letter to
Thomas Jefferson
Dear Mr. Jefferson:
My heart is heavy as I pen these words.
It is my sad duty to report that freedom is no more in the Republic of Sovereign States that you helped create.
While various developments of law and attitude have cast doubt on the relative freedom enjoyed by citizens of the United States over the past 100 years, no one development or event or piece of legislation could be marked as the end of freedom.
That is no longer the case.
A few days ago the Supreme Court of the United States, an institution that you and your brave colleagues created within our Constitution, handed down a ruling that clearly marks the end of freedom in this once great land.
It is my hope that the brave and just people of America will be able to right this great blot on our God given freedoms through peaceful means, but I have serious misgivings that this will be so.
If not, we will find ourselves exactly in the position you and your brother patriots were in so many years ago. Luckily, we have preserved, so far, the right of the people to bear useful arms just in case our government of the people broke the chains of justice and installed itself as our tyrant, which it now has.
But, I digress.
Last week, our Supreme Court wrote executed in cold blood the concept private property.
As you and those that originally purchased our freedom from a tyrant all acknowledged, the right to private property is the absolute foundation of liberty.
First, the liberty given by God to own our body for so long as we reside on this earth.
Second, the liberty to own those things that we create with our own hands and labor.
Third, the liberty to own such parts of this earth as we can through contract with our neighbors.
As your friend John Adams wrote, "The moment the idea is admitted into society that property is not as sacred as the laws of God, and that there is not a force of law and public justice to protect it, anarchy and tyranny commence."
Last week, our Supreme Court ruled that the city government of New London, Connecticut could legally seize the homes of private citizens under the law of eminent domain - not to take control of that land in the name of the people for a public use - but to hand it over to another private citizen for future development.
The justification?
That the new use of the land will generate more tax revenue for these elected prostitutes to spend.
Eminent Domain?
I think not. Absolute tyranny is a better description.
With this ruling no man can be secure in knowing that his property is truly his.
Men and women now only hold title to their homes at the whim of the elected officials of petty governments.
The justification, if I may be so bold as to call it such, that the promise of more tax revenue is sufficient public good to justify the use of eminent domain, could be well used to take the home of every man and woman in the country.
All that is needed is the promise of a developer and perhaps a few dollars slipped under the table to a city councilman.
Hardly the rule law which you and your comrades worked so hard, and bled so much, to install in this land.
It is irony fitting of the Devil himself that I am forced to write you of this development so close to the date on which we mark the birthday of our formerly free nation.
In a few days we will celebrate the Declaration of Independence from the tyranny of King George III, which you penned.
As a people we will salute our flag, raise cheers, and set off fireworks in the name of freedom.
But, the sad truth, is that we will be saluting a concept that is already dead and buried.
The funeral took place last week. The head stone is set in New London. The pallbearers wore the black robes of our Supreme Court justices, and the body stretches from sea to shining sea, across this entire land. <!==========end copy==================>
---
Pecos Enterprise
York M. "Smokey" Briggs, Publisher
324 S. Cedar St., Pecos, TX 79772
Phone 432-445-5475, FAX 432-445-4321
e-mail news@pecos.net
Associated Press text, photo, graphic, audio and/or video material shall not be published, broadcast, rewritten for broadcast or publication or redistributed directly or indirectly in any medium.
Copyright 2003-04 by Pecos Enterprise
---