|
Weekly Newspaper and Travel Guide
for Pecos Country of West Texas
Opinion
Tuesday, October 18, 2005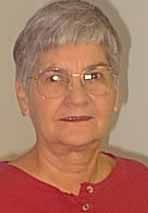 Squarely Pegged
By Peggy McCracken
<!=====paste copy here==========================>
Lay leaders keep
churches on move
Kelly Davis met me at the door with bulletin in hand Sunday at First United Methodist Church. He is one of several lay leaders who have filled the pulpit and kept the small congregation on track this past year while they sought a pastor.
Rev. McLean was installed as part-time pastor on Harvest Day, the annual celebration that brings former members, visitors, friends and family together for food, fellowship and thanksgiving. He will preach his first sermon Oct. 30.
As I entered, I noticed beautiful piano music, rendered by Becky Patterson. She played the organ for several hymns, then returned to the piano for the offertory. What a talent she has. David Smith led congregational singing.
I sat by Mary Kate Zeman, described as the matriarch of the church. "I am not a matriarch," she quipped. "I am only 89." God has been good to her.
Guest speaker Phyllis Shedek of Odessa reminded us that God is with us at all times, and He does answer prayer. In addition to a long prayer list in the bulletin, members added names of those who had lost loved ones, suffered an accident or were ill.
I had played the piano for Edna Glier's funeral at First Christian on Friday, again seeing old friends. Ernie Waggoner of Fort Stockton is pastor. His wife, Sherry, reported for the Enterprise for awhile when they lived here.
Mayor Dot Stafford, Emily Fernandes and Frances Clinton were among those joining the family for a beautiful tribute. I visited with the two younger Glier girls, Jane and Janan. Jane sang "How Great Thou Art," one of her mother's favorite songs.
The previous Sunday, I enjoyed God's creation while scuba diving and snorkeling at Balmorhea State Park. What a joy it is to observe His handiwork.
Premiera Iglesia Bautista (First Mexican Baptist) was my host one week prior. Although they have a pastor, Rev. DeLuna, who also sings beautifully, lay leaders play a big part in worship. Christina Sonnen plays the organ and organizes everything. Raymond Natividad leads the singing. <!==========end copy==================>
---
Pecos Enterprise
York M. "Smokey" Briggs, Publisher
324 S. Cedar St., Pecos, TX 79772
Phone 432-445-5475, FAX 432-445-4321
e-mail news@pecos.net
Associated Press text, photo, graphic, audio and/or video material shall not be published, broadcast, rewritten for broadcast or publication or redistributed directly or indirectly in any medium.
Copyright 2003-04 by Pecos Enterprise
---