|
Weekly Newspaper and Travel Guide
for Pecos Country of West Texas
Opinion
Tuesday, October 4, 2005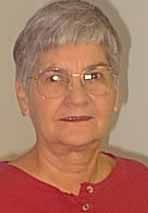 Squarely Pegged
By Peggy McCracken
<!=====paste copy here==========================>
Marching to beat
of God's own drum
Greer Willis chose a sermon text last Sunday morning that warmed the cockles of my heart. He used Eph. 6:10 and following to exhort First Baptist parishioners to "Put on the full armor of God so that you and take your stand against devil's evil schemes." (NIV)
No, I haven't left my West Park family. I am focusing my attention these days on organizing God's Army to begin marching Tuesday, and am visiting other churches to strengthen our relationship.
God's Army is manned by laymen from churches throughout Pecos. I think the Commander in Chief chose me as the organizer because I know people in all the churches, and He wants us to unify in a common effort that every Christian can support.
The previous Sunday, I attended Calvary Baptist. Not once, but twice, as we had our quarterly joint sing-along that night.
I didn't see an unfamiliar face in either of those churches. As I entered the vestibule at First Baptist Sunday, former Mayor Bill Hubbs and retired Postmaster J.E. Travland greeted me with bulletins in hand.
Bill said my new Midland oncologist is his own "Doctor Dave," and he likes him so well that his wife, Pat, has moved her health care from Dallas to Midland.
J.E. is looking good after months of visiting doctors. Gilda Vejil, whom I sat by in the auditorium, said her husband David is doing well after surgery.
Jo (Allison) Lindsay stopped to say hello Her husband Mike died of cancer, and she didn't like living alone. Her recent marriage to Roy Lindsay has given her a radiant smile.
Betty Lee turned from the pew in front of me to give me that brilliant smile and a hearty handshake. She drives Birdie Slack to church each Sunday morning. Cornelia Brantley joined them. We swim together at Gail (Slack) Box's house in the evenings. At least until the weather turns cold.
Birdie is one of the original God's Army staff, and she remains a faithful supporter in everything we do. At age 87, she can out-walk most of us, and she led the pack as we handed out flyers last Tuesday night near Bessie Haynes.
We'll have after-school programs near the Austin and Bessie Haynes campuses for all age groups. Grades 1-6 meet on Tuesdays at both locations. Grades 7-9, the Air Wing, meets on Wednesdays at 1320 Veterans Blvd.
"Our struggle is not against flesh and blood, but against the rulers, against the authorities, against the powers of this dark world and against the spiritual forces of evil in the heavenly realms." Eph 6:12 <!==========end copy==================>
---
Pecos Enterprise
York M. "Smokey" Briggs, Publisher
324 S. Cedar St., Pecos, TX 79772
Phone 432-445-5475, FAX 432-445-4321
e-mail news@pecos.net
Associated Press text, photo, graphic, audio and/or video material shall not be published, broadcast, rewritten for broadcast or publication or redistributed directly or indirectly in any medium.
Copyright 2003-04 by Pecos Enterprise
---