|
Weekly Newspaper and Travel Guide
for Pecos Country of West Texas
Opinion
<! date ________>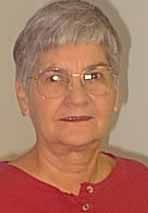 Squarely Pegged
By Peggy McCracken
<!=====paste copy here==========================>
Tuesday, August 2, 2005
Mall has nothing
on Sears catalog
Mary ordered a flowered dress for school. I got a gray dress with stripes on the bodice. Gail's dress was yellow. Jerry got new overalls, and Walter a shirt/pants outfit with cap. And a football. We all got those high-top leather shoes with sheepskin lining to keep our feet warm in the winter snows.
That order from Sears Roebuck sticks in my memory like no other. I was 5, and we lived on the Moore place northwest of Flomot. When the rural route mail carrier dropped off the big bundle at our mailbox, I was so excited! We dragged it in the house and tore into it to try on the goodies.
My dress was a soft cotton with ties at the waist. I wore it mostly for Sunday school that year, but come fall, it was my good school dress. Mama made me another one out of blue fabric with white print, and I wore one while she washed the other.
Sears Roebuck and Montgomery Ward kept us not only in clothes, but provided Christmas presents, household goods, tools, baby chicks and just about anything else a body could want.
We'd sit by the fire and thumb through those sacred books, wishing for a walking doll for Christmas, a new dress or a bicycle. The bicycle was long in coming. I was 11 when Walter bought a used bike from one of his friends. He shared, as we all did, and we finally learned to ride. Then Jerry got rich one year and ordered a brand new one from Sears. Oh boy! We rode the wheels off that thing, round and round the house and down the bumpy country roads.
Shopping at the mall just does not compare with catalog shopping. Half the fun is in anticipation while you wait for the mailman to bring that big package so you can try on the shoes you hope are going to fit. I remember Mama using a piece of brown paper to draw an outline of our feet to send in with the order, hoping to get the right size. I don't remember ever sending any shoes back, so her measuring system must have worked.
Daddy would order work shoes sometimes. He preferred cowboy boots, even to work in the fields. But sometimes he just couldn't cough up the money for boots, and had to settle for the lace-up work shoes in the Sears catalog.
Walter perused the catalog's pages in search of sports equipment. Rarely could we afford to buy a baseball or bat. Instead, Mama would gather up a bunch of holey socks and wrap them tightly together to form a softball of sorts. Any old stick would do for a bat.
A bigger ball of rags served as a basketball, and a bucket nailed to the front porch was our goal.
When Walter broke his toe, Mama could have ordered crutches from Sears if she'd had the money. Instead, she wrapped rags around the top of two old boards to protect his underarms, and nailed hand grips about halfway down.
Come to think of it, the same principal worked for stilts. It was so much fun to mount those long boards with footholds about three feet off the ground and stomp around the yard. I don't recall ever seeing stilts pictured in the Sears catalog. Maybe there are some things even they didn't stock.
"Do not worry, saying, "What shell we eat?" or "What shall we wear?" … your heavenly Father knows you need them. But seek first his kingdom and his righteousness, and all these things will be given to you as well. Matthew 6:31-33, NIV
EDITOR'S NOTE: Peggy McCracken is Enterprise business manager. Contact her at peg2@pecos.net <!==========end copy==================>
---



Pecos Enterprise
York M. "Smokey" Briggs, Publisher
324 S. Cedar St., Pecos, TX 79772
Phone 432-445-5475, FAX 432-445-4321
e-mail news@pecos.net

Associated Press text, photo, graphic, audio and/or video material shall not be published, broadcast, rewritten for broadcast or publication or redistributed directly or indirectly in any medium.
Copyright 2003-04 by Pecos Enterprise
---